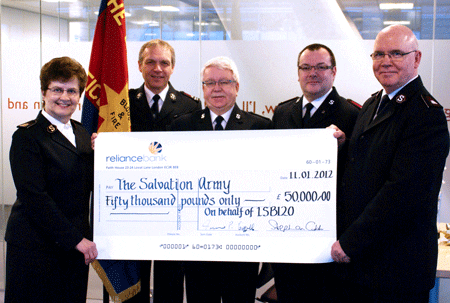 Staff Band celebration benefits Salvation Army expansion in Africa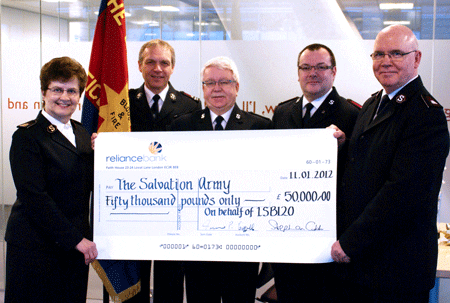 Generous gift allows further work in Africa.
General Linda Bond was delighted to accept £50,000 (approximately $77,000) from the United Kingdom Territory with the Republic of Ireland to support the continuing expansion of Salvation Army ministry in Africa. The money was raised through ISB120, a successful series of meetings held in London in 2011 to mark the 120th anniversary of the International Staff Band of The Salvation Army.
In a letter to the General, Territorial Commander Commissioner John Matear asked that the donation be used specifically to fund mission development in Africa.Commissioner Matear visited International Headquarters on Jan. 11 accompanied by International Staff Bandmaster Dr. Stephen Cobb and former Staff Bandsmen Malcolm Quinn (project director, ISB120) and Trevor Caffull (managing director, Salvation Army Trading Company). They presented the check to the General, who confirmed that the money will help to fund the next phase of expansion of The Salvation Army's work in Africa, details of which will be announced later in the year.
Report from International News, Office of the General