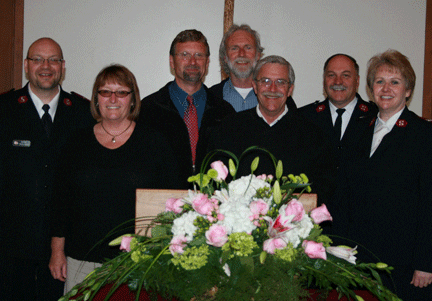 Smith Memorial Chapel dedicated at King's Lake Camp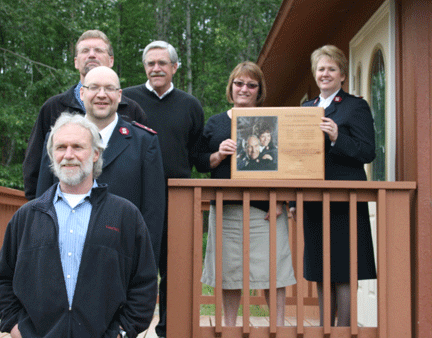 Chapel named in honor of Lt. Colonels Arthur and Alice Smith
The Salvation Army King's Lake Camp in Wasilla, Alaska, recently held a dedication, naming their chapel in honor of Lt. Colonels Arthur and Alice Smith. Extended family and friends of the Smiths gathered at the camp to celebrate their legacy of service and to witness the naming of the Smith Memorial Chapel.
The building, originally donated to the camp by the Elmendorf Chaplain's Association in 1966, required extensive restoration, which was completed with funds from the Smith Family Trust and a grant from The Salvation Army Women's Auxiliary.
As Captain Mark Thielenhaus, divisional youth secretary, thanked the family for their generosity, he recalled Scripture from Hebrews 12, saying, "Just as we see the transformation that has taken place in refurbishing this chapel, our prayer is that young people will experience a special transformation in their hearts and lives as they come to know Jesus, the author and finisher of our faith."
Family members and friends shared memories of the Smiths' dedicated service as ambassadors of God's love. Captain Tim Smith (Eureka, Calif.), the youngest of the six siblings, brought the message, "Be Still, and Discover God."
"God wants us to know him," said Smith. "This chapel gives us a place to make a joyful noise, be still before him, and therefore know him."
In their final appointment in active service, the Smiths traveled the West as territorial evangelists, sharing the Good News of Jesus Christ. How fitting a tribute to them that this chapel bears their name—a place where God's love will be shared with generations of Alaska's children through the ministry of King's Lake Camp.