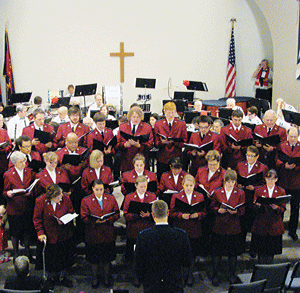 Seattle's Red Kettle Concert
Seattle Temple Corps and community groups join for annual concert.
Since its inception almost 20 years ago, the Seattle Temple Corps' Red Kettle Concert has become successful both musically and as a fundraiser. The corps partners with community ensembles to present a powerful, multifaceted program. This year, Corps Officer Major Dave Harmon served as announcer and encouraged the spirit of giving. A huge red kettle sat in the lobby for donations, which totaled $3,200 from the over 330 audience members and 150 performers.
The Seattle Temple Brass Band, directed by Bandmaster Stefan Wennstig, began the concert with Erik Leidzen's "Christmas Joy." Divisional Music Director Matt Woods performed John Rutter's "Candlelight Carol" as a cornet solo. The Rain City Women's Chorus followed, singing "Alleluia" by Randall Thompson, accompanied by the Contrasts String Quartet from the Seattle Youth Symphony. The Seattle Temple Songsters, led by Ken Lyons, offered a dramatic presentation of "Linus and Lucy," illuminating the true meaning of Christmas. The final ensemble, Seattle Civic Band, opened their segment with "In Dulci Jubilo" and concluded with an audience carol sing to Leroy Anderson's "Christmas Festival."
Jo-Ann Christen, conductor of the Rain City Women's Chorus and the Seattle Civic Band, said, "This concert has become a tradition in Seattle. The audience keeps growing and continues to be exceedingly generous to the red kettle effort. All of the groups performed beautifully, with a final standing ovation. From its inception, there have been a few years of respite, but the last four or five years have seen a growth in attendance and contributions. We hope to continue this successful December event to help The Salvation Army in their important work of helping others."