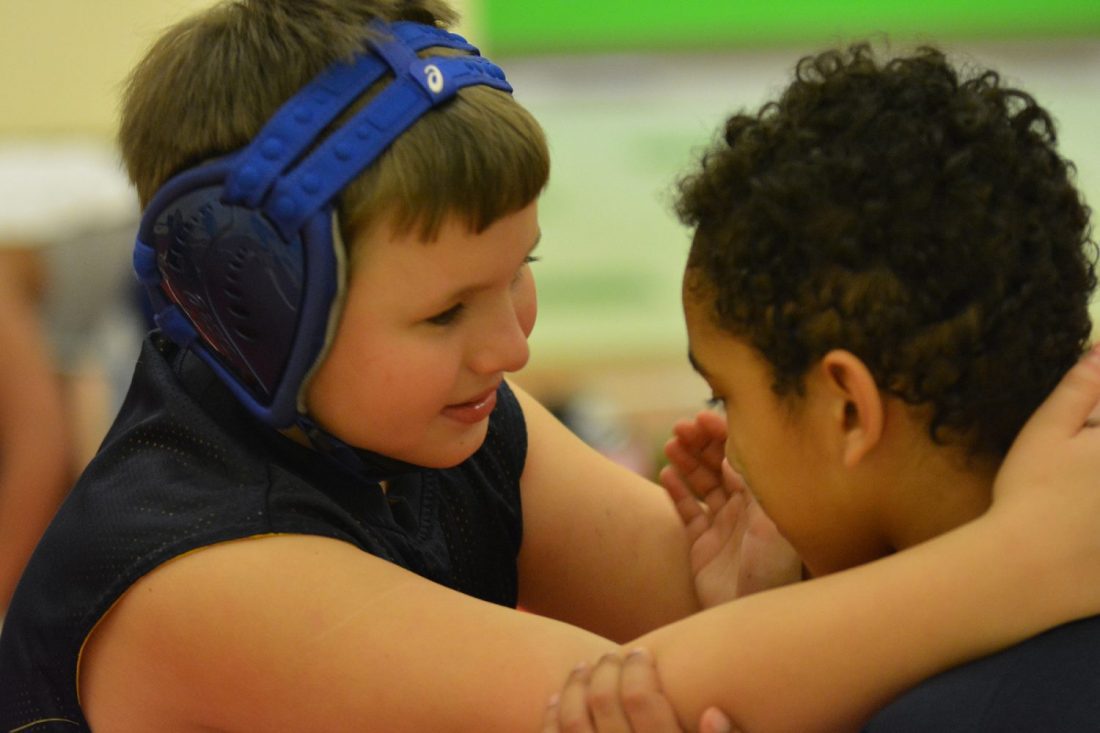 Wrestling program flourishes at Seattle White Center
Volunteer coach Shon Sweet develops champions at The Salvation Army.
The Salvation Army Seattle White Center Thunderbirds wrestling program looks to build on last season's momentum as it returns in January.
The free after-school program welcomed over 50 boys and girls ages 2-18 last season—up from 20 kids in 2012. Three new coaches also joined the program as the Thunderbirds entered their first-ever tournament.
"It's been a popular program here," said Major Raymond Erickson-King, White Center corps officer. "Wrestling is an amazing sport that provides youth an opportunity to learn skills that will help them throughout their lifetime. It helps to develop strong minds and strong bodies."
Volunteer coach Shon Sweet encourages the kids to build confidence through competition.
"We set small incremental goals that we can achieve, so even with a loss we will have personal victories," he said. "Besides building confidence, these experiences teach them how to set goals and grow their intrapersonal strengths."
Last season's highlight was Dustyn Camacho, who won state for the second straight year at the School Boy/Girl (seventh and eighth grade) division and was invited to wrestle for Team Washington at the National Duals tournament in North Dakota. In national competition, he recorded 13 wins, three losses.
The program also produced two state freestyle champions and several state placers. Sweet's daughter, Haylee, placed third last year in the PeeWee division (ages 5 and under). Sebastian Castenada-Elizalde won the state title in the same division.
Thunderbird wrestlers competed in eight total tournaments last year, including the state tournament. Yet, competitions can start to add up, and not all kids that practice can afford to compete in the weekly USA Wrestling Tournament matches.
"We try to stay local, but we have to get to some of the bigger tournaments," Sweet said. "The Salvation Army has provided us with transportation, which was heaven sent this last year."
Thunderbirds launched in 2012, when Sweet was looking for a community center to host a wrestling program. At first he didn't find the right fit. His objective was to allow youth to try wrestling without having to pay for the practices.
One day, he wandered into The Salvation Army Seattle White Center and discovered that the corps had the space and shared his goal of giving kids an opportunity they might not have if they had to pay for the program.
A grant from Brute Wrestling after the program's first season enabled the center to purchase uniforms and equipment, so the team could accommodate more participants.
The challenge now is acquiring additional space and volunteers.
"We could easily get 200-plus kids out for the program," Sweet said.
At the Thunderbirds Wrestling Program Appreciation Banquet, all participants received awards. Sweet received special recognition for his dedication and volunteer service.
The upcoming season begins the second week of January 2016, and Sweet looks forward to the continued growth of the program.