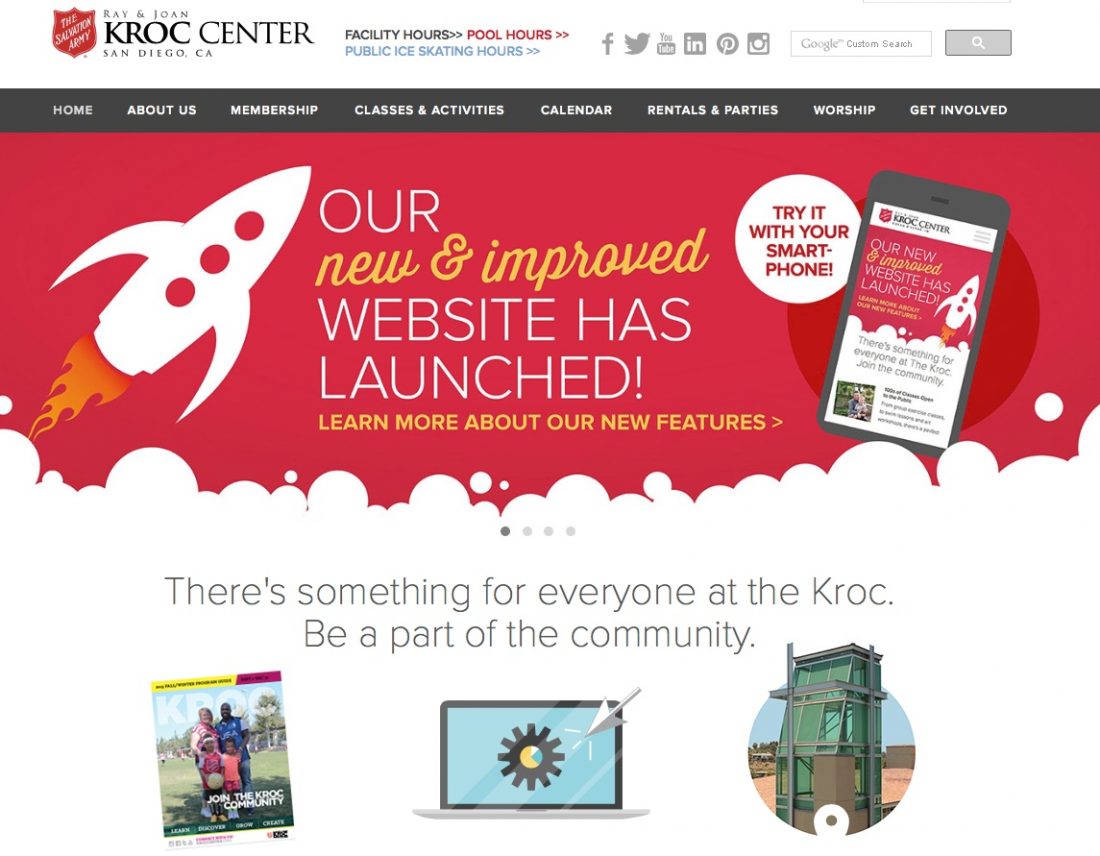 Kroc Centers launch new website template
Unified look intends to strengthen Kroc Center brand
By Angel Roy –
It happens all the time—you call The Salvation Army Ray and Joan Kroc Corps Community Center to sign up for a class, ask to speak to a specific staff member, or inquire about ice arena hours, only to be met with:
"We actually don't offer TRX classes."
"I'm sorry, we don't have anyone named Billy in that department."
"Ice arena?"
What the caller often does not know is that there are 26 Kroc Centers nationwide and they are actually calling a location more than 2,000 miles from their home.
To help address the issue, the Kroc Centers began rolling out a new standardized website template, designed by Erin Brauderick, web consultant and former marketing director at the Kroc Center in Coeur d'Alene, Idaho. The template was first introduced at the 2015 Kroc Center Marketing & Development Symposium.
"The goal is to be a stronger and more unified brand," said Peter Delgado, San Diego Kroc Center senior graphic and web designer.
The Kroc Center in San Diego, the first of the 26 to open, served as one the first to unveil the new web design Oct. 1. The flagship Center also released its longtime URL, kroccenter.org, to make way for eventual use as a general Kroc Center portal site that will feature the story of Joan Kroc's gift to The Salvation Army, and a directory of all Kroc Center websites nationwide.
"In the years to come, the digital presence of the Kroc Centers and the entire Salvation Army will play a crucial role in how we grow our mission and ministry," said Steve Bireley, territorial Kroc/Community Center coordinator.
The new template and platform—Adobe Muse—is seen as a much-needed upgrade to many of Kroc Center websites, including that of the San Diego location.
"Technology has advanced so much since our last website [was launched]," Delgado said. "There were a lot of pieces we didn't have, like mobile optimization."
The new design, Delgado added, is more user-friendly, gives site visitors access to real-time information, and gives the centers an opportunity to better represent themselves visually. The site also allows for the integration of the Community Center Management System (CCMS) to help increase sales.
"The website allows us to more prominently show what's happening, how people can join, how they can get involved, and how they can continue to support our efforts," Delgado said. "The end goal is just for everyone to have a great experience on the website and to keep it that way."