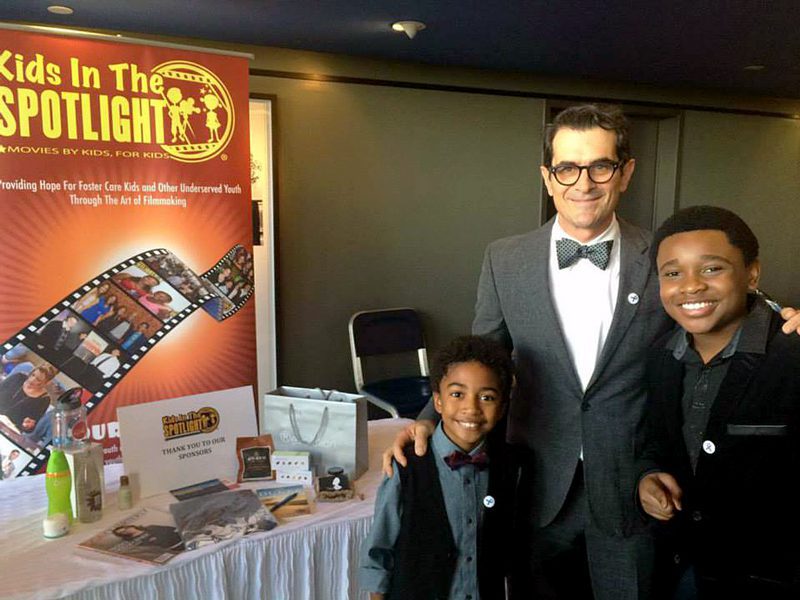 Script to spotlight
Kids In The Spotlight trains young filmmakers and connects them to industry opportunities.
Dressed in a golden and navy sundress, and draped in a sapphire wrap, Tige Charity greets everyone—film directors, actors and producers—whom she rallied together. After listening intently to each one's job description, she explains what is planned for the day.
Nearby, a group of 11- to 17-year-olds is fidgeting anxiously. They have each written a screenplay and will soon be acting them out for the first time. As part of Charity's Los Angeles-based nonprofit, Kids In The Spotlight, young people who live in foster care programs or are underserved youth are trained to create, write and cast their own short films. The 10-week program ends with a film festival hosted by Ty Burrell from the TV show "Modern Family."
Charity introduces the two groups and the acting begins. The first script is about a haunted cell phone that is attacking people for revenge, with a mostly humorous tone. The next is based on a true story of two friends caught up in a drug deal gone tragically awry; one ends up dead and the other lands in juvenile court.
Since 2009, Kids In The Spotlight has helped more than 150 kids with a goal of developing real skills for the future and introducing opportunities in the industry. Here, Charity shares more about her vision.
What first spurred the idea of Kids In The Spotlight?
My husband was teaching an acting workshop at a foster care facility, and I accompanied him and had a chance to tour that facility. I was just moved with compassion in a major way because I had a chance to see the girls dorm room, and I noticed the twin size beds with pictures above the beds and dresser drawers underneath and they were sharing this tiny space. My heart was just overwhelmed because I thought, 'Why was I fortunate to be raised in home with a mother and father while these kids are in foster care?'
While I was there, I saw a group of girls misbehaving and acting out and in the first moment I kind of started judging them, wondering why they were misbehaving when company was present. The minute I thought that, I was quickened in my spirit in a sense that these kids aren't acting out, they're asking for attention…They want you to acknowledge them, to know that they're here.
I asked the director what could I do to give back, and she said they always need mentors, but I was working a corporate job, doing very well as a litigation specialist. I told them I would think about it and did absolutely nothing. Time just kind of went by.
What moved you to action?
I was frustrated with my job, and I didn't really want to do insurance anymore. I had been doing it for 16 years and in February 2009, the company that I was working for was on the second round of layoffs and I was let go…I was tired of insurance. I wanted to do something different and my pastor was doing this series about discovering God's dream for your life and I was having a fit one night saying, 'OK God, what is it? What is your dream for my life?'
I'm married to an actor who's introduced me to plays, Broadway shows and all of those things that I was never privileged to as a little girl growing up in Louisiana in a small town. So, I jumped out of bed, I dried my eyes and got my journal.
What did you write?
I [wanted to] put these kids in the spotlight, give them a platform to tell their stories their way, let them write their own screenplays, let them star in their own screenplays, let them even cast their own screenplays. Let them produce their own movies and after that showcase their work and present them with awards. Create an Oscar-like event in their honor, where we can celebrate their accomplishments and make it movies by kids for kids…
I knew nothing about nonprofits, I just knew I wanted to be able to give this and not have to put a high price tag on it…So I locked myself in a friend's place and I filled out the paperwork for the tax-exempt status myself, and it took me about eight hours and I submitted it and we were approved right away. We did a fundraiser to get some initial funds to launch the organization and someone was at the fundraiser and told the principal at their school about it. They let us do a pilot program there with their kids in August 2009 and we've been up and running ever since.
Is there one story that really stands out for you?
We have a student we called our 'divo;' his real name is Davion. It was a story he wrote called 'The Lonely Ones' and it was about a mom who remarried because his biological dad died. The guy was very abusive and the mother chose the boyfriend over her son. So the son wanted to escape and wound up in prison because he stole food from a corner store trying to survive living on the street.
Wow, what's his life like now?
That young man is now in college and he got a chance to do an internship at a major studio. But when he first came came to the program he was about to quit, and his social worker asked me what she should do and I asked to talk with him. I sat down with him along with our instructor and asked him if he was going to let his peers dictate what he did for the rest of his life because some of his friends thought the program was corny.
I said, 'I just need you to trust the process, give me 10 weeks to fulfill the promise that we make—that we're going to produce your film letting you tell your story your way and industry professionals are going to come out to celebrate you.' That year he was presented with the team spirit award at the film festival and his life has been different ever since.
Why do you think the film festival is so significant at the end?
The kids come to us in cocoons hunched over like, 'whatever, yeah you're selling us pipe dreams' and by the end of the program, on production day and especially the film festival, they're like beautiful butterflies. I mean they are so different.
The film festival is the first time they see their films, so they don't know what the finished product looks like because we bring in post-production [editors] after we shoot the films. We do professional editing and they see it for the first time with the celebrity guests, with their peers and even their biological families get invited to the film festival to see what their kids have made.
I think it provides healing for the whole family structure when they see it; parents believe there's hope for their kids and for themselves. We've had parents tell us that they're going to get it together because they saw the impact of the program and what it had on their kids.
Is that what keeps you going?
The nonprofit is a big undertaking, but when I look at those kids, it makes it worth it. They're worth it.