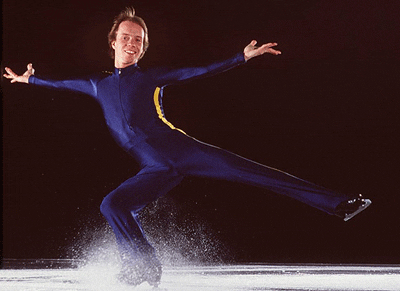 Scott Hamilton: A star on and off ice
In a life filled with ups and downs, figure skater Scott Hamilton's faith is as sharp as his blades.
By Jayne Thurber-Smith
No matter how melancholy the music, figure skaters wear a smile at the beginning and end of every program. One skater in particular has little use for melancholy, and his wide and infectious grin lights up the ice from start to finish: Scott Hamilton.
In the years following his 1984 Olympic gold medal win in figure skating; however, Scott had many reasons to lose that smile.
"Life has given me money and taken it away," he explains, "stricken me with disease and blessed me with health, given me victories and losses, good coaches and bad coaches." But through it all, Scott learned to trust God and be content no matter what the circumstances.
A mother's love
One subject that makes Scott smile is his parents. Ernest and Dorothy Hamilton adopted Scott at six weeks of age.
"They were great," Scott remembers. "I couldn't have been more blessed. My parents were schoolteachers and very nurturing. They understood the different transitions in life and how to help kids through them. I was told I was adopted as soon as I could understand what it meant, and at the same time I was told I was wanted and loved by them."
Being adopted didn't bother him, but being the smallest kid in the class did. A childhood illness prevented him from growing for three years. A doctor recommended the Hamiltons get Scott into skating. Being under-developed, he found self-esteem for the first time on the ice, where his size didn't matter.
"My balance got better. I started getting muscle development. I began to literally skate circles around my classmates," he says. "My mother sacrificed so much to keep me in skating because she knew what it did for my health."
Sadly, Scott lost his mother to cancer when she was 49. That proved to be a turning point in his life, and he vowed to never be less than she had thought he could be.
"From then on I became more successful in skating," he says. "I carried her memory with me each step of the way and it pushed me forward. Now that I'm a little older than my mother was, I deal with the loss of every person who has crossed my path by living for them. I bring the love I had for them with me every single day."
Ups, downs and ups
After his success—not only at the Olympics but also as reigning world champion from 1981 to 1984—Scott skated with the Ice Capades and then teamed up with sports agency IMG to form Stars on Ice. In 1990, he was inducted into the U.S. Olympic Hall of Fame.
But things took a bad turn for Scott when, in 1997, he had a much-publicized battle with testicular cancer.
"I had gotten to a point where I was obsessed with my career, and cancer took it away from me for a while," Scott says. "After the diagnosis there was this carrot dangling in front of me, to perform one last time and inspire other cancer patients that they could get back to their lives. I wanted to win, not let cancer win. Thankfully, Mom had shown me how to maintain my dignity and remain positive throughout the treatments.
"I had a new marriage and a 14-month-old child, and out of nowhere I had to break it to my wife that I had a brain tumor," he said. "Tracie just grabbed both of my hands, bowed her head and prayed with me. This changed my perspective and showed me that everything I had endured was a God-given challenge. I wanted to focus my efforts on finding my relationship with God, and it changed my life."
Scott underwent successful treatment at the Cleveland Clinic with the support of his family and Ken Durham, a minister at Pepperdine University's Church of Christ.
"Only our faith and our God got us through our trials," believes Scott.
In 2008, the Hamiltons welcomed another son, Maxx. At the end of every day, Scott thanks God for his family and puts them in his hands.
"God, I want my boys to live by you, through you, with you," he prays.
Scott now focuses on his dream of helping to find a cure for cancer in his lifetime. His website, www.scottcares.com, has raised more than $10 million to support cancer research and education, and to assist cancer patients.
Creating beauty
Scott is also on the board for the Special Olympics and has participated with the Make a Wish foundation, which grants wishes to children with life-threatening illnesses.
"My heart goes out to those kids," he says. "I just want to make their day and their parents' day as memorable as possible. Make a Wish is an extraordinary organization. As a dad, I'm shaken at what could possibly happen to my own children and I embrace those times when I can help others."
One girl in particular, Krystal Williams, got to spend more than just a day with Scott. They kept in touch, and he invited her to his shows whenever he was in her area.
"Krystal had a walker and other physical and intellectual disabilities," he remembers. "To see her put on skates and to help her push her walker with her skates was amazing. She was a part of my life until she passed away years later. When you fall in love with someone like that, they touch your heart. I admired her tenacity—everything about Krystal was love and courage. She was filled with a light that drew people to her."
Scott believes that, with a little determination and God's help, people can cope with whatever life throws at them. "We can find a way to deal with challenges in a healthy way that will make us—and everyone around us—a little stronger."
"We need to adjust our point of view," he says. "Glass shattered will never do what it did before, but if you hold it up to the light it can make rainbows. It can create beauty that it couldn't before."
From Salvationist.ca