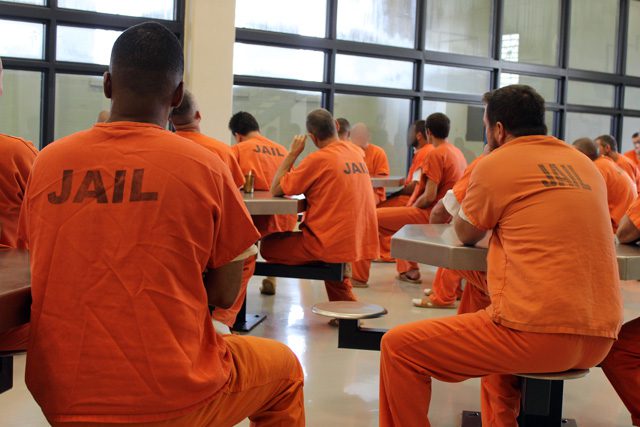 Recovery pods reduce recidivism
Sarasota County jail program celebrates fifth anniversary 
Former inmates stood up and thanked their arresting officers for a second chance at the fifth anniversary of Florida's Sarasota County Jail Recovery Pod Program. The program, developed by the Sarasota County Sheriff's Office in partnership with The Salvation Army, has reduced recidivism.
According to Sarasota County jail statistics, 46 percent of general population inmates are rearrested within a year. Yet of the 1,500 inmates who entered the recovery pod since its inception in 2009, only 13 percent of the men and 6 percent of the women were rearrested within a year.
"[This was] unlike anything you would ever see anywhere," said Dr. David Sutton, director of social services at The Salvation Army's Center of Hope in Sarasota. "Hard to fathom that people don't believe in miracles."
These numbers reflect a dramatic turnaround from the early 2000s when Sarasota County dealt with a population incurring multiple arrests, especially repeat offenders with drug and driving under the influence charges.
Nicknamed the "Odd Pod," the program sets aside an entire unit for inmates wishing to recover from substance abuse. It started with one 48-bed men's pod, but quickly expanded to include a 32-bed women's pod.
"The exclusive use of this space created a single focus and positive peer pressure, essential in jail for success," Sutton said. "Men and women who perhaps would never have found sobriety find their way to the Recovery Pod. "
The addictions recovery aspect of the program consists of 12-step meetings led by 12-step recovery program volunteers. Additional classes cover topics including understanding addiction, relapse prevention, parenting, reentry, locating a job, finding a relationship with God, victim impact and anger management, all typically taught by Salvation Army staff and volunteers.
Patrick Lincoln went through the program and now works as a volunteer in the men's pod.
"Everything I needed to get my life back in order, God and The Salvation Army gave to me," he said.
Lincoln had been so successful in real estate that he retired at age 38, but developed a drug habit and quickly went through all his money.
"The Salvation Army taught me how to be responsible again," he said. "I've learned more in the last five years of my life with God and The Salvation Army than in the first 46."
He provides a real-life model to men struggling with addiction in the program.
"I tell them: it's not whether you can or you can't; it's whether you will or you won't," he said.
Watching the lives of men and women change, many jail deputies developed an interest in the program. Deputies who formerly simply monitored those serving their time, have connected with inmates, offering encouragement and support.
At the anniversary celebration, one former inmate, "Eric," came with his family and thanked program staff, the judge, the pod deputy and his arresting officer after spending roughly eight months in the Recovery Pod.
"He found freedom from addiction, freedom from jail and a relationship with the Lord, too," Sutton said. "With God all things are possible."