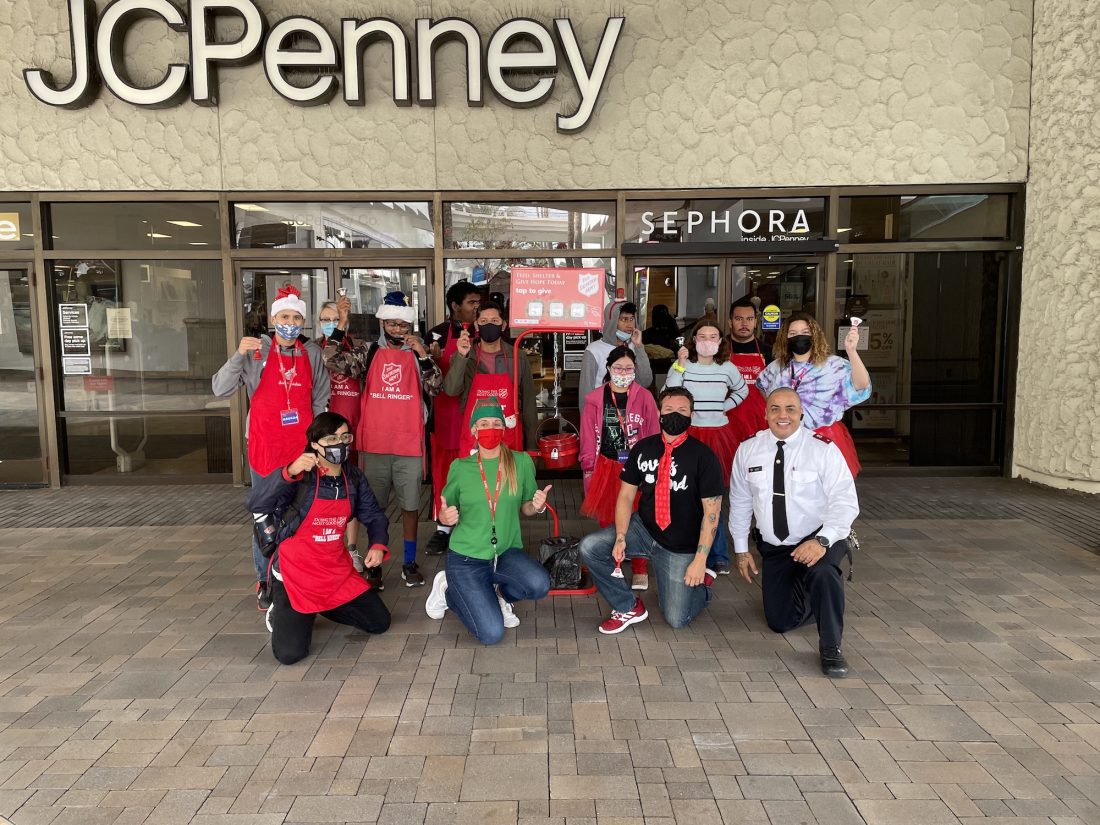 San Diego students ring in the Christmas season in style at the kettle
Some might say "the best way to spread Christmas cheer is singing loud for all to hear," but they probably haven't experienced the students from the TRACE Program at the kettle. Every year, the group rings the bell in San Diego, and every year, they bring the spirit of the season with them.
From ugly Christmas sweaters to hats and holiday music, the students arrive festively dressed and ready to make a difference. Education Specialist Cristie Rodriguez said even the more reserved students "open up, feel comfortable and come out of their shell a little bit" in the upbeat atmosphere.
"We get all dressed up, and get over the top and play music, and sometimes we're dancing and laughing," said Rodriguez. "It gives us a chance to also hang out and have fun, and not be so school and work driven for the day."
For a decade, students from TRACE have dedicated at least one day to ringing the bell for The Salvation Army during the Christmas season. It's something they look forward to—giving back, Rodriguez said. And their joy is contagious.
"It's beneficial to us, to them, to the store—it goes all the way around," said Centre City Corps Officer Lt. Jeremy Alexander. "It benefits everybody in a positive way."
TRACE, a part of the San Diego Unified School District, helps students with disabilities ages 18-22 transition from high school to adulthood through assistance in various life skills and areas, like job placement.
"We're working on all these skills, and this is our fun day to give back and be in the Christmas spirit," Rodriguez said. "Even if my students don't celebrate Christmas, they still get into it knowing they're doing something good for other people, and it gives them a sense of confidence."
For the bellringing day, all of Rodriguez's students who are present participate—anywhere from 10-15 people. They typically break into smaller groups to ring for shorter amounts of time. This helps to keep spirits bright.
"I think people who walk by us really appreciate that," said Rodriguez."We make it fun when they give money. We're cheering and singing for them and clapping and excited."
Rodriguez said some of her students are nonverbal, and she can tell they are having a good time by the smiles they share while ringing the bell.
The joy and genuine enthusiasm comes with results, too. TRACE students are the highest-earning bellringers in the area.
"One year, we were pretty excited because we bellrang the same time as some of the Chargers did…and we were told we made more money than the Chargers players, so that was kind of a big deal for us," Rodriguez said.
---
Do Good: