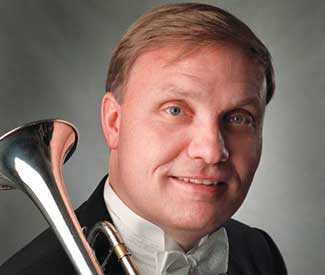 Salvationist joins UGA trumpet faculty
Philip Smith leaves New York Philharmonic to teach music.
Salvationist Philip Smith is joining the faculty of the University of Georgia Hugh Hodgson School of Music, retiring from his current seat as principal trumpet of the New York Philharmonic, where he has been playing for 36 years.
"Philip Smith is among the world's greatest orchestral trumpet players, and his appointment to the faculty of the Hugh Hodgson School of Music brings great acclaim and prestige to an already excellent music program," said Franklin College Dean Alan Dorsey to UGA Today. "Smith will attract outstanding music students from across the country, and his presence will be felt throughout the university and Athens communities."
Smith is a graduate of The Juilliard School and has played under the world's greatest conductors, including Zubin Mehta, Kurt Masur, Leonard Bernstein, Lorin Maazel and Alan Gilbert. He has appeared on more than 270 commercial recordings with the New York Philharmonic and performed as a soloist and chamber musician on albums by other ensembles.
"My simple goal over these many years has been to give my best, using the gifts given to me by God, for the beauty of the universal language of music," Smith said to UGA Today. "I am excited by this opportunity to be involved in the lives of young musicians, sharing all that I have experienced. So it is with mixed emotions that I am announcing my retirement from the New York Philharmonic, but I also look forward with eager anticipation to a new and exciting time at the University of Georgia."