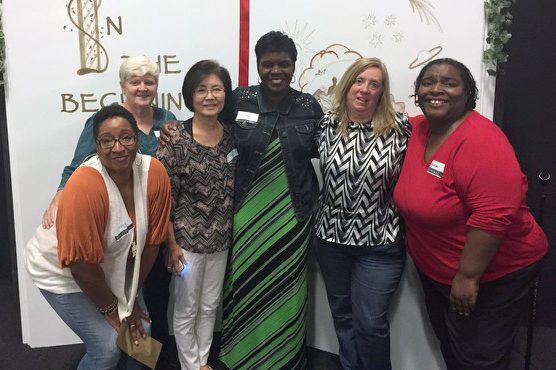 Salvationist couple one month into national Kroc Tour
By Bianca Pryor – 
Broderick and Bianca Pryor, Salvationists from Denver, departed Sept. 13 to spend the next year visiting 24 Ray and Joan Kroc Corps Community Centers across mainland U.S., starting in Omaha, Neb. Here, Bianca Pryor shares about the start of the journey.
Broderick and I left our ordinary lives in Denver, Colo., Sept. 13 and started out on our Kroc Center tour. We were so anxious that every now and then we had to check on each other. As we headed to Omaha for our first stop, I was hoping and praying we didn't forget anything of importance. We were amazed at the size of the center. Major Todd Thielki gave his sermon on knowing what God has in store for you and your life. After, they escorted us to the community center side and there we received our guest passes along a magazine filled with all the information we needed about the Omaha Kroc Center.
We met Jenny who gave us a tour and was fascinated with our idea of traveling and giving our time to serve the Lord. After getting to know the building we took a ride throughout the city of Omaha. You could tell people are living a good life here and they love their city. We volunteered at Youth Alive, the troops meeting, and helped serve dinner to families and cleaned up afterward. We also started a fitness routine, which consisted of stretching, walking, swimming and jump roping. Rafael is an awesome fitness instructor who gave us tips on our fitness routine.
We attended Bible Study with the seniors who took us in and gave us advice on which exercise classes to take. They introduced us to Amy, the aquatic zumba instructor.
We started our second week with a rally on Sunday at Gene Eppley Camp—a family picnic with games, food and fun activities. Broderick enjoyed fishing, while I enjoyed playing games with the children. The youth directors put us to work helping with the refreshments and name tag stations.
On Tuesday and Thursday we attended the aqua zumba class and on Wednesday night we attended the men and women's night were Broderick played Bull's Eye Washer with the men and I learned how to make candles out of beeswax.
The last day, we took pictures and sat around with the angels God placed in our lives. Most of them tried to convince us to stay, which made it hard to say good bye.
That afternoon we headed to Quincy, Ill., the Gem City. We met Major Andy Miller, who welcomed us with open arms and prayer. He insisted we stay in a room at the emergency shelter at The Salvation Army family service center across the street from the Kroc Center. We never stayed at a shelter before, but we were thankful for a place to lay our heads for two weeks.
Sunday school was full of people young and old. Instead of pastries and donuts, there was a pineapple upside down cake made by Ms. Emma, which was delicious. I finally had the chance to hear a brass band at the holiness meeting and at the open air meeting that evening in Hannibal, Mo.
That evening, after such a busy day, Major Andrew gave us a tour of the colorful Kroc Center. He introduced us to everyone as if we were celebrities. One particular staff member stood out from the rest—Bridgett. She knew everyone's name and her voice was heard throughout the building welcoming old as well as new faces. When she wasn't there the place was like a library.
During our stay in Quincy we volunteered at The Salvation Army's Family Thrift Store that opened across the street in August. We enjoyed hanging clothes with several others who had community service and senior citizens who loved volunteering. After lunch each day we gave free chair massages at the Kroc Center and helped with troops on Wednesday nights. At the Spice of Life women's group I learned to make pillow cases with Major Cheryl Miller.
The second Sunday, Major Miller invited me to sing with the praise team.
It's like God has placed us here to be support for the individuals who are renewing their lives at the shelter. We take time to listen and learn what each soul in the place is going through.
On Oct. 10, we're headed to Green Bay, so please continue to keep us in your prayers.