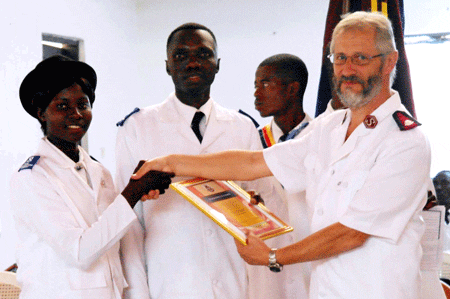 Raising the flag in Togo
Salvation Army work in Togo recognized during weekend of celebration and commitment
BY CHARLES SWANSBURY, COLONEL
The commencement of Salvation Army work in Togo was recognized in a program of events, which included the marriage of six couples and culminated in the enrollment of 144 senior and 112 junior soldiers. The formal commencement of the work in Togo was symbolized during a five-hour service of celebration on Sunday, Jan. 15, by the raising of the Salvation Army flag of the Ghana Territory, which oversees the new ministry in Togo. The event was later broadcast on national television.
Salvation Army work in Togo was officially recognized on April 1, 2011. Since then it has grown under the leadership of Captains Hervé Michel and Naty Dorcas Ahouyanganga, originally from the Congo (Brazzaville) Territory, with oversight and support given by the Volta Division in Ghana.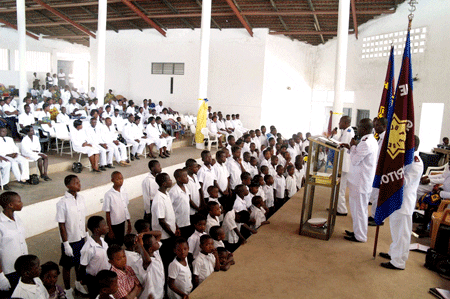 During the celebration meeting the status of existing Salvation Army centers in Togo was formalized, with eight being elevated to corps status and six recognized as societies. Also conveyed were civic and denominational fraternal greetings and messages of encouragement.
Territorial leaders Colonels Charles and Denise Swansbury led the activities, supported by territorial cabinet members. Also attending were divisional leaders and representative officers, local officers and musicians from the Volta Division.
Six couples took part in a special marriage ceremony to recognize their relationship in the sight of God prior to them becoming soldiers.
On Saturday a march of witness through Atakpame by more than 200 uniformed Salvationists—the first event of its kind in Togo—preceded an open-air meeting, during which more than 10 people responded to the appeal and professed conversion. Some of these, along with others who had been attracted by the march of witness, attended the celebration service.
In his Bible message, Territorial Commander Colonel Charles Swansbury challenged the new soldiers to be living stones laid on a good foundation rather than stumbling blocks to growth. At the conclusion of the meeting almost the entire congregation moved forward to dedicate themselves to the exciting task of building God's kingdom in Togo.