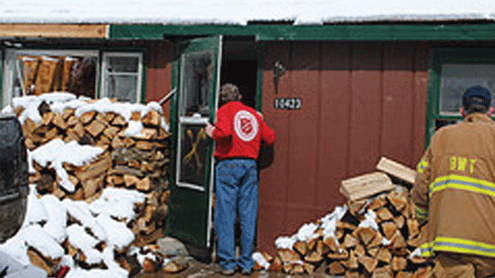 Salvation Army stands firm following tornadoes
Salvation Army Responds as tornadoes bring destruction across the U.S.
 The Salvation Army is providing aid to people affected by tornadoes in the USA. At least 39 people have been killed and many hundreds were forced from their homes. The tornado season has started unusually early this year, with more tornadoes reported on 29 February and 1 March than are normally seen in the whole of March. Salvation Army Emergency Disaster Services (EDS) teams are on standby to respond to severe weather and tornado watches and warnings that are still in effect in much of the region.
Salvation Army personnel in Tennessee have been providing food and drink – alongside spiritual and emotional care – to disaster survivors. Units are on standby throughout the state ready to respond as needed. In Chattanooga, Tennessee, more than 200 meals were served at an evacuee centre. The Salvation Army in Cleveland, Tennessee, served as a shelter for those seeking refuge from the storms.
Salvation Army units responded to tornado touchdowns in Limestone and Madison Counties in northern Alabama. In Athens, Alabama, mobile feeding units from Decatur and Florence responded with food and drinks. In Meridianville, Alabama, a mobile feeding unit from Huntsville was deployed to provide food and drinks as well as spiritual and emotional care.
A Salvation Army team from Ashland, Kentucky, travelled to Morgan County, Alabama, where it ministered to the needs of first responders and survivors in coordination with local emergency management officials. Salvation Army mobile feeding units are providing food and beverages in the area.
The Salvation Army's Emergency Disaster Services Warehouse and Command Center in Jackson, Mississippi, is being utilised to manage the widespread response across Alabama and Mississippi. Additional units from Alabama, Louisiana and Mississippi are also on standby.
Salvation Army EDS teams from New Albany, Indiana, were deployed following several powerful tornadoes in southern Indiana. The Salvation Army provided food for hundreds of disaster survivors and emergency responders. Local Salvation Army workers are assessing how best to provide ongoing support. Three mobile kitchens were allowed to move through Henryville, Marysville and New Pekin on Monday 5 March, bringing help to the survivors as they try to rebuild their lives. Previously, because of extensive damage in the communities, the Army's response was limited to a set location, although even with these restrictions almost 5,000 meals were provided. Each mobile kitchen can serve up to 2,000 meals a day. In addition, a special team of emotional and spiritual care counselors has been sent to southern Indiana to comfort those who have lost so much.
A team of Salvation Army social workers in Harveyville, Kansas, is helping tornado survivors with immediate needs such as food, clothing, medicine, shelter, bedding and baby products. Salvation Army teams have also provided meals, snacks and drinks to nearly 2,000 people in the area, and operated mass feeding operations throughout the weekend.
The Salvation Army also continues to provide assistance in Branson, Missouri. Hundreds of meals have been distributed through The Salvation Army's mobile feeding unit. Emotional and spiritual counseling is available to those in need.
For more information on The Salvation Army's continued response, go to https://disaster.salvationarmyusa.org, https://blog.salvationarmyusa.org/, www.facebook.com/salvationarmyusa or www.twitter.com/salvationarmyus.
Source: Salvation Army International Headquarters