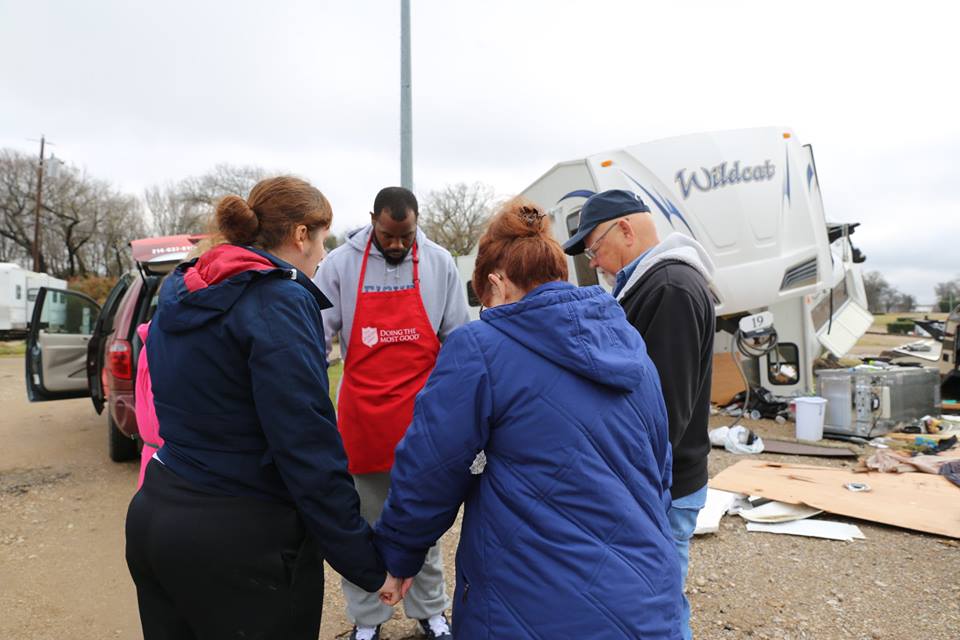 Salvation Army serves in aftermath of Texas tornadoes
Roughly $60,000 in financial assistance provided
Severe weather featuring heavy rain, strong winds and tornadoes hit portions of Texas, Oklahoma and Missouri in late 2015 prompting The Salvation Army to respond to both immediate and long-term needs of impacted communities.
The most severe tornadoes caused damage to more than 600 homes in Northern Texas with estimated overall loss of approximately $90 million.
The Salvation Army delivered meals, refreshment, and emotional and spiritual care to the hardest hit areas via  canteens, catering trucks and Polaris Utility Task Vehicles (UTVs). In recent years Polaris has made several donations of UTVs to the Army specifically for disaster work, and the UTVs are now positioned across the Southern Territory.
Dwayne and Diane Walters, volunteers from The Salvation Army in Bryan College Station, Texas, began their deployment Jan. 2, roughly a week after the tornadoes struck.
"We've been serving in this same area since Saturday and are getting to know some of the people," said Diane Walters. "The residents and workers are so happy to see The Salvation Army pulling up, especially when we crack open the sides of the truck and start serving."
Dallas Cowboys players Darren McFadden, Tyler Clutts and Jameill Showers worked alongside Salvation Army crews to deliver meals to residents and relief workers in Garland. Meanwhile, Cowboys Head Coach Jason Garrett, accompanied by his wife Brill and several other Cowboys wives and girlfriends, met with those delivering and receiving assistance at the Multi Agency Resource Center (MARC).
"We just wanted to come out here to the Garland area and help out any way that we can with all the devastation the tornadoes caused," Clutts said. "We're just trying to bring a little light to some darkness."
After more than 13 days of continuous service to communities in North Texas hit by the Dec. 26 tornadoes, The Salvation Army transitioned from emergency relief to long-term recovery. Emergency Disaster Services (EDS) teams expanded services to include emergency financial assistance in the form of gift cards and Family Store vouchers to individuals and families in need.
In total The Salvation Army served roughly $60,000 in financial assistance, $35,000 in family store vouchers, 32,000 drinks and 20,000 meals.