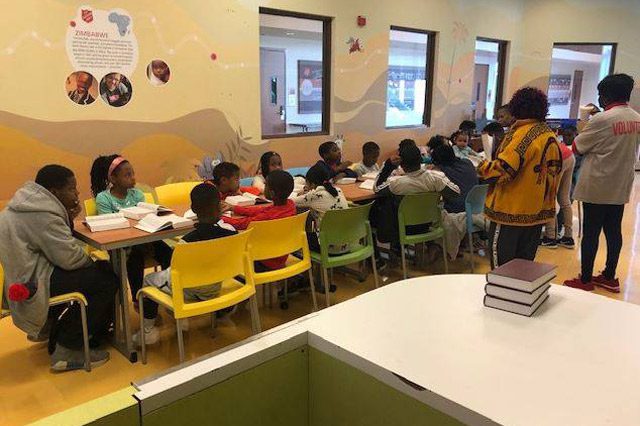 Salvation Army serves families amid Chicago Teachers Union strike
Union officials reported some progress during weekend talks, but picket lines remain up around the city.
As the third full day of the Chicago Teachers Union gets underway, The Salvation Army continues its work to help families caught in the middle. 
More than 32,500 teachers and other staff walked off the job starting Thursday in Chicago, effectively effectively canceling classes for 300,000 students in the nation's third-largest school district. 
Rather than higher pay, teachers are pushing for more psychologists, social workers, nurses and librarians for their students.   
After learning Chicago Public Schools would be closed beginning last Thursday, The Salvation Army opened four facilities—the Freedom Center in West Humboldt Park, the Chicago Lawn Corps Community Center, the Red Shield Center in Englewood, and the Kroc Center in West Pullman—for working parents to leave their kids during the day. 
Each of the sites is offering meals, snacks, games and other activities for the kids. 
Sterling Robinson, a 15-year-old student at Morgan Park High School, spent Thursday at the Red Shield Center playing basketball with friends. "It felt good to have somewhere to go," he said. "I didn't want to sit at home bored all day with no one to talk to." 
Red Shield called in five extra staff members to ensure the students had adequate supervision and activities to fill the day. The center served the roughly two dozen kids who showed up on Thursday lunch and two snacks, and offered them open gym time and games in the center's youth room.
"It means a lot," said Jason Burrage, a ninth grader at the new Englewood Stem High School, when asked what having a place to go meant to him. He spent Thursday in the gym with friends like 11-year-old Josiah Reese, playing basketball and chatting with the staff. "I'm happy there's no school," Josiah admitted. "And I'm happy to be here playing basketball with my friends." 
Josiah spends most afternoons at the Red Shield Center taking a boxing class. Both he and Jason had one word to describe the center: home.
Justin Polsley, youth pastor and community center manager at the Red Shield Center, said he is concerned for the students. 
"When people get bored, things get dangerous," he said, noting that nearly 60 kids from two different schools had started a fight just outside the Red Shield Center the night the school closures were announced. "You can sense the tension with the kids. I'd rather them be here than on the street."
Tara Linus Bush, mom of third-grader, Avery, was grateful to take her son to the Freedom Center, where she also works in the finance department. 
"I would have been worried if I hadn't been able to bring my son here," she said. Students at the Freedom Center received a hot breakfast, lunch, and snacks and had access to the gym and many games and crafts. Avery spent the day playing Jenga and Uno at the Freedom Center.
The Kroc Center opened at 6:00 a.m. to offer programming for children and teens. Monica Alexander brought her 15-year-old son, Joseph, and 14-year-old son, Hayley. She said the option offered peace of mind: "You don't have to worry about anything."
Both teens said they were optimistic they'd have a fun and productive day. "Being here on these off days is really going to help me keep up, make sure I don't fall behind," Joseph said. His sister, Hayley, was also grateful to spend the day at the Kroc Center. "This as an option, especially for the strike, is really great because I know the staff here are really friendly, [and] I know there's a lot of stuff for me to do," she said.
The organization expects to support families for the length of the strike.