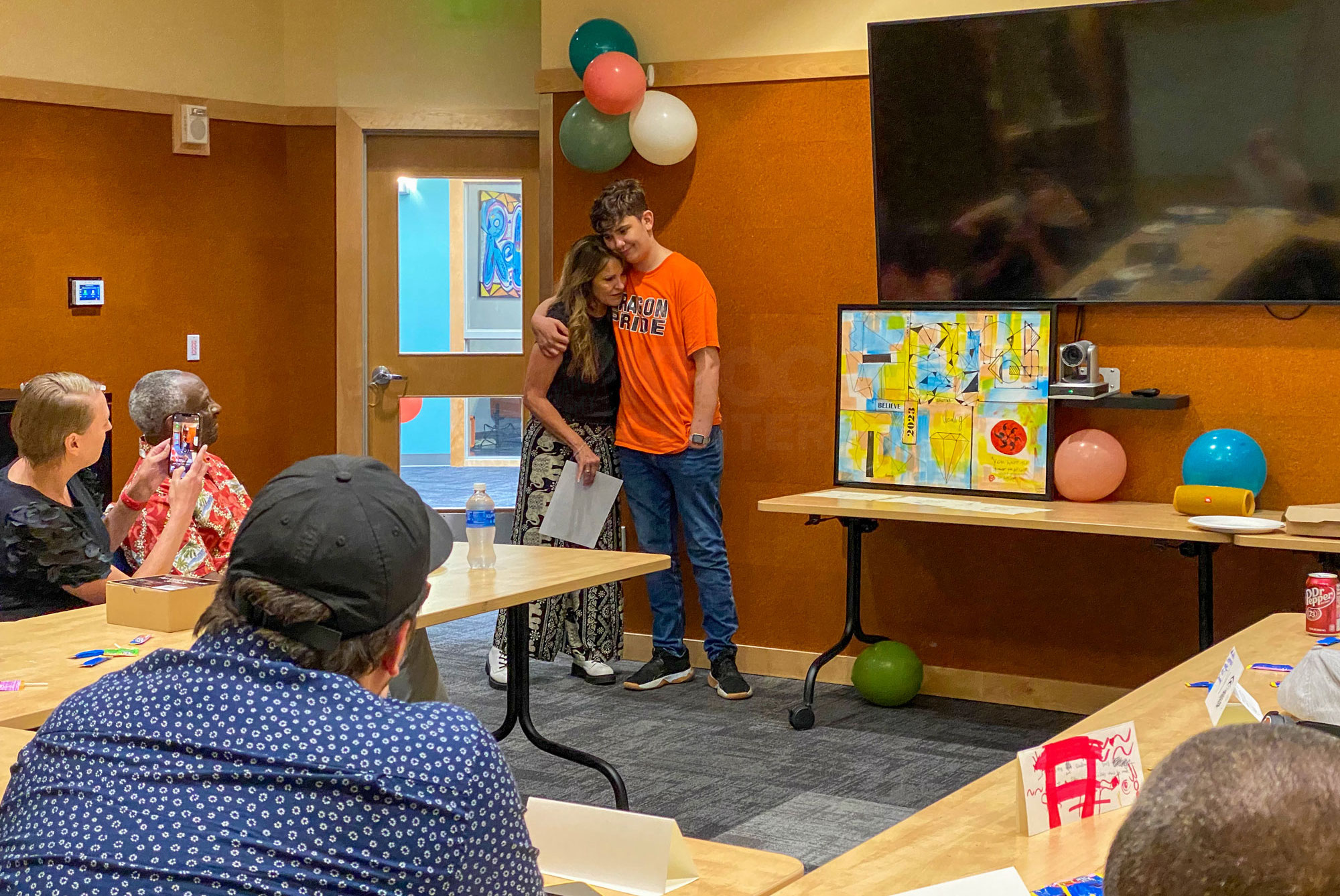 How the Salem Kroc Center helps youth move from stuck to unstoppable
Partnering with author Bonnie Milletto, the Kroc Center launches the "Been There: From Stuck to Unstoppable" program for youth.
What does it take to change your reality?
What if nothing changed but the story you tell yourself?
The Salvation Army Ray and Joan Kroc Corps Community Center in Salem (Oregon) explored this premise during a pilot course offered at no charge through its Rebound youth program. Partnering with motivational speaker Bonnie Milletto, author of "Been There: From Stuck to Unstoppable," the course aims to help students develop the tools, framework and motivation to achieve their goals. With the first cohort now complete, a second session is set to begin in October.
"This program is designed to inspire and empower youth beyond their circumstances or their living environment," Milletto said, "and to recognize the power they have within themselves to shape their own narrative."
Milletto emphasized that Been There is a real-life program.
"There's no high level philosophy," she said. "This is real life from the ground up, starting with you taking responsibility for who you are and where you are in your life right now. Let's start from there."
Milletto understands what it's like to feel stuck. Raised in foster homes, she says she felt worthless. Although it took years, she overcame her past and accepted responsibility for her life. Today, she wants to help others overcome challenges and meet their goals.
Kroc Center Director Tony Frazier said people relate to Milletto's story in different ways.
"Even for those who haven't had the same struggles, it helps them see that maybe they don't have it so bad," Frazier said. "And if someone like Bonnie could overcome and become successful, then they could too. That's where the breadth of the material that Bonnie has created will resonate broadly."
Eleven students participated in the initial course offering. The main requirement was committing to show up for the seven weekly sessions, themed, consecutively: responsibility, forgiveness, overcoming doubt, the power of words, gratitude, believe and celebrate. Guest speakers from the community included sports professionals, business owners, educators, local politicians and pastors— "all over the board," Milletto said. Between sessions, action steps and journal prompts aimed to keep students engaged. Students completing the course received a certificate—this first cohort finished their session in July.
"What students really loved was the group discussion," said Racheal Rivera-Carnley, Rebound Program Lead.
Frazier said the discussions were deeper than they had anticipated.
"Sometimes you wonder if they're really paying attention," he said. "And then they come up with these statements about how the program impacted them."
One student, Noah, said: "Prior to attending this group, I was truly unhappy with myself but Bonnie's Been There group helped me a lot."
Another student's grandmother witnessed the results. "He felt so much more relaxed after last night's class," she said. "This grandma's heart was happy."
Recently, Keybank provided a $10,000 grant to the Kroc Center to fund the Been There program. This will cover costs involved with course revisions and printing the material. Milletto and the Kroc Center team have been working together to edit the activity guidebook and facilitator materials.
"We are excited that KeyBank's values align with our own when it comes to helping youth," Frazier said. "Strong community partnerships like this help to make a significant impact on the lives of young people we serve. Together, we help the next generation discover their value and make contributions that effectively engage in community and strengthen our local economy."
Revisions for the next course session include more active, hands-on activities to replace some of the journaling, and reordering some of the sessions.
"Forgiveness is the second chapter," Frazier said. "We realized we need to work with the students a few weeks more before we got into such a potentially heavy theme with them."
A perfect partnership
For the Kroc Center, which is committed to building a strong community, educating and encouraging youth is essential. To that end, it launched the Rebound after-school program early in 2022, to give teens a safe, comfortable place where they can relax or participate in various classes. Meanwhile, Milletto was looking to reach out to youth with her empowerment program.
A chance meeting initiated the partnership.
Milletto and Frazier had served together on a youth board several years ago and had not seen each other since. When they reconnected at an event earlier this year, Milletto happened to have a copy of her book with her. When Frazier saw it, he wanted it, but Milletto had promised that copy to someone else. The next day, she dropped one off at the Kroc Center.
"The next morning, there was an email from Tony, with all the facilitators on the email, saying, 'I think you have found a home to pilot this program.' And that's how it started," Milletto said.
"Thank you for noticing me," Bella said. "For the first time in a long time, I feel special."
Both Milletto and the Kroc team are excited about the future for the Been There program.
"We're going to pilot it here a few times," Frazier said. "The goal is to eventually push this out beyond ourselves. It will always be based here. But the YMCA, the Boys and Girls Clubs, organizations that work with young people—they need to hear the message. That's just one path; then there's the adult path. There's something that's so much bigger here."
Milletto said witnessing the Been There program reach a wider audience fills her with "immense joy."
Right now, though, at the Salem Kroc Center, the Been There program is all about helping young people believe in themselves.
"Thank you for noticing me," Bella, a participant, said. "For the first time in a long time, I feel special."
---
Do Good:
Tell people who you are, what you're passionate about and why you care. Find confidence, healing or simply the satisfaction of finding your voice, owning your story and sharing it with others. Sign up for our free email course and get started today.
You've probably seen the red kettles and thrift stores, and while we're rightfully well known for both…The Salvation Army is so much more than red kettles and thrift stores. So who are we? What do we do? Where? Right this way for Salvation Army 101.
It's because of people like you The Salvation Army can serve more than 24 million Americans in need each year. Your gift helps fight for good all year in your community. It's an effort to build well-being for all of us, so together we rise—and that good starts with you. Give to spread hope with a donation of funds, goods or time today.