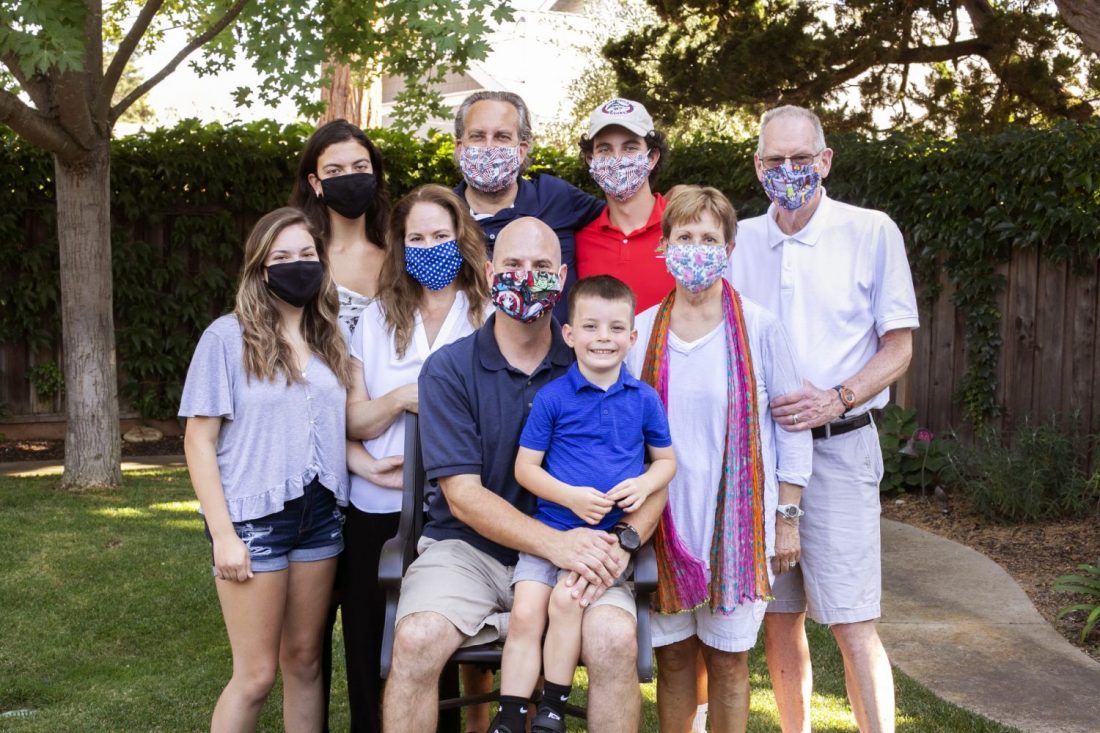 Salvation Army restores family for man in recovery from addiction
When Joshua Needham first arrived at The Salvation Army Adult Rehabilitation Center (ARC) in San Jose, California, in 2016, his relationship with his family was broken. He was divorced, he had lost custody of his newborn son, and his parents and sisters had distanced themselves as his addiction took over his life. 
"I lost everyone and everything I loved," Needham said. "I could not stop using and drinking…I lost all hope. That's what led me to the ARC."   
After trying a couple of 30-day rehabilitation programs that were unsuccessful, he found the ARC.
"I believe God spoke to me and said, 'This is the one.'" Needham said. 
It was then that his journey with The Salvation Army began. He graduated from the ARC nine months later, started working there as a shipping supervisor, and transitioned to living at the Bridgeway sober living facility next door. 
Months later, however, he relapsed. When that happened, his relationship with his family deteriorated further.
"My whole family basically just detached with love," Needham said. "They told me..to get my life together, but there was no guarantee that if I [did] that [they'd] ever be back in my life, so I should make sure that I do this for me. It was devastating." 
After that, he had to leave Bridgeway but secured a bed at The Salvation Army's Emmanuel House in San Jose. 
"I basically detoxed for two days in a motel room, and by the grace of God a bed opened up," Needham said.  
It was there that he was able to get back on the path to sobriety again. While living there, Needham served meals in the facility's soup kitchen program. 
"Working with people…it really planted a seed in me," he said. "That place saved my life because it made me very humble. It made me want to not only get clean but stay clean." 
He began working at the front desk of Emmanuel House and was attending Alcoholics Anonymous and ARC in-house meetings regularly to get back on track.  
After a year of working in his current position at Emmanuel House, a job opened up at the neighboring Salvation Army food pantry. 
"It was important for me to stay grounded with The Salvation Army, but I was ready to branch out and learn something new," he said. "I was praying to God for a new challenge. He definitely provided that."   
Today, Needham has been sober for more than three years. He is the Food Pantry Coordinator for The Salvation Army of Silicon Valley. And his relationship with his entire family has been restored. 
"There wasn't a day that went by when I finally realized the scope of his addiction that I really thought I might have to bury my son, which is not a natural thing for a mother to have to do. That kind of dread…it takes you to kind of a dark place," said Stephanie, Needham's mother. "We're not in a dark place anymore. He is alive and he's thriving." 
"When Josh was in his acting out, he was in a very bad place emotionally, physically, and financially. Today, he's in a very good place," added Craig, Needham's father. "That journey that he's been on, in large part, has been because he's had the help and guidance of The Salvation Army. It's an amazing transformation. We're very proud of him."  
His sisters, Samantha Bezerra and Liza Chuck, also see the change The Salvation Army has made in his life. 
"I have a relationship with him because of that," said Bezerra. "It's just amazing how he has transformed."  
Chuck stressed the impact The Salvation Army had on Needham, which led to their family healing. 
"I was able, as an outsider, to look in and see him doing the work—seeing him admit faults and not dwell on those or blame those. That was a big catalyst for him and I to come back together," Chuck said. "What the Army has provided him is not just a path to sobriety; it's a path to a better way of a life."   
Even more notably, he was recently awarded 50 percent legal and physical custody of his son. 
"My family is back in my life," he added. "It's amazing. It's overwhelming. It's so positive. It's really hard to put into words…I've got my family back. They have their son, their brother, [and] their uncle. And my son, he has his father back."
Additionally, the entire family is involved in The Salvation Army. Needham plays the bass in The Salvation Army San Jose Temple Corps worship band and his family watches and supports him during worship services. They also volunteer their time helping Needham at the food pantry, and his sister, Chuck, made masks for Salvation Army staff, volunteers, and clients when the COVID-19 pandemic began.  
Needham said his entire life is now service-based, especially in his work at the food pantry. 
"It's about others above self. It's all about giving back," he said. "My motto is, 'Every client, every day, like family'…I get to pay it forward. I get to give back to The Salvation Army who saved my life."
His dedication and commitment to service are evident to everyone who works with him. 
"The great thing about Josh is what he's doing right now is he sees [the food pantry] as an actual ministry, said Major Roy Wild, Salvation Army Silicon Valley County Coordinator. "So his job…is not just a job. He sees it and approaches it as a ministry and that's what is really amazing to see."  
Needham also remains dedicated to his recovery and is even sponsoring others now. 
"I have to work for it and I can't do this alone anymore," Needham said. "And the miracle is I don't have to because I have God." 
---
Do Good: