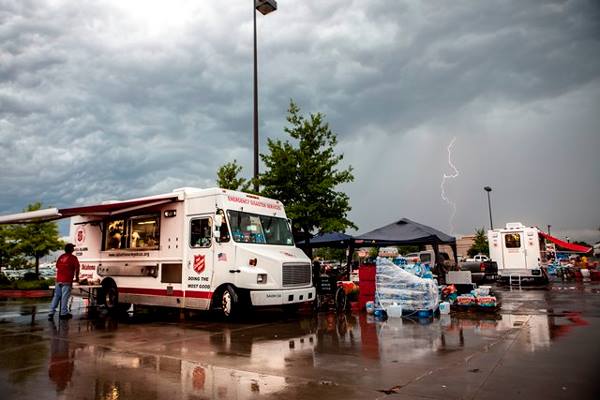 Salvation Army responds to severe weather in Texas
Another round of record-setting rains brings floods and tornados
The Salvation Army's Texas Division is mobilizing disaster resources after severe storms hit the state last night, causing severe flooding.  
"Record-shattering" thunderstorms have dumped torrential rains across the state in the past 24 hours.
"Several communities between Houston and Austin have been significantly impacted overnight," said Alvin Migues, emergency disaster director for the division. "We are currently sending a truckload of cots, blankets, water and hygiene products to the town of Brenham [Texas] in support of shelter operations even as high water rescues are continuing."
The storms brought tornados as well, one of which touched down in Brenham Thursday afternoon, where, according to Migues, damage assessments are being hampered by the continuing rain. Meanwhile, the Colorado River is expected to rise another 8-10 ft. on Friday across southern portions of the state.
At the same time, the National Hurricane Center has warned there's a 90 percent probability that a storm brewing out in the Atlantic Ocean will turn into a tropical cyclone, to be named Bonnie. Hurricane season doesn't officially begin until June 1, yet Bonne would represent the second hurricane to hit the region in 2016.
Currently, officials believe Bonnie is unlikely to have severe impacts, but Army personnel in Georgia, South Carolina and North Carolina are monitoring the situation.