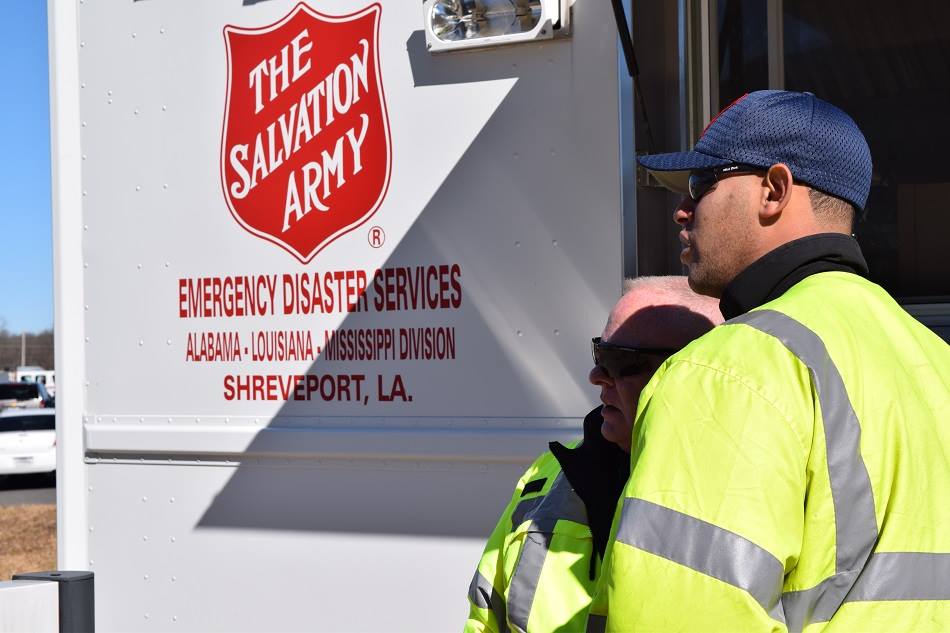 Salvation Army responds to major flooding across Louisiana and Mississippi
Flooding could linger well into next week
Heavy rains descended upon a large swath of Mississippi, Louisiana, Texas and other parts of the South last week, prompting The Salvation Army in Texas and TSA's Alabama, Mississippi, Louisiana Emergency Disaster Services Division, in conjunction with local Army representatives, to launch a coordinated disaster relief effort across the beleaguered region.
In Mississippi and Louisiana, torrential downpours have pushed flooding to 20-year highs, after storms began pounding the area last Tuesday, in spots dumping as much as 15 inches in 24 hours and displacing over 4000 families. CBS has reported that six deaths are being blamed on the situation. At least eight corps have joined these relief efforts thus far.
The Salvation Army of Northwest Louisiana, in cooperation with Caddo and Bossier Parish Emergency Preparedness Agencies, has been assisting with flood relief efforts in Shreveport, Haughton and Bossier City, Louisiana. Shelters have been opened in both Shreveport and Bossier City, where TSA was tasked with feeding the flood evacuees both in the shelters and the emergency operations centers in both parishes, as well as providing the meals for first responders. In Shreveport, The Salvation Army also opened a donation center, putting out a call for socks, cleaning supplies, diapers, packaged snacks, Gatorade, blankets, linens, and towels, as well as monetary donations.
"Monetary donations are always eagerly accepted, especially in emergency situations," said Major Ed Binnix, Shreveport Corps Commander. "The monetary donations allow us to stimulate the local economy, which has been impacted by the disaster and enable us to purchase what we need when we need it."
As clear skies finally arrived over Louisiana on Monday, Binnix said Bossier and Shreveport efforts were shifting into recovery mode, handing out clean up kits and redirecting feeding efforts toward inspectors, responders, "mud out" crews and residents who have begun to trickle back in.
Going into the weekend, as rains continued to fall in Louisiana, Baton Rouge, Shreveport and Monroe corps had already been on the scene for days. Staff and supplies from The Jackson, Mississippi Corps were deployed to Monroe, La., Friday morning to assist with shelter and mobile feeding operations. That shipment included 3000 meals and two pallets of clean up kits, along with water and other essential items. Support also included six staff members and volunteers, one mobile canteen, and one supply truck.
In Mississippi, meanwhile, The Salvation Army's Greenville Corps was supporting the city's shelter. "We are available to assist wherever we are needed to bring some comfort to the citizens of Greenville," said Lieutenant Damon Graham, Greenville, MS Corps Officer.
The Shreveport, Monroe and Greenville corps have distributed thousands of meals, drinks and snacks in the shelters, in addition to deploying a roving team to the Shreveport area, where an Emotional and Spiritual Care team was also on standby. "[W]hat is so unique about our response in these situations is our officers are also ordained ministers and can give spiritual and emotional care as well," said Terry Lightheart, ALM EDS director.
On Saturday, TSA ALM mobilized two additional Corps from Mississippi and one from New Orleans to support relief efforts in Hattiesburg, Miss. and Louisiana's Tangipahoa and St. Tammany Parishes.  
In East Texas, TSA was also on the scene, providing assistance to those affected by significant flooding south of the Toledo Bend reservoir. There, the water level of the Sabine River is forecast to reach record levels, affecting numerous communities in the coming days.
Texas volunteers from TSA Service Units in Newton County and Kirbyville have been delivering water, clean up kits, and in some cases clothing. Additionally, emergency assistance in the form of gifts cards has been distributed to help offset immediate expenses.
Shelters are open in the cities of Burkeville and Kirbyville, where The Salvation Army is working closely with the Southern Baptist Texas Convention to help establish a kitchen.
Some 700 boxes from the Midwest Food Bank are expected to arrive in Texas Tuesday morning and 1,600 clean-up kits are pre-positioned at The Salvation Army Disaster Warehouse in Beaumont ready for distribution. Cots and blankets have been delivered to the Orange County EOC where Salvation Army staff are providing essential support on Monday.
"Salvation Army staff and volunteers are working hard to provide relief and assistance to those who have been affected by flooding in East Texas," said Alvin Migues, Emergency Disaster Services Director, for The Salvation Army in Texas. "We will continue to monitor the flooding over the coming days and will remain in the area as long as needed. We have additional Salvation Army disaster units on stand-by should they be needed."
In fact, The Salvation Army Houston Area Command has placed all their mobile kitchens and disaster personnel on alert in advance of anticipated flooding in and around the city of Orange.
Even as Louisiana and Mississippi area rains finally eased over the weekend, Sunday saw tornadoes touch down in nearby Arkansas. At a Monday morning briefing, the Shreveport Times reported that officials were still nervously eyeing certain levees. They also noted that a federally declared disaster area for parts of Louisiana was likely to expand.
Waters there had begun to recede, though Shreveport Corps Commander Binnix said that the Red River, which comes out of Oklahoma, was still rising as of Monday, causing a slowdown of drainage in the area. "There is going to come a time in the next couple days when water might start backing up again in certain areas," he said. Though much of these areas are fairly rural, he said, some neighborhoods and homes, including a percentage of low-income residents, could again be at risk. "It's especially hard on them."
Donations to the Shreveport efforts can be made online at www.salvationarmyalm.org/shreveport or on The Salvation Army Facebook page. All online donations are received locally.
Donations to support TSA's ongoing Salvation Army Texas efforts can be made by texting STORM to 51555, or by calling 1-800-SAL-ARMY, or online.
Reporting by Jon Kalahar, Pattie Odom, Philip Burn and Terry Lightheart