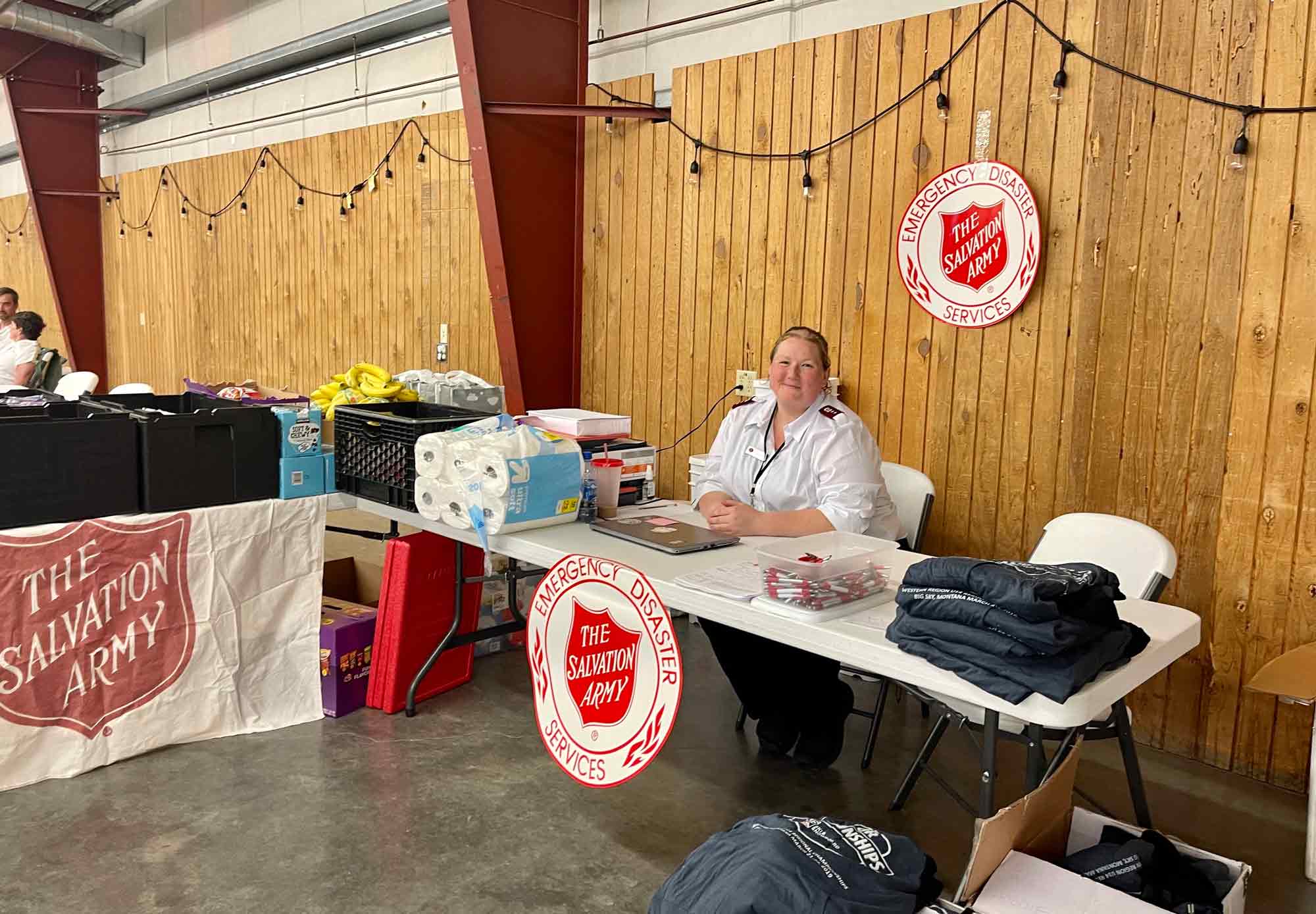 Following historic Montana floods, The Salvation Army aims to aid recovery
In early June, Pam Peterson, a local pastor at Red Lodge Community Church in Red Lodge, Montana, heard that campsites at neighboring Yellowstone National Park were being evacuated due to flooding caused by snowmelt and rain. And soon after, her town was flooding, too.
"I wasn't even aware of it until my neighbor called and let me know," Peterson said. "By the time I realized what was going on, there was just barely time to grab an overnight bag and leave my home."
Peterson left her home and evacuated to her church.
"I kept thinking, it's going to stop, but it just kept getting worse," she said.
And soon she and her fellow community members realized they needed to get to higher ground. Peterson took her two dogs to her cousin's home in Billings, Montana. She returned to Red Lodge a couple of days later to see the extent of the damage.
Approximately 115 homes were destroyed or significantly damaged in the historic flooding that took place in Carbon, Park, and Stillwater counties in Montana. According to the U.S. Geological Survey, the floods amounted to a one-in-500-year event.
"When you look at Montana and the per capita damage that it did, this is one of the largest disasters that this state has ever seen. This is huge and a lot of people are feeling the impact," said Joe Wojton, Salvation Army Helena Corps Emergency/Disaster Services (EDS) Director and Montana Voluntary Organizations Active in Disasters (VOAD) President. Wojton coordinated with The Salvation Army's partner VOAD organizations and worked with the Federal Emergency Management Agency and Montana Disaster Emergency Services on response efforts.
Soon after the flooding, The Salvation Army's corps officers and staff in Red Lodge, Billings and Bozeman deployed to respond to the disaster along with the Intermountain Division EDS team.
As of August 8, The Salvation Army had provided over $34,000 in disaster relief services to the community, including 1,506 meals, 706 drinks, 423 snacks and 400 clean-up kits. EDS also provided lodging, food boxes, ice, gift cards, cleaning supplies and tools, clean-up, repair, and grocery vouchers, clothing, hygiene kits, pet supplies, and personal protection equipment—as well as social services, volunteer management, and emotional and spiritual support.
"We ended up doing a lot of unique, important and impactful things. I'm certainly happy with our team's efforts," said Ian Anderson, Salvation Army Intermountain EDS Director. "Considering all of the different things that we did, we were very much a lead organization in these relief efforts."
Another key component of disaster relief efforts in the area was the development and operations of Multi-Agency Resource Centers (MARCs) in Carvin and Stillwater counties. And The Salvation Army had a strong presence at these MARCs along with other community agencies.
"The Multi-Agency Resource Centers were …[where] we had a bunch of volunteer organizations and government organizations all in one place where the victims could come and get the proper resources, which included The Salvation Army," said James Antal, who was part of The Salvation Army's Intermountain Divisional EDS team. "Us and also all of the other organizations in the MARCs understood we were all working together to help people navigate this disaster."
Peterson helped lead MARC development and operation efforts in Red Lodge and Fromberg. And Antal trained and guided her and other community leaders through the process of doing so.
"He was an absolute godsend. His information was always correct. He was very patient and encouraging," Peterson said of Antal. "He knew exactly what he was doing when he was setting up a MARC and taught me how to do that with great patience and great humility. He never stepped forward to take any credit. He definitely credited the work of our community across the board."
Antal reported that more than 250 people received assistance through the MARCs. And both he and Peterson said that community members were grateful to have resources available to them in one place.
"It was very impactful," Peterson said.
But The Salvation Army was also on the ground offering whatever support they could to community members.
"It's not technically a Bozeman service area, but me and the Billings Corps decided that we were going to hit the ground running and serve the area because it's our state," said Captain Amber Ohl, Salvation Army Bozeman Corps Officer.
Ohl said her team focused efforts in Park County—primarily in Livingston—offering clean-up kits, clothing, food vouchers, and more resources at the MARCs, but they also went out to homes in the community delivering lunches and offering support.
"So we were making sure everyone had a nice hearty lunch so they could continue working and were able to pray with people and just meet them where they're at," Ohl said.
And she said people appreciated The Salvation Army's presence.
"Everybody was extremely grateful. I think just being there, being a listening ear to the folks, they really appreciate that," Ohl said. "It's not always about the items we're able to give them or the tangible things, but being there and having that spiritual and emotional care and listening to what's going on in their lives…It's always good to provide a listening ear."
Lieutenant Felecia Pederson, Salvation Army Billings Corps Officer, said they responded as soon as they got the call for assistance. Pederson and her team distributed meals and clean-up kits in Fromberg and met any other needs the community had.
"It was humbling as it always is in emergency disaster situations because you're there trying to offer help, and I am always just in awe by the human spirit—by the people who have been affected," Pederson said. "I'm always just amazed at how people want to come together and help each other and just they're able to build each other up and move on."
Pederson was even able to work with a couple of volunteers in mucking out a basement, moving furniture, and taking things to the tub to clean from the mud.
"So more than just delivering meals, I was able to get dirty, and…everyone [was] so incredibly grateful," Pederson said. "They're dealing with this mud and that's just their life. There's several feet of mud."
Kiara Colgan, another member of The Salvation Army Intermountain Divisional EDS team, stressed the importance of The Salvation Army being there for those affected.
"A lot of them didn't know what they needed and a lot of them were really overwhelmed," Colgan said. "A lot of people were grateful for us just to be present and listen."
Now, the focus is on long-term recovery. And Anderson says he is confident The Salvation Army will be a key player in these efforts. In fact, Wojton said The Salvation Army Service Extension Unit in Red Lodge is coordinating long-term recovery groups.
Those who responded hope The Salvation Army's presence left a lasting impact on the communities they helped.
"Even though they've been through a really horrible situation, there's still hope. The world is going to continue on, things are going to be OK, they're going to make it through this, and they're not alone," Pederson said. "We really hope to see people settled….We want to see them rebuilding and feeling confident about the future and that they're going to be OK."
"[I hope] that they are able to see Christ's love through me and my employees who [were] out there helping them," Ohl added. "I hope that they felt loved."
---
Do Good:
See how The Salvation Army fights disaster.
Have you ever found yourself wanting to volunteer but unsure of what to do or how to go about it? Here's the key: You can make an impact in the Fight for Good with whatever time and skills you have. Whatever your interest, there is a you-sized need for goodness in the world. Get the guide on How To Be An Impactful Volunteer with 9 habits to make a difference when giving back.