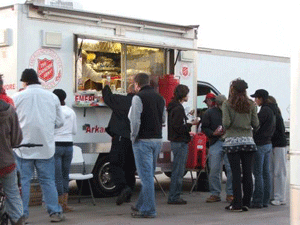 Salvation Army Responds After Tornadoes Cause Devastation Across Southern USA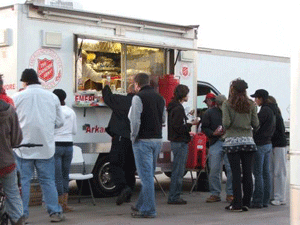 Salvation Army Emergency Disaster Services (EDS) personnel continue to meet material, emotional, and spiritual needs across the southern United States of America, where tornadoes and storms have caused destruction on a scale not seen for nearly a century. More than 350 people are known to have been killed, including at least 250 in the state of Alabama, where Governor Robert Bentley expects more bodies to be found in the coming days.
Salvation Army EDS crews are at work in Alabama, Mississippi, Arkansas, Georgia, Virginia, Tennessee and Kentucky. After days of intense service, several locations are scaling back response efforts while some places hit particularly hard by the storms are still in need of daily feeding and spiritual care.
Since the tornado season began, The Salvation Army has served 86,000 hot meals and distributed 260,000 sandwiches as well as providing spiritual and physical support to thousands of suffering people.
Thirty-eight Salvation Army feeding units and one shower trailer are active in Mississippi and Alabama. Since the end of April, tens of thousands of meals and drinks have been distributed. On Friday (29 April) and Saturday alone, Salvation Army teams served 30,820 meals and 51,072 drinks. More than 1,300 people received the emotional and spiritual care that is a vital aspect of Salvation Army disaster response.
In Arkansas, EDS personnel continue to monitor rising water levels which have reached major flood stage in nine counties. At present, one mobile feeding unit is serving Randolph County. More than 5,000 meals have been served since Monday 2 May.
Operations in Georgia are beginning to wind down but several units are still in service. At the request of the government agency FEMA (Federal Emergency Management Agency), a mobile feeding remained in Spalding County, as did a social service representative in Harold County. Additionally, operations continue in Catoosa, Walker, Dade and Trenton Counties. Teams served 8,596 meals and 4,195 drinks in Spalding, 720 meals and 1,490 drinks in Rome, and 120 meals and 350 drinks in Cartersville.
In Cleveland, Tennessee, and north Georgia, EDS crews are offering meals, beverages and emotional/spiritual care services to keep pace with the needs of communities hit hard by the storms. In Tennessee, operations will diminish in Henderson, Murfreesboro and Clarksville as local resources are once again available for storm survivors.
With the search and rescue operation complete and power lines and debris cleared from roads in Chattanooga, Tennessee, The Salvation Army is moving into areas it was not able to access in previous days. An increasing number of people are seeking prayer and physical support. Volunteer Karen Diliberto says: 'When someone has lost everything, what they need most is hope. What better hope to provide than the healing power of prayer?'
Assistance has been provided in Dyersburg, Bradley, Hamilton, Greenville and Lake Counties (Tennessee) and Washington County (Virginia). By the morning of Sunday 1 May, 800 volunteers had logged 7,000 hours while helping staff serve approximately 14,500 meals throughout the three states.
One of the places particularly badly hit was Tuscaloosa, Alabama, where more than 40 people were killed by a tornado that tore through the city. Hundreds are still not accounted for.
Lieutenant Jerry Williams, Incident Command Coordinator, had a simple message for the people of Tuscaloosa from The Salvation Army: 'We're on the ground. We were there yesterday, we'll be there tomorrow and we'll stay until this disaster ends!'
The emergency reponse in Tuscaloosa had to be coordinated from a site at the airport because The Salvation Army's properties in the city were destroyed. Major Cherry Crowder reports: 'There were 30 of us huddled in the [Salvation Army] administrative building when the tornado passed over us. But we had a miracle happen here because the building was destroyed but the only injury we had was one bruised thumb.'
Some things carried on as usual, though, despite the destruction. On Sunday 1 May a church service was held at the destroyed Tuscaloosa Salvation Army Corps, along with a short time of prayer and song at the incident command centre.
Connie Pulam, a resident of nearby Pratt City, Alabama, is receiving help from The Salvation Army.
'I may be houseless,' she said on Monday 2 May, while sifting through the splinters and rubble that was once her house, 'but I am not homeless as long as I have somewhere to lay my head. I am alive.'
Connie and her husband were able to get out of their house just before the tornado hit. 'Something told me – I imagine the Holy Spirit – to get out of there, so we got in the car and took off.'
The Pulams cling onto a hope found only in faith. Undergirding that faith is The Salvation Army's presence in Pratt City and across Alabama. The Salvation Army has had two canteens in the area since the tornado hit. Residents in Pratt City and other areas affected have had access to water, food and counselling.
'We are just happy to see the help coming,' said Connie. 'It is a blessing to have The Salvation Army here. It is just a comfort to know they care.'
Report taken from various sources, including an update sent out by The Salvation Army's USA Southern Territory
Daily new releases and more detailed information is available in the 'newsroom' at https://disaster.salvationarmyusa.org