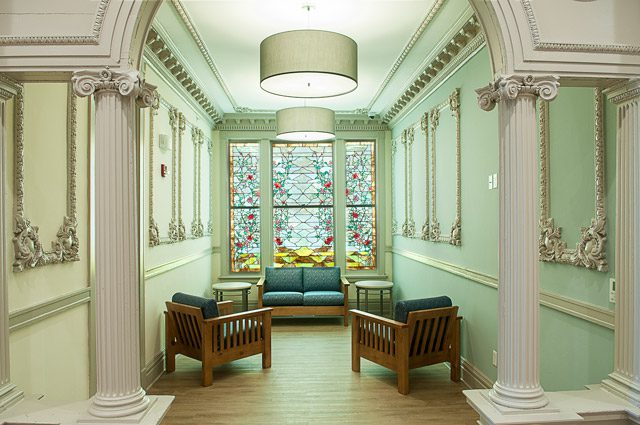 Salvation Army residential remodel wins top honors
Recently refurbished 3010 Apartments in St. Louis are recognized with a national award
By Jack Wang – 
 A meticulously remodeled, 100-year-old Salvation Army residential facility in St. Louis, Mo. has received top honors from the National Trust and U.S. Department of Housing and Urban Development (HUD).
With architectural details representing the best of vintage and modern design, The Salvation Army's refurbished 3010 Apartments, located in the city's historic midtown neighborhood, has been awarded the prestigious National Trust/HUD Secretary's Award for Excellence in Historic Preservation, a national prize given annually to one initiative that both serves as an outstanding example of historic preservation and creates affordable housing and other benefits for low- and moderate-income residents. The honor was bestowed on the project at a ceremony in Washington, D.C., late last year.
The $12 million building rehabilitation formerly housed the Harbor Light Center, which served persons struggling with chronic substance abuse and various disabilities. The building has been renamed The Salvation Army 3010 Apartments.
"We consider the 3010 Apartments a redeemed space for redeemed lives," said Midland Divisional Commander, Lt. Colonel Lonneal Richardson. "Overall, the Midtown project represents a bold new approach to service, community-building and sustainable quality of life improvement for our city's most vulnerable residents."
For more than a century, the property at 3010 Washington Boulevard has been synonymous with transforming the lives of those in the greatest need in St. Louis. Originally known as the Newsboys Home and Protectorate, founded by Father Peter J. Dunne in 1907, the one-of-a-kind facility served a great need in St. Louis—housing, educating and caring for homeless boys. Purchased by The Salvation Army in 1970, the building was renovated as the Harbor Light Center.
Dedicated in February 2015, the building now houses 58 one-bedroom, private residential apartments for low-income or very low-income adult residents with a variety of special needs. Rehabilitation of the building was accomplished without drastically altering the interiors and included the retention of historic elements.
The 3010 Apartments represents just the second phase of The Salvation Army's substantial five-phase Midtown Project, which began with a $9 million veterans' residence and will ultimately also include a $6 million Midtown Service and Treatment Center; a Red Shield Center incorporating space for physical fitness, music, technology, and a worship center; and a mixed-use commercial and residential development, consisting of retail space and market-rate apartments.
By 2017, the entire project will be drawing nearer to completion—resulting in a total estimated $60 million investment of new construction to revitalize Midtown St. Louis. The historic rehabilitation of the 3010 Apartments alone resulted in approximately 100 full-time jobs for Missourians for the last two years of the renovation and an estimated $350,000 in sales tax revenue on the construction materials. The substance abuse treatment services of the former Harbor Light Center currently continue nearby, with plans to relocate to the new wellness center presently under construction in the area.