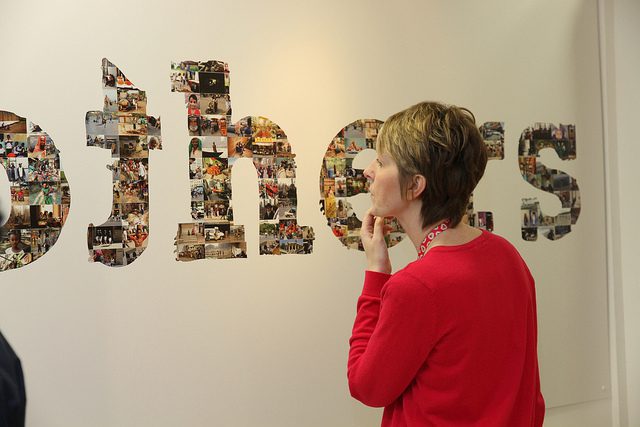 "Others" exhibit launched at IHQ
Brand replaces Sally Ann
By Kevin Sims –
A new photographic exhibition in Gallery 101 at The Salvation Army's International Headquarters (IHQ) in London celebrates the dignity and hope offered through the work of "Others," the new name of Sally Ann, The Salvation Army's fair trade brand.
The photos, most of which were taken by 14-year-old Clement Størksen from Norway, show scenes from Others projects in Bangladesh in a display that provokes thoughts about who others are, from friends and family to people in developing countries who can be raised out of poverty with business opportunities.
The launch of the exhibition began with the the gospel sounds of "O Happy Day!" in the first-ever performance of the IHQ Lunchtime Gospel Choir. Made up of staff and officers from IHQ along with workers from nearby offices, the choir started biweekly rehearsals in mid-January. Already, more than 30 people from outside IHQ have attended rehearsals.
Commissioner Birgitte Brekke-Clifton, international secretary for Europe, addressed a crowded Café101 to explain the history of the links between The Salvation Army in Bangladesh—where many of Others' goods are produced—and Norway, which oversees the administration.
Jan Aasman Størksen, managing director of Others, explained the thinking behind the exhibition. He expressed a hope that everyone who looked around the display would think beyond the "buy one, get one free" culture and instead seek to spend their money wisely—even sacrificially—to support people in the developing world.
Gallery 101 at IHQ, which adjoins the public cafe, is overseen and curated by members of the IHQ Communications team. Regular exhibitions are held in the gallery throughout the year, some with obvious Salvation Army links but others in partnership with charities, organizations and other individuals who share the Army's values and ethos. Through arranging interesting and varied exhibitions, IHQ Communications hopes to form strong partnerships and to encourage some of the millions of people who pass IHQ every year to come into the building to learn more about The Salvation Army's international ministry.
[gss ids="6757,6763,6762,6760,6761,6759,6758″]