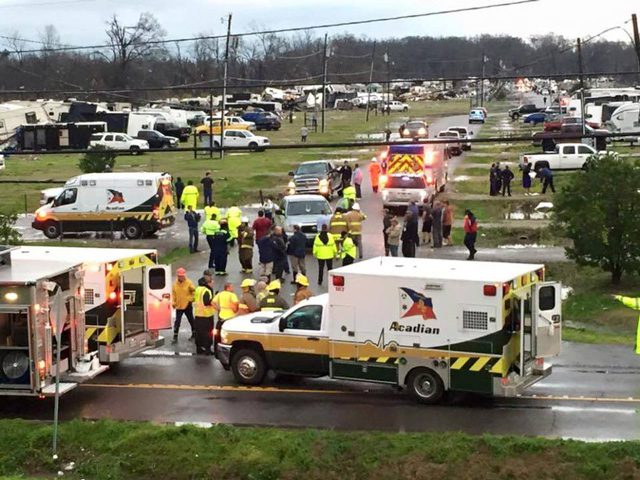 Salvation Army reacts after tornadoes hit Louisiana
Two corps respond to devastated RV park in Convent, Louisiana.
By Jon Kalahar – 
Severe weather moved across the Alabama, Louisiana, Mississippi Division Feb. 23-24 bringing heavy rain, high winds and several tornados. The Salvation Army responded to the Sugar Hill RV Park in Convent, La., which saw the worst of the devastation. The Baton Rouge Corps and New Orleans Command both responded with canteens and volunteers to serve first responders and residents whose vehicles were literally turned upside down from the high winds brought by the storms.
"A great team of people headed straight to Convent once we learned of the need last night," said Captain Brett Meredith, Baton Rouge corps officer. "This is difficult work for the first responders, and we are just glad to be able to serve and help them do what they have to do."
Between them, the Baton Rouge Corps and the New Orleans Command distributed over 200 meals, 400 drinks and snacks, 20 pairs of socks and six pairs of gloves. Plus, officers on site provided spiritual care to individuals who requested it.
Local officials have confirmed two deaths and 30 injuries from this location.
"Our hearts go out to those who lost loved ones last night, and we pray that our work may ease the burden that everyone feels during times like these," Meredith said.
"The Salvation Army is committed to ensuring that the emergent needs of our community are met when needed," Major David Worthy said. "When crisis occurs, we're there to support victims, first responders and anyone else in need of help."
In Mobile, Ala., the Coastal Alabama Command activated their emergency shelter due to severe weather. The Salvation Army housed 49 people overnight and served breakfast.
Financial donations are the best way to support those affected by these devastating tornadoes. Donations can be made online or by calling 800-SAL-ARMY or by sending a check to your local Salvation Army, earmarked, "Emergency Disaster Services."
For the latest emergency disaster services news from The Salvation Army, please visit disaster.salvationarmyusa.org or follow the social feed on Twitter at @salarmyeds.