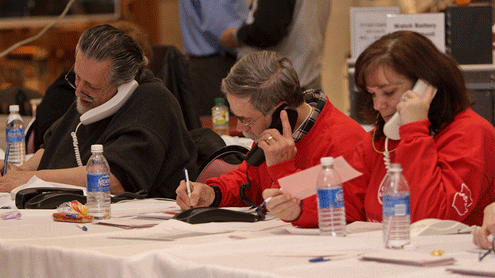 Salvation Army Radiothon raises $1.7 million
Celebrities and politicians lend a voice to annual event
The 25th annual Salvation Army Bed & Bread Club Radiothon raised more than $1.7 million to fight hunger and homelessness in Southfield, Mich. The 16-hour event aired live Feb. 24 from the Oakland Mall on News/Talk 760 WJR.
A variety of celebrities and politicians were featured on the radio show, including Tim Allen, Kid Rock, Bill Cosby, Ken Holland, Gov. Rick Snyder, Mayor Dave Bing and best-selling author Vince Flynn.
"We are overwhelmed with the kindness and support that has been expressed and we can't begin to describe how grateful we are to our donors and WJR for the good they have done," said Major Mark Anderson, general secretary and area commander for The Salvation Army Eastern Michigan Division.
Some of the top contributors to the program were Ford Motor Company Fund, Michigan Financial Companies and Garden Fresh Gourmet.
Every dollar raised during the Radiothon goes directly to the Bed & Bread program, which serves approximately 5,000 meals to the hungry each day. A portion of funds raised during this year's Radiothon will also support the opening of a new Drop-In Center being established with Christ Church Detroit.
"Hunger and homelessness in our community is a huge, but not impossible, problem to fix," Anderson said. "By donating to The Salvation Army Bed & Bread Club Radiothon, the people of metro Detroit have truly become heroes in the fight against poverty."