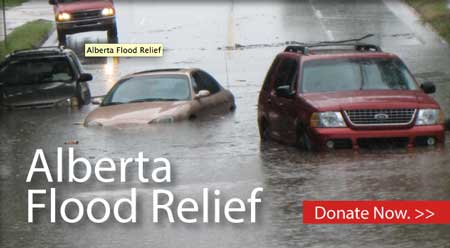 Salvation Army Provides Assistance to Flood Victims in Alberta, Canada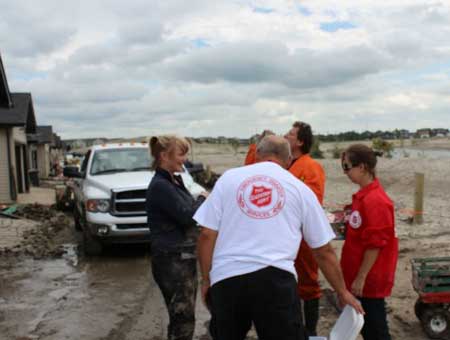 The Salvation Army in Canada has served 11,500 meals, supplied clean drinking water and continues to provide emotional and spiritual support to more than 870 evacuees following severe flooding in Calgary, Alberta.
The relief efforts were centred on High River, where flood waters continue to be pumped away as residents return to pick up the pieces of their lives. Food, hydration and a listening ear were welcome relief to the townsfolk. 'The Salvation Army is exactly what we need,' said High River resident Doreen, whose house was inundated and deemed unsafe to live in, but which is ultimately reparable.
In High River, The Salvation Army's food bank, thrift store and office space suffered significant damage. The only salvageable items were metal clothing racks from the store. It is expected that it will be months before the facility can be reopened.
In this community of 13,000, The Salvation Army provided the only food bank and family services. The Army feels it is critical to resume these services as soon as possible and will place a temporary trailer unit in its church parking lot to serve as a food and clothing distribution centre. The goal is to have it in full operation by 15 July.
A key role for The Salvation Army has been to lend support on buses as residents tour their flood-hit neighbourhood, as well as at the rodeo grounds and airport as they register to find out the condition of their homes. Numerous emotional and spiritual care personnel have been deployed, who are also roving streets to support residents as they clean out from the destruction.
The Salvation Army meets needs as they arise. At the request of the local authorities, a Community Response Unit was deployed to Exshaw, a hamlet 90 kilometres west of Calgary. For the next 10 days, lunch will be provided to 60 evacuees and volunteers.
'I want to express my sincere gratitude for all that The Salvation Army has done for us,' says Linda Sojer, President of the High River Downtown Business Association. 'Over the next few days our community is going to need to feel your presence and the love you provide even more. Thank you for your continued support.'
In Medicine Hat, there are still 170 homes evacuated and it is anticipated that 40 to 50 of them will be uninhabitable long-term. Salvation Army personnel on-site at the evacuation centre are arranging accommodation, and providing clothing vouchers and gift cards.
In Calgary, The Salvation Army's Centre of Hope has reopened after being flooded. The elevator is currently inoperable, preventing some residents and staff from returning. Basement areas, which were damaged by the waters, are undergoing significant repairs.
The Salvation Army has been allowed access to its Thrift Store and Community and Family Services (food bank), which suffered extensive damage. There is still 30 centimetres of water in the basement of the Army's church/corps building, but access was allowed. Both properties will require considerable cleaning and repair before services can resume. The Salvation Army is working on obtaining a temporary site in order to get the Community and Family Services and local relief efforts up and running as soon as possible.
In Nanton, Salvation Army officers and volunteers continue to provide food, hydration and emotional and spiritual care to more than 700 people per day.
 For more details of The Salvation Army's response in Alberta, visit https://sar.my/can