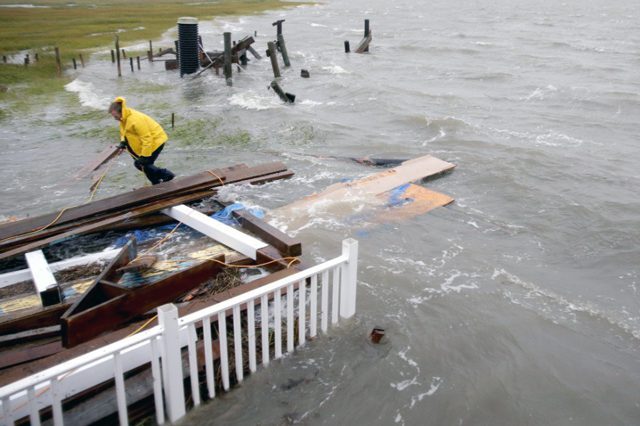 Salvation Army pools resources in response to Carolina floods
The Emergency Disaster Services of The Salvation Army of Alabama, Louisiana, and Mississippi provides aid for historic flooding in the Carolinas.
Salvation Army mobile feeding kitchens are rolling in from all over the Carolinas and Georgia serving hot meals and drinks to those who have been devastated by the historic floods in South Carolina. Currently, The Salvation Army is serving in multiple locations throughout South Carolina—from the coast to the Midlands area—and response is expanding as roads and neighborhoods become accessible.
"We got a call today from a fire department, those guys had not eaten all day," said Lt. Chwight Olige,  Salvation Army Charlotte corps officer. "They were way too busy. We turned around and were able to feed all 35 guys a meal of pork chops, green beans, and fruit. Those guys had given so much all day, we were so blessed to be able to serve them."
As of today, Salvation Army officers, staff and volunteers have served 10,855 meals, 6,019 drinks, and 5,709 snacks to those affected by the‪ floods.
The Emergency Disaster Services of The Salvation Army of Alabama, Louisiana, and Mississippi (ALM) is also joining in the effort to assist residents in South Carolina hit hardest by severe storms and flooding. South Carolina has received a federal disaster declaration to include 11 counties. The ALM Division is supporting the response and recovery efforts by providing 1,400 disaster clean-up kits, 78 insulated food distribution containers (cambros) and 9,000 cambro liners. The semi-truckload of supplies is being shipped to South Carolina from our warehouse located in Jackson, Miss.
The insulated food containers will be utilized to support bulk distribution of hot food to affected residents. The clean-up kits will be distributed to local residents to assist in recovery efforts. A clean-up kit consists of household cleaning supplies such as a broom, mop, bleach, all-purpose cleaner, a pair of cleaning and work gloves, face mask, scrub brush and squeegee mop.
Terry Lightheart, ALM Divisional Emergency Services Director, who is currently deployed as a Salvation Army liaison at the South Carolina State Emergency Operations Center said supplies are being provided from ALM to South Carolina through a request from The Salvation Army's South Carolina Incident Command.
"Much work has already taken place," Lightheart said. "However, there is more to be done to help residents affected from this storm, specifically from devastating flooding."
A canteen from The Salvation Army of Greater Charlotte recently came to aid with help as well. This unit is serving shelters and first responders in the Eastover community, one of the hardest hit in the flooding. The Salvation Army is and will continue until they are not needed any more.
"The Salvation Army was here long before the storms and we will be here serving the community as long as we are needed," said Major Roger Coulson, regional coordinator and corps officer from The Salvation Army of the Midlands. "We will continue to assess the needs that people have and maximize the resources that the people have entrusted to The Salvation Army."