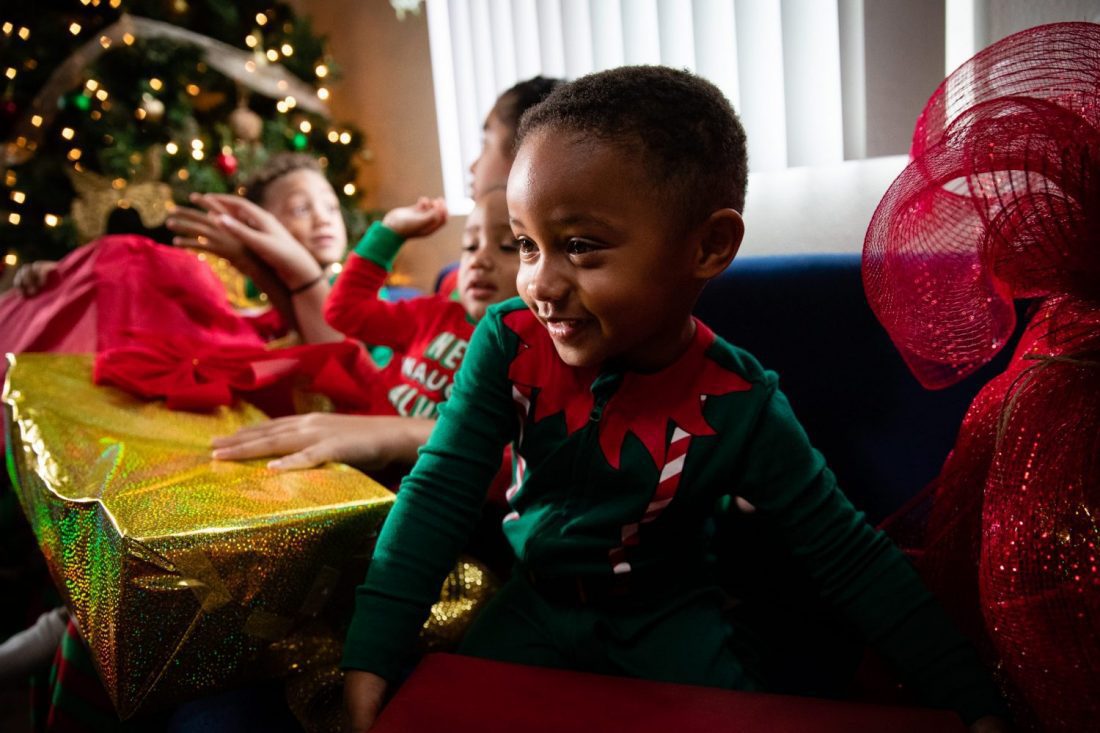 Salvation Army partners to not only rescue Christmas but make it special
When leaders at The Salvation Army put out a call to help rescue Christmas earlier this year, they knew there would be challenges. But as everything from potential delays in the distribution of donated goods to concerns over safe distancing protocols threatened to impact the spirit of the season, corporate partners have come through with more support than could have been imagined.
The Salvation Army expects to serve up to 155 percent more people with holiday assistance this year, making fundraising efforts even more critical than usual. The economic fallout of the ongoing health crisis has led to a new population of families and individuals facing unemployment and financial hardships that are expected to last through the holidays and well into 2021. In fact, a recent study by Columbia University's Center on Poverty & Social Policy showed that the number of Americans living in poverty has grown by nearly 8 million since May, with particular increases in monthly poverty rates among Black and Hispanic individuals, as well as for children.
"It's an extraordinary year with extraordinary challenges," said Maria Todaro, Director of Corporate Engagement for The Salvation Army's Western Territory. "We got together internally really early on to develop impactful, turnkey opportunities for our corporate partners to help us fill the gap, and they have come forward to do so in big ways."
Local, regional and national kettle partners have also stepped forward to continue to host bellringers this year—even during the ongoing pandemic. The Salvation Army is adopting nationally mandated safety protocols for physical kettles to help ensure the safety of bell ringers, donors, and partners. The Army's IT team will provide detailed and in-depth foot traffic data and reporting to help kettle coordinators determine optimal locations, days of the week, and times of day for kettle placement—and Kettle Pay (Google and Apple Pay) technology will be enabled for contactless donations. 
"Our partners know more people than ever are hurting and are confident we'll help as many of those people as we can," said Deborah Knutson, Director of Communications, Corporate Relations, and Brand Management for the Western Territory.
She noted some partners are offering additional ways to help raise funds this Christmas, such as extended kettle dates, point-of-sale campaigns, and corporate giving and employee engagement opportunities.
One such opportunity is with AT&T. The partnership grew from a relationship in the West, Todaro said, and has blossomed since the company's $500,000 national donation for COVID-19 relief efforts for first responders earlier this year.
Now through Jan. 5, 2021, customers who sign up for qualifying AT&T Internet will be eligible for a $125 Visa Reward Card and will have the option of donating all or part of that reward to The Salvation Army. The company is also encouraging its customers to text HOPE to 52000 to donate $10 to The Salvation Army to help fill the red kettles. 
Another alliance that's grown exponentially this year is with the Mattel Children's Foundation and Mattel Inc. in Southern California and nationwide.
It all started when Mattel's Nancy Molenda started to look internally for in-kind toy inventory and offered 10,000 toys for five Salvation Army locations. That soon grew to 20,000 toys at 10 locations. To date, a total of more than 200,000 toys will be donated to locations across the nation including targeted communities in Colorado, Oregon, Mississippi, Michigan, New York, New Jersey and California.
"It was a no-brainer," said Molenda, who serves as Executive Director of the Mattel Children's Foundation. "For us, The Salvation Army is so on point with the kids and families during the holidays. Everything is so well put together—and it makes it a dream to work with them."
Todaro and Molenda had previously collaborated on a Mattel employee-supported Angel Tree program and other local LA efforts. But this year's safer-at-home orders and office closures meant that there'd need to be some creative planning to make up for the greater need.
Molenda said both sides were poised to be together in purpose if not in person.
"Purpose is in Mattel's DNA," she said. "We just celebrated 75 years, and it's always been important to us that we create opportunities for our employees to give back to the communities where they live, work and play."
In addition to the in-kind donation of toys, Mattel has extended a discount offer to the public in Los Angeles to "Buy one and give one" toy at a discount, and they've created a co-branded virtual kettle page where employees can participate in the efforts to rescue Christmas and Mattel will match their donations.
Another partner who has heeded the call is Walmart. Building upon a 40-year relationship of supporting people in need during the holiday season, Walmart and The Salvation Army are bringing hope and joy to families through the expansion of programs like Angel Tree and Red Kettles, which will be out earlier, and, for the first time, round-up donations to The Salvation Army in-store and online.
Starting Nov. 2 and continuing through the end of the year, shoppers will have the option to round up their purchases to the nearest dollar and donate the difference to The Salvation Army when they shop in participating Walmart stores, on Walmart.com, or through the Walmart app.
In addition, The Salvation Army's iconic red kettles and bell ringers will be at participating Walmart stores and select Sam's Clubs across the country starting early on Nov. 21 this year.
Even celebrities like DJ Khaled have taken up the #RescueChristmas Challenge, encouraging others to adopt an angel from The Salvation Army Angel Tree program in their hometown. Through the Angel Tree website, customers can shop for gifts and have them delivered directly to a local Salvation Army.
"With the levels of uncertainty, fear, and stress we're all experiencing—in virtually every aspect of our lives this year—it's been wonderful to see how everyone has really come together to focus on this common cause: to Rescue Christmas for those who need it most," Knutson said. "From the very beginning of our COVID-19 response, through our hurricane and wildfire relief, to all the planning and preparations for the Christmas season, and everything in between, our officers, employees, volunteers, and corporate and community partners have pulled together, gotten creative, and worked absolutely crazy hours to help each other help our neighbors in need."
---
Do Good: