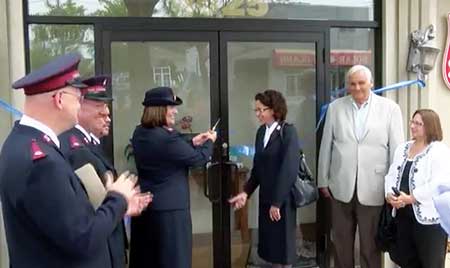 Salvation Army opens Sandy Recovery Center
New center will provide long-term support in New York.
The Salvation Army Greater New York Division held an open house and ribbon-cutting ceremony to mark the official opening of its Long Island Sandy Recovery Center, which will offer long-term assistance to survivors of the fall 2012 storm. Unique to the area, it will provide disaster case management to help eligible survivors find resources for rebuilding their damaged homes.
"We wrapped up our short-term relief efforts in 2012, then entered a recovery phase, and now have officially switched our operations to long-term recovery, as we, together with our partners, work to get people back into their homes or into a new permanent home," said Major Steven Stoops, associate social ministries secretary for The Salvation Army Greater New York Division.
Over the past eight months, The Salvation Army has provided financial assistance, referral services to the hardest hit areas of Staten Island, Queens and Long Island, while also playing an active role in bringing funding and services to those affected through partnerships with other nonprofit agencies.
As the state continues recovery operations, homeowners like Ellen Levitsky are grateful for the support of The Salvation Army, which helped clean up her storm-ravaged home.
"I never thought anyone would come to help," Levitsky said. "I feel like I should be pinched. I'm so thankful for the help that The Salvation Army has provided, and how quickly."
Two more Salvation Army Sandy Recovery Centers are in the works for Staten Island and Far Rockaway, which will replicate the case-management model of the Long Island site. Both centers are in need of staff.
To support The Salvation Army's continued Sandy recovery work, please visit salvationarmyny.org. For information on eligibility and available assistance, call the center's main number at (516) 478-4166.