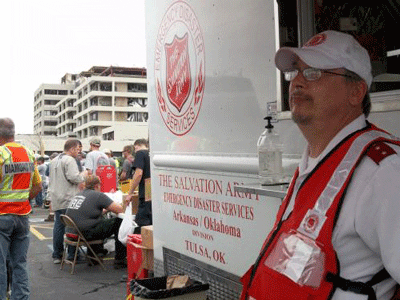 Salvation Army Opening Free Supply Store for Joplin Residents
Salvation Army Relief Efforts in Joplin Continue
Joplin, MO – To better assist those impacted by the tornado that ripped through Joplin Sunday, The Salvation Army has set a free supply store for Joplin residents to collect much-needed goods.
The supply store set up in The Salvation Army's former Thrift Store located at 402 East 7th Street will be open each day from 9–5 p.m. Those needing assistance will be able to meet with a Salvation Army case worker and pick-up groceries, water and personal hygiene items.
The Salvation Army also intends to serve people in a tent erected at the site of its new thrift store that was damaged on 26th and Main Street. It will be able to host at least 80 people each seating. It will also serve as a staging area at night for police and a place for people to gather for fellowship and a community hub for survivors and responders. A social worker will also be on hand, another non-profit will have debit cards available and Sprint has donated 400 prepaid cell phones.
At least six Salvation Army canteens (mobile kitchens) are currently feeding throughout Joplin and offering emotional and spiritual care to those recovering from the storm. To date, the Army has fed at least 7,500 responders and victims since Sunday night.
Monetary donations:
The best way to help Joplin now is to call 1-800-SAL-ARMY or go to www.SalvationArmyUSA.org to make a donation by credit card. Checks may be mailed to The Salvation Army, PO Box 21787, St. Louis, MO 63109-0787. Please designate the gift "Joplin Tornado." Cell phone users may also text the word JOPLIN to 80888 to make a $10 donation charged to their cell phone bill (text and/or messaging charges may apply).
Donations of used Household Goods and Clothing:
Due to the high expense and time demands associated with delivering your gently-used household goods and clothing (gifts-in-kind), The Salvation cannot guarantee that any individual gifts-in-kind donated now will be sent to the disaster area. In time of disaster, our stores fill these needs from existing, pre-sorted stock. By continuing to donate gently-used household goods to your local Salvation Army store, you not only help your community, you help us prepare for future disaster relief needs. To find your nearest drop-off location, please go to www.satruck.org.
About The Salvation Army:
The Salvation Army, an evangelical part of the universal Christian church, has been supporting those in need in His name without discrimination since 1865. Nearly 30 million Americans receive assistance from The Salvation Army each year through the broadest array of social services that range from providing food for the hungry, relief for disaster victims, assistance for the disabled, outreach to the elderly and ill, clothing and shelter to the homeless and opportunities for underprivileged children. About 83 cents of every dollar raised is used to support those services in nearly 5,000 communities nationwide. For more information, go to www.salvationarmyusa.org.