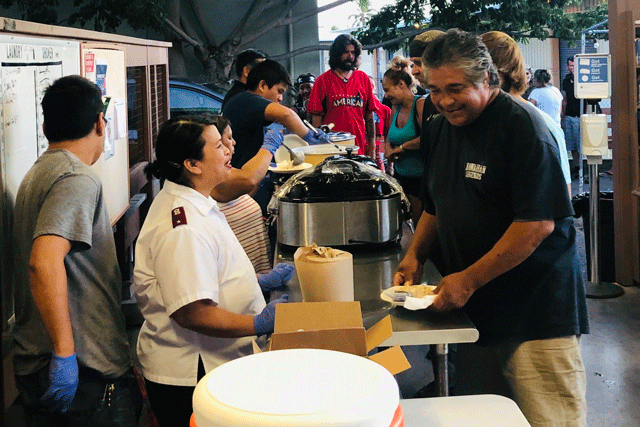 Salvation Army Kona Corps pier ministry gets an upgrade
Corps' feeding outreach grows thanks to local partnerships.
By Karen Gleason – 
Kona (Hawaii) Corps Officers Lts. Jose (Bob) and Raghel Santiago are committed to the Thursday night food ministry they began when they first arrived at the corps in 2017 and witnessed the number of people experiencing homelessness, often looking for food in trash cans. 
They began feeding people at the local pier every Thursday at 6 p.m., offering a hot meal and what they call "church time." The pier ministry became a staple in the community.
Recently, the ministry moved to a new location—Hope Services, a local agency that helps people experiencing homelessness, which often refers people to The Salvation Army for food, clothes and other needs. 
"The Lord has given us an 'upgrade,' because with our new location, we no longer need to bring tables, lanterns for light and worry about parking," Raghel Santiago said. "Because it is at a facility that already helps out the homeless people, we are serving more people, which means more hot meals and more spiritual food to feed the souls, too." 
The ministry is now called "Share A Meal." In addition to food, the Santiagos want to bring hope to people in need. They are seeing results.
"Hope is definitely something that we try to give, especially to our homeless friends," Santiago said. "From the time that we have been doing this ministry of ours, I can say with confidence that at least 10 homeless friends have gotten employment and are no longer living on the streets."
To this end, the Santiagos build relationships with the people they meet at the outreach and work with them to find employment. They approach different businesses, like fast food restaurants or any place displaying "help wanted" signs, and ask for details about available positions. They then share the information with people at the Thursday night feeding or with those that come to the corps' food pantry. They help individuals fill out applications and prepare resumes.
"When we know somebody is serious, we give them a clothing voucher for clothes and shoes [from the Family Store] to wear when they come in for the job inquiry and interview to boost their self-esteem," Santiago said. "We also provide hygiene products so they can clean up and feel fresh in confidence, too."
Their efforts are paying off. Santiago spoke of Vanessa, whom they helped find work. She got into transitional housing and now, to give back, she volunteers at the corps' food pantry. Another individual, a regular at Share A Meal, stopped coming; the Santiagos had not seen him for months. One day, Raghel Santiago ran into him at a gas station while purchasing bottled water. He paid for her items and acknowledged that he hadn't been at the feeding for a long time. She asked if he was OK.
"The reason you haven't seen me is because I have been working full time," he said. "Please tell Lt. Bob 'thank you' for encouraging me not to lose hope in finding a job."
Santiago said she got teary-eyed as he hugged her goodbye. "That was such a wonderful day," she said.
Looking ahead, the Santiagos are developing more partnerships to grow their outreach in the community. Recently, they met with the Rotary Club of Kona, which asked them to partner in the "Meet and Eat" program on Wednesday evenings. The Rotary Club will purchase the food for the Santiagos to prepare and serve. In addition, the Rotary will give the corps money for its food pantry.
"God is good, because he is providing ways for us to be able to meet the needs here in Kona without worrying about how much the cost will hit the corps to keep these programs running," Santiago said.
For the Santiagos, it all comes down to trusting God to provide.
"When you do something in Jesus' name that somebody's soul and body can benefit from greatly, I know that the Lord will provide to make his glory shine," said Bob Santiago. "All we have to do is trust him and say, 'yes, Lord, I will and I can.'"