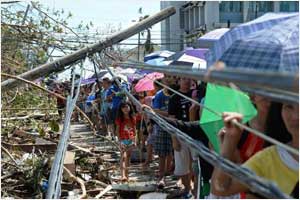 Salvation Army in The Philippines Prepares for 'Significant Response' to Typhoon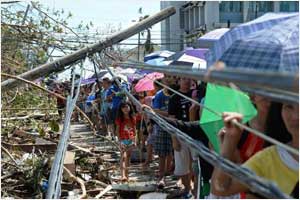 London, 11 November 2013/IHQ/ – SALVATION Army teams in The Philippines are preparing to provide assistance to the thousands of people affected by Typhoon Haiyan (known locally as Typhoon Yolanda). More than 10,000 people are thought to have lost their lives in the disaster, with hundreds of thousands left without homes, power or clean water. The worst-hit areas are impossible to reach by road, and many communities have no means of making contact with the rest of the country, meaning that it is  difficult to build a clear picture of exactly where the need is greatest.
Lieut-Colonel Bob Lee (Chief Secretary, The Philippines Territory) says it will take more than a week to determine the full extent of the damage that has been wreaked on people, infrastructure, livestock and crops. 'What the government and non-governmental agencies are now struggling with,' he says, 'is the accessibility of roads so that relief goods can reach the survivors and the medical attention to the wounded and sick. There is also a possibility of an outbreak of disease.'
The worst-affected area seems to be around Tacloban, the capital of the island province of Leyte, which is approximately 360 miles south-east of the Filipino capital Manila. The islands of Iloilo, Palawan and Mindoro were also affected. A team from territorial headquarters is making arrangements with the Philippine Airforce to transport food parcels, water and medical supplies to Tacloban, and a Salvationist doctor will be part of the initial response team.
Territorial Commander Colonel Wayne Maxwell reports: 'We have placed an order for US$100,000 of food supplies to assist the people of Tacloban … The reality for us here is that the need is great and we want to provide a significant response. The Island of Leyte has four corps (Salvation Army churches) and there are other islands that have experienced major levels of devastation. The task for us is immense and our cash extremely limited!'
Damaris Frick, from The Salvation Army's International Emergency Services, is heading out to The Philippines to help with the initial reponse.
Lieut-Colonel Lee adds: 'A number of officers from Leyte were on the nearby island of Cebu when the typhoon hit. After the storm, two officers were able to hire a motorcycle and braved the road to go back to their families in Leyte, where they began to coordinate the relief work with local officials.'
He concludes: 'We encourage prayer support for all those who have been devastated by this calamity.'
Donations to support The Salvation Army's response in The Philippines can be made through local Salvation Army offices or online.
Report by the Communications Section
International Headquarters