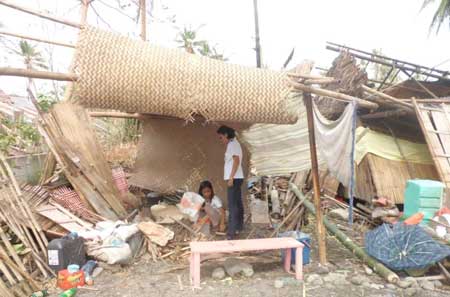 Salvation Army in The Philippines Assists Forgotten Communities
The Salvation Army in The Philippines is spreading its assistance to communities that were hit by Typhoon Haiyan but have not received the same media coverage as the devastated city of Tacloban and Leyte Island.
In Antique Province, for instance, many towns and villages were battered by the typhoon. Salvation Army teams have conducted assessments in the communities of Tibiao, Barbasa and Bugasong, where most homes were damaged or destroyed. An initial project has been agreed to provide food to 4,710 families in Antique Province, where local corps (Salvation Army churches) are also working with the Department of Social Welfare and Development.
Because of the logistical difficulties in getting supplies to Tacloban, it is likely that the project in Antique will be the first large-scale response undertaken by The Salvation Army after Typhoon Haiyan. Assessments are also taking place in other affected areas, including Iloilo, Cebu, Palawan and Mindoro.
Damaris Frick, from International Emergency Services, has seen many disaster responses over the past few years. She is impressed with what The Salvation Army in The Philippines is doing. 'They are very committed and organised,' she says.
The first Salvation Army team has now reached Tacloban, where it has linked up with the local corps. For now, the team will stay in the corps hall, sleeping on the floor. A consignment of 54 tons of food, water, medical supplies and other essentials is waiting to be taken to the city for distribution. The good news is that Tacloban Airport has now reopened, although the number of flights is constrained by the damaged runway and the lack of lights. Damaris admits: 'The waiting list to get the food transported by air is really long.'
Damaris is making her way from Manila to Cebu, accompanied by Captain Melita Elizabeth Lardizabal, who is originally from the Tacloban area. From Cebu they will travel to Tacloban and link up with the Salvationists already there.
The logistical problems will not be over once The Salvation Army manages to get its supplies to Tacloban, says Damaris. The team members have to source storage (there are no functioning warehouses) and ongoing transport. At the moment there are very few trucks available.
Report by the Communications Section
International Headquarters
Photos from The Philippines can be viewed at sar.my/haiyanpics