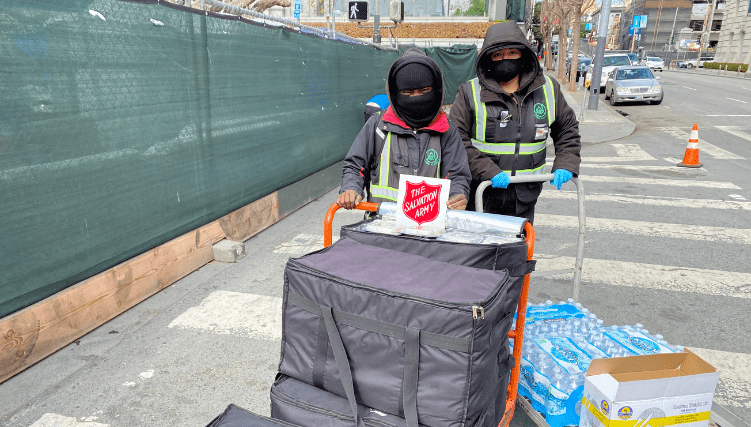 Salvation Army helps San Francisco's food vendors while feeding homeless
The pandemic has changed the business landscape in San Francisco. Longtime small businesses have closed down and large department stores have shuttered. But The Salvation Army is doing its part to keep San Francisco's economy afloat while also countering food insecurity. 
As part of its COVID-19 relief efforts, The Salvation Army in San Francisco continues to deliver weekly meals (lunch and dinner) to a vehicle triage center and the unhoused at the city's three Safe Sleeping Sites, sanctioned outdoor sleeping areas created after the shelters closed due to the pandemic. In 2020, nearly 300,000 meals were delivered by an "Army" of staff, volunteers and officers to the homeless across San Francisco. 
These meals are made by members of the vibrant local food vendor community, and The Salvation Army purchases and serves them to those in need. The Salvation Army has partnered with La Cocina, SoMa Streat Foods and the Economic Development on Third Street for the meals. So far, The Salvation Army has funneled nearly $420,000 into this unique small business community all while feeding those in need.
"As the shelter in place orders continued for months on end, The Salvation Army realized that the impact of this pandemic would be deep, wide and long-lasting. While the Army has often focused on providing a helping hand to those most in need, this situation afforded us an opportunity to double our impact through broadening our scope of service and expand partnerships," said Major Matthew Madsen, Divisional Secretary for San Francisco & Divisional Men's Ministries Coordinator. 
"We're not only feeding people through our efforts; we're helping employees and businesses to stay afloat – many of whom are one paycheck away from being on the receiving end of the meals they are preparing for others."
Since Nov. 30, The Salvation Army has been partnering with SF-based La Cocina, a nonprofit small business incubator that is working to solve problems of equity in business ownership for women, immigrants and the larger Black, Indigenous and people of color (BIPOC) community. La Cocina-born businesses Peaches Patties and Boug Cali have been providing on average more than 2,500 delicious, wholesome meals each week for The Salvation Army to distribute. This partnership has generated more than $175,000 in sales to La Cocina businesses.
"We are grateful to The Salvation Army for all their support of La Cocina and La Cocina-born businesses during this challenging time," said Michelle Magat, Director of Development and Communications for La Cocina. "To date, we have served more than 30,000 meals. The meals not only feed San Francisco's most vulnerable community members but support small Bay Area businesses owned and operated by women from communities of color and immigrant communities. These businesses are participants and graduates from La Cocina's incubator program."
The Salvation Army has also partnered with food truck park operator SoMa Streat Food. Since May 2020, SoMa Streat Food vendors, Roadside Rotisserie and Kabob Trolley, have been providing a rotation of meals on the weekends. To date, they have provided nearly 30,000 meals. 
"Our team is very happy and fortunate to partner with The Salvation Army," said Linda Omana of SoMa Streat Food. "They have definitely helped keep us afloat during these challenging times."  
A recent newcomer to the bunch is a group of businesses from Bayview's Economic Development on 3rd Street. Since March, Café Alma and TATO, owned by Kristin Houk have been delivering 245 meals daily and Auntie April's, owned by April Spears is also delivering 245 meals a day. 
"Partnering with The Salvation Army and providing meals for the unhoused helps me maintain my staff, which is my most important goal during the pandemic," said Houk, who also owns All Good Pizza in the Bayview. 
"My staff is like my family so I do not want to have to do any layoffs. But I also feel and care very deeply about the unhoused situation in San Francisco. The way I know how to care for people is through food, and being able to provide a nourishing meal to the underserved is next level for me." 
As the pandemic rages on and the city begins to slowly open up, The Salvation Army continues to evaluate its outreach and service efforts. 
"Programs like this give us all so much hope," said Theo Ellington, Director, Homeless Initiatives & Community Development for The Salvation Army in San Francisco. "A plethora of community groups, nonprofits, city departments and small businesses have stepped forward to tackle the pandemic and the ongoing homeless crisis. We will definitely get through this and come back much stronger than when we started."
---
Do Good:
Learn more about how The Salvation Army has

responded to COVID-19

in the West. 

Did you know The Salvation Army served more than 23 million Americans last year fighting hunger, homelessness, substance abuse and more—all in a fight for good? Where can you help? T

ake our quiz

to find your cause and learn how you can join in today. 

See how you can get involved in the Fight for Good

with The Salvation Army

.