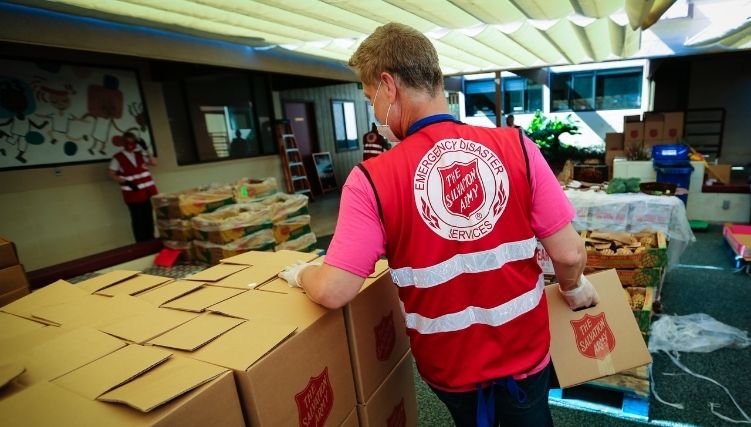 Salvation Army helps asylum-seekers crossing the border in Arizona, California
Every day, more people cross the Arizona and California borders seeking asylum. And every day, The Salvation Army's emergency response teams do what they can to feed, clothe and safely transfer them to new homes.
The number of migrants entering the United States has risen steadily in 2021. Border towns such as Yuma, Arizona, are overwhelmed as U.S. Customs and Border Protection drop-off asylum-seekers who have completed exhausting, tolling journeys and still need to connect with their sponsors who are likely a bus or flight away.
The increase of people seeking help has created major strains in these small communities, leading local officials to call on The Salvation Army and other service providers for support.
"Local, state and federal governments are turning to The Salvation Army and asking us to help," said John Berglund, Emergency and Disaster Services Director for the Western Territory. "They're looking to us, because we have a history of providing these resources effectively."
The Salvation Army started responding to the crisis on March 21, and officials expect the work to continue for at least six months, potentially spanning as long as a year and a half.
Emergency Disaster Services teams have provided more than 1,600 packaged meals and nearly 4,000 snacks in the California South Division alone. Five different migrant shelters offer about 175 rooms for migrant families and individuals, who rotate through on a nearly constant basis as service providers do what they can to help.
Lt. Colonel John Chamness, Divisional Commander of the California South Division, said the goal is to move families and individuals as safely and quickly as possible. Typically, people are at the shelters and in the care of service providers from 24–72 hours before traveling by bus or plane to reach the next stage in their journey.
However, with the COVID-19 pandemic still lingering, a central testing site has been erected at the Moreno Valley Mall. From there, families and individuals are sent to different shelters, some of which are designated specifically for those who tested positive for coronavirus and need to quarantine before traveling again.
Federal leaders have recognized The Salvation Army's critical role in the response, awarding a nearly $1.5 million grant to support efforts in Riverside County, California, and surrounding areas. The money is funded by the American Rescue Plan Act and is intended to support migrants encountered by the Department of Homeland Security.
Typically, federal money is dispersed as a reimbursement, with applicants needing to make the initial expenditures and file for reimbursement. Berglund said this grant is particularly noteworthy because it is advance funding that allows The Salvation Army to maintain this critical work and hire additional workers to assist with the ongoing demand.
"It speaks loudly to the need and to the concern," Berglund said of the advance funding."It also speaks highly of their confidence in The Salvation Army to take on the task and do it well."
This funding is for the first three to six months of work, but Berglund said The Salvation Army could easily be providing services for another 18 months or more. He is hopeful that additional federal dollars would be provided to continue the work.
The advance funding helps The Salvation Army avoid one of the typical hurdles in crisis situations, which is raising money and retaining enough volunteers and help. And while COVID-19 has added an extra step for testing and screening, Berglund said teams are prepared to handle that and are skilled with dealing with the challenges presented by the virus after more than a year of providing services during the pandemic.
"I don't think it complicates our work any more, at this point in time," Berglund said. "It's just that the new normal requires the additional step that folks who are coming into the country, for their own safety and security, need to be tested, and if needed, quarantined. It's due diligence."
In Arizona, a majority of migrants who arrive in Yuma are tested for COVID-19 and then placed on a charter bus that takes them to Phoenix and other locations where aid is provided by the International Rescue Committee and other partners.
The goal is to meet these people with love and kindness, provide them a hot meal and be a comforting presence after a difficult journey, said Jeannette Aird, Director of Emergency Disaster Services for the Southwest Division.
"Love is kind," Aird said. "Whoever it may be, we don't discriminate. These individuals find themselves in a location here, and they're unaware of where exactly they are, the culture, how our system works, everything. We can come alongside them and be able to provide hope and a hot meal."
Initially, The Salvation Army was providing meals three days a week, before additional funding allowed providers to serve hot meals Monday through Friday.
The Salvation Army also distributes water, hygiene kits, snacks for travel and assistance with prescriptions. But the hot meal, Aird said, is the one that leaves the lasting impression.
"When these migrant asylum seekers come into a shelter, even when we're not providing direct service, the first thing they get is our hot meal that has our Salvation Army logo," Aird said. "And that time, they become aware that The Salvation Army is a safe haven."
The three-course meals are prepackaged and cost about $3 to produce. The goal is to provide something nutritious that also is culturally appropriate and comforting, Aird said. Each meal is a balance, including proteins and carbs, such as rice and chicken bowls or stews that are full of beef and vegetables. 
"We're hoping to be a beacon to these individuals and just remind them that love is kind," Aird said. "We were there for them at the beginning, and we will continue to be there for them wherever they land and wherever home may be."
---
Do Good:
Whether it's through opportunities with The Salvation Army or elsewhere, your gifts are needed.

You are needed

.

Get the guide on How To Be An Impactful Volunteer

and get in the Fight for Good today.

It's because of people like you that The Salvation Army can serve more than 31 million Americans in need each year. (

That's almost one person every second, every day.)

Your gift helps The Salvation Army fight for good all year in your community. It's an effort to build well-being for all of us, so together we rise. And that good starts with you.

Give to spread hope

with a donation of funds, goods or time today.