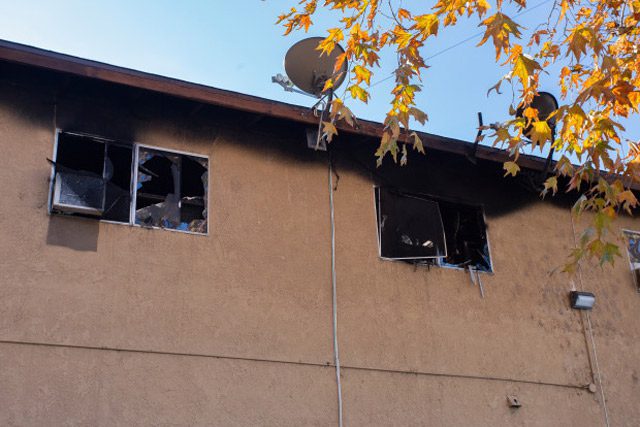 Salvation Army helps apartment fire survivors
A month later, the Army is still there.
By Hillary Jackson –
In the early morning hours of Dec. 27, a Christmas tree sparked an electrical fire that ripped through an apartment unit in Hemet, California, claiming the lives of a father and three of his children.
With the damage, the rest of the two-building apartment complex was not habitable. The Salvation Army Hemet Corps coordinated with city officials to offer food service, spiritual care and social services in conjunction with The American Red Cross-run emergency shelter at a local middle school. When the shelter closed Dec. 31, there were 14 evacuees receiving services. 
"For the first week I was just looking at it on a map," said Hemet Corps Family Assistance Coordinator Donna Shea, of the burned building. Shea case-managed families from the emergency shelter alongside California South Emergency Disaster Services Director Nicholas Nguyen. "Once I actually went there and I saw how little space there actually was, and how compacted these apartments actually are, I couldn't imagine being there that night and evacuating with families and children." 
The Salvation Army stepped in and provided temporary lodging assistance for 10 households, including the household directly affected by the casualties. More than a month later, the Hemet Corps continues to help those affected by the apartment fire, standing in the gap to provide support to the families displaced and forming relationships with them.
"We've been dealing with this on a daily basis for over a month now," Shea said. "God has moved in the hearts of these people. I see him giving back homes and belongings."
People from throughout the community donated clothing and gift cards. A GoFundMe page for the family of those killed in the blaze raised thousands. 
"It's such a big thing that happened in our little community," Corps Officer Lieutenant James Fleming said. "Hemet really stepped in and people from all over the community were like, 'We want to help.'"
Many of the displaced families spoke Spanish, so a soldier who speaks Spanish visited the shelter and invited them to the corps–and they came. Retired officers from the corps' Spanish ministry ministered to a woman who got saved, Fleming said. A family has started attending the corps' grief class and receiving items from the food pantry. 
"They have been very involved with the corps," Shea said. "They feel safe with us."
And that is the feeling the corps hopes to cultivate: safety. As Shea has helped families find apartments, she's seen the trauma resurface. 
"They're scared," she said. "They triple check the fire alarms to make sure that they are working." 
The Salvation Army's goal has been to help people gain stability following the fire. As of the end of January, the Army had two families left who they were case managing. Some people have moved and others were allowed to return to their homes.
"We have been able to secure deposits for at least four to five people where we've helped them transition with deposits and get a place," Fleming said, adding that the Army has advocated for the families—many of whom had evictions and less-desirable rental backgrounds. 
"I've walked with each one of them," Shea said. And she means it—she shopped for the clothes for the deceased children to wear for their services. She knows grief first hand—her daughter died from cancer in her early 20s. She's been able to use her testimony to minister to the families, particularly to Christina, the mother who lost her spouse and three children.
"It's been really hard," Shea said. "It's been emotionally draining and stretching, but it's one of the most fulfilling things I've gotten to do with The Salvation Army."
Recently, Christina got the keys to a new apartment, and she smiled. Members of the corps have been praying over the space, and another church donated furniture.
"I can see the safety in Christina's eyes when we come and we check on her…she knows we are for her good," Shea said. "The families know we are for their good, because that's what The Salvation Army is about…being there for the long haul."