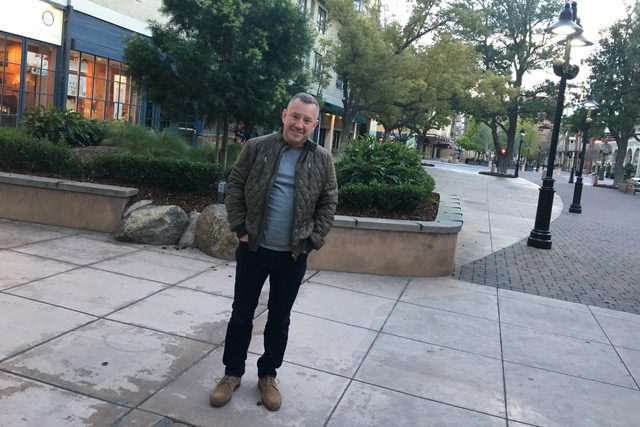 ARC gave grad structure he needed
By Patty Zamora –
There are certain dates that stay ingrained in our memory forever. For many struggling with addiction, the day of realizing you can't fight the urge to use anymore is a date that stands out.
This was the case for Troy Talbert, the San Diego Adult Rehabilitation Center's residence manager. For Talbert, Dec. 11, 2014 was a turning point in his life, when he was just released from a Palm Springs hospital for alcohol poisoning.
"I was at a point where I really had no choice. I had nowhere to go," he said. "I had run out of family and friends who were willing to be of help."
Dec. 11 was the scheduled date of Talbert's intake at The Salvation Army's Rehabilitation Center in Perris, California, but at the last minute, he got cold feet and changed his mind. When he called to cancel the appointment, the intake coordinator said, "Troy, the door is always open." 
"That really stuck with me," Talbert said. "At some point that weekend, I had an epiphany. There was no way I was ever going to stay sober if I went to a sober living home. There was too much freedom and I needed structure." 
The following Monday, Talbert called and rescheduled his appointment. He recalls driving to the center and being nervous. He was expecting The Salvation Army to be a homeless shelter. He envisioned a barn-like room with rows of bunk beds. Instead, he was pleasantly surprised. The rooms and men were very nice.
For most of his adult life, Talbert struggled with drugs and alcohol, beginning in college when he got his first DUI. By the time he graduated and moved from Ohio to California, his drug use had gotten worse. Talbert was able to kick the drugs but compensated by drinking more. 
Around 1996, he got his second DUI. In 1998, he met his wife and got married the following year. Soon after, they started their family – eventually having two boys and two girls. It was after the birth of his second child that he realized he had a problem.
During this time, Talbert and his family moved to the East Coast, where he was able to land a great corporate job but lost it after a year. Between 2006 and 2008 his drinking got worse and he went into rehab for the first time, staying 50 days. 
His marriage was looking up and he began to attend church regularly, but it didn't last. In January 2010, Talbert got his third DUI and went to jail for 30 days. By Halloween 2010, his wife had enough – he wasn't allowed to come home. Instead, he moved to Palm Springs to live with his mother and uncle.
Between 2011 and 2014, Talbert says he was lost in the desert – couch surfing, homeless and in-and-out of the hospital, which led to December 2014, his last stint at the ER for alcohol poisoning.
But for Talbert, the ARC program worked. "This program incorporates all facets of life. Other programs are almost all therapy," he said
Today, Talbert is 5 ½ years sober. He's divorced and working on mending his relationship with his kids. He lives among the men in the program, supporting them every day. 
"Thank God none of the other places had open beds," he said. "Because I honestly believe that the program The Salvation Army has, for me personally, was exactly what I needed."