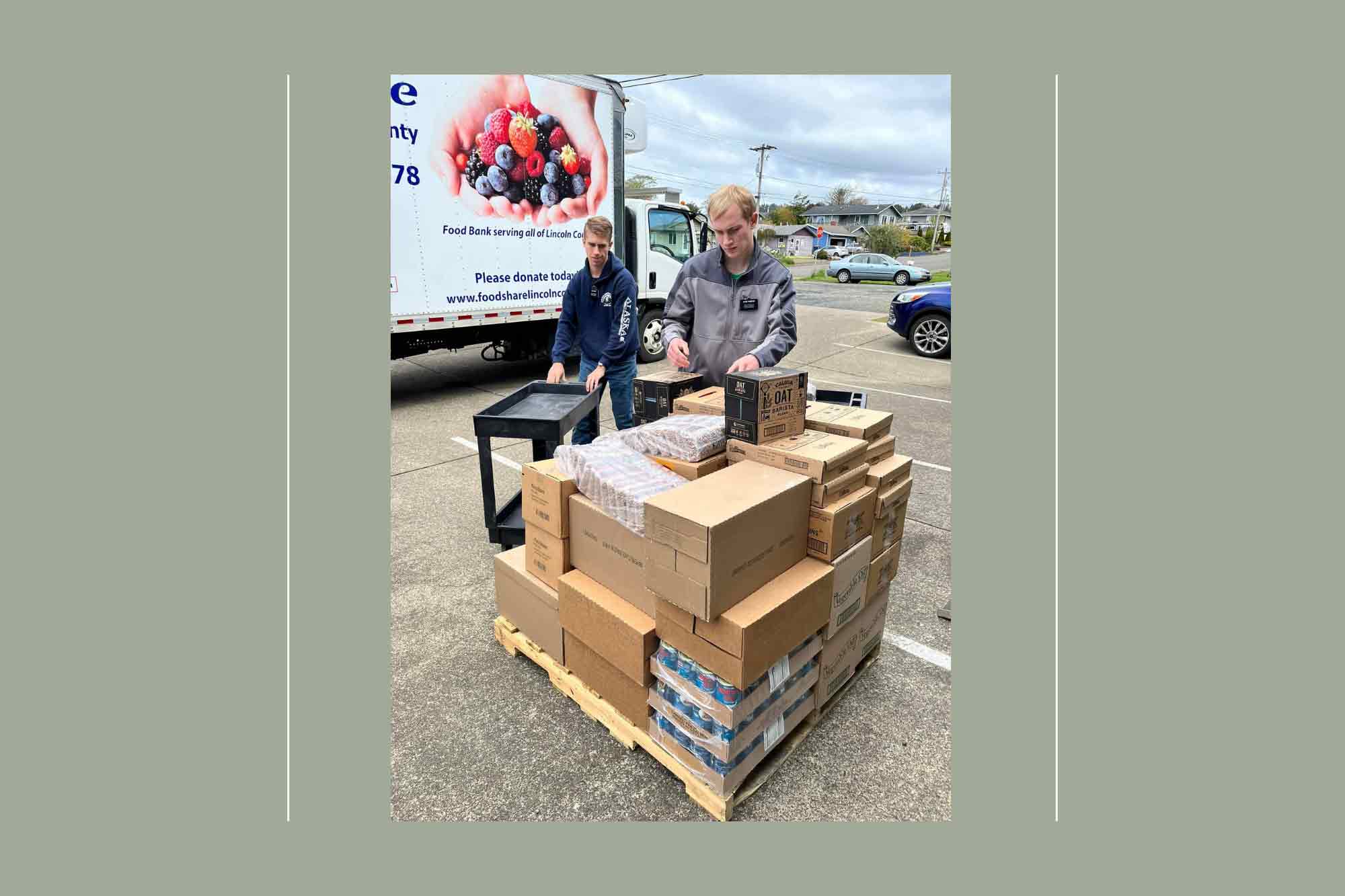 The Salvation Army expands its Food Pantry of Hope in Oregon's Lincoln County
The Salvation Army Newport Corps takes its mobile food pantry to Lincoln City on Fridays.
On Fridays, Newport (Oregon) Corps Officer Major Raymond Erickson-King can be spotted in Lincoln City along Highway 101—coastal Oregon's main drag—setting up signs for the corps' mobile food pantry, a weekly food outreach of the Newport Corps' Food Pantry of Hope.
Through this endeavor, Erickson-King aims to extend The Salvation Army's outreach and help more people experiencing food insecurity within the corps' service area of Lincoln County. Newport is one of two Salvation Army corps along Oregon's coast—the other is Coos Bay—and it serves all of Lincoln County, which has a population around 52,000.
"The food pantry began during COVID," Erickson-King said. "Previous Corps Officers Lts. Corrin and Nathan Perry had been running a clothing closet at the corps. During the pandemic, they closed that and started the food pantry. They could see the need." Some months later, the Perrys began taking a mobile food pantry to Lincoln City once a week.
Out of Oregon's 36 counties, Lincoln ranked sixth in food insecurity in 2019, as reported by East Oregonian. Its rate of food insecurity is 32 percent higher than the national average, with the rate among children nearly 45 percent higher than the national average. Notably, the figures were reported prior to the pandemic, which increased the need, as did the 2020 Oregon wildfires.
Recently, rising food costs have further increased the need. "We've been giving out more food lately," Erickson-King said.
The onsite food pantry at the corps operates every Wednesday through Friday. The Lincoln City mobile pantry happens Fridays from 1 to 4 p.m. and provides between 15 to 20 boxes each week, enough for about 50 or 60 individuals on a first-come, first-served basis.
"We serve a lot of folks in Newport where The Salvation Army is the main food pantry," he said. "In Lincoln City, there are only two food pantries; we're the secondary one. We serve on different days than the other one. We're trying…to expand our outreach."
"Funding and resources are limited so collaborations and partnerships are vital to support ongoing programs and services, like the Food Pantry of Hope," Erickson-King said. The Newport Corps has no employees, so it's up to him and his wife, Jennifer, to build relationships and recruit volunteers. Erickson-King said he does that by being active in the greater community.
The mobile outreach evolved in Sept. 2020 from a connection made in Otis, where the Newport Corps' Emergency/Disaster Services canteen served people on the front lines of the Echo Mountain Complex Fire.
"The Salvation Army of Lincoln County stepped up and reached out to the Lincoln City Church of Christ in order to create a partnership," said Lincoln City Church of Christ Pastor Ben Baker. "Because of Lt. Nathan Perry's quick communication and the church's willingness to partner with The Salvation Army, the mobile food pantry became one of the first responders to meet the needs of people who were affected by the fires in Lincoln County."
That's how it began, and Erickson-King has kept the relationship going. In addition to providing the location for the mobile pantry, Baker's church now volunteers one Friday a month to serve those who come for food.
"While victims of the 2020 fires continue to take advantage of the pantry, there are now many people of all backgrounds and situations who are benefitting from The Salvation Army's work," Baker said. "The beauty of being a pastor in the community and also working as a volunteer is that sometimes I get to see the end result of The Salvation Army's generosity."
Baker said he is Facebook friends with one of the recipients, who regularly posts pictures of the meals she makes using food box items.
Last year, the corps received an $8,000 T.L. Williams grant to support the program, and it recently applied for another grant to keep it going. Erickson-King said most food comes from Oregon Food Share, which has a regional office just blocks from the corps. It also receives donations from the Newport Grocery Outlet, Fred Meyer, Franz Bakery and from individuals.
"And Starbucks allows me to come to their facility three days a week," he said, estimating last month's donation totaled about 250 pounds of food. "They give me products close to expiration—breakfast sandwiches, lunch sandwiches, pastries—bags and bags of food."
Volunteers add the items to the food boxes, but they save about a third for unhoused individuals who need a warm meal.
"When we ask if we can warm the food up for them, they are surprised," Erickson-King said. "Sometimes you can tell the weight of the world was on their shoulders. But after we give them that warm sandwich and that drink, you can see a smile forming on their face and their demeanor changes."
Volunteers are vital to the ministry, and they come from throughout the community. Erickson-King said the local Nazarene church comes every Tuesday, and several young men from The Church of Jesus Christ of Latter-day Saints help unload the delivery truck, sort and shelve the food. Other volunteers instrumental in the food pantry's success are former Newport Corps Advisory Board President Sharon Heisler and retired Salvation Army officer Major Nila Fankhauser.
One of the volunteers, Olga Jones, 85, began volunteering in December. Even though her group from the Nazarene Church arrives at 1 p.m. on Tuesdays, she shows up around 10 a.m. to assemble the boxes, which arrive flat, and then she stays to help pack them.
"I enjoy the company; the people are really nice," she said. "And I set a goal for myself to see how many boxes I can make."
Erickson-King is impressed with her results; recently she assembled about 50 boxes in just over an hour.
"It's a brain game," she said, inferring the activity helps her mind stay sharp. Putting together the boxes and then filling them correctly requires concentration.
Jones and the rest of the volunteers are critical to the corps' robust volunteer base. Erickson-King said this base is critical for the corps' ultimate vision for its food pantry: client choice. "That's the future," he said, noting that two people need to be onsite for it to be possible.
Another part of the vision? Those signs Erickson-King sets out every Friday—they make a difference. Erickson-King said one man saw the sign and showed up saying, "I want to help you out." He started to hand over some cash, but instead, Erickson-King suggested they purchase gift cards from various restaurants and stores. The gift cards come in handy when they run out of food boxes.
"The signage is big," Erickson-King said. "Sometimes people forget that in our ministry, we do things…Saying where we're at and what we're doing—I think that's important in the ministry we do."
Find out more about the Newport Corps Mobile Pantry:
---
Do Good:
Caring Magazine is a magazine from The Salvation Army for people who care. People like you! Subscribe to the list and join 21k+ people who care. You'll get weekly inspiration sent right to your inbox in the Do Good Digest.
It's because of people like you that The Salvation Army can serve more than 31 million Americans in need each year. (That's almost one person every second, every day.) Your gift helps The Salvation Army fight for good all year in your community. It's an effort to build well-being for all of us, so together we rise. And that good starts with you. Give to spread hope with a donation of funds, goods or time today.
Find out how The Salvation Army adapted its food distribution during the COVID pandemic.