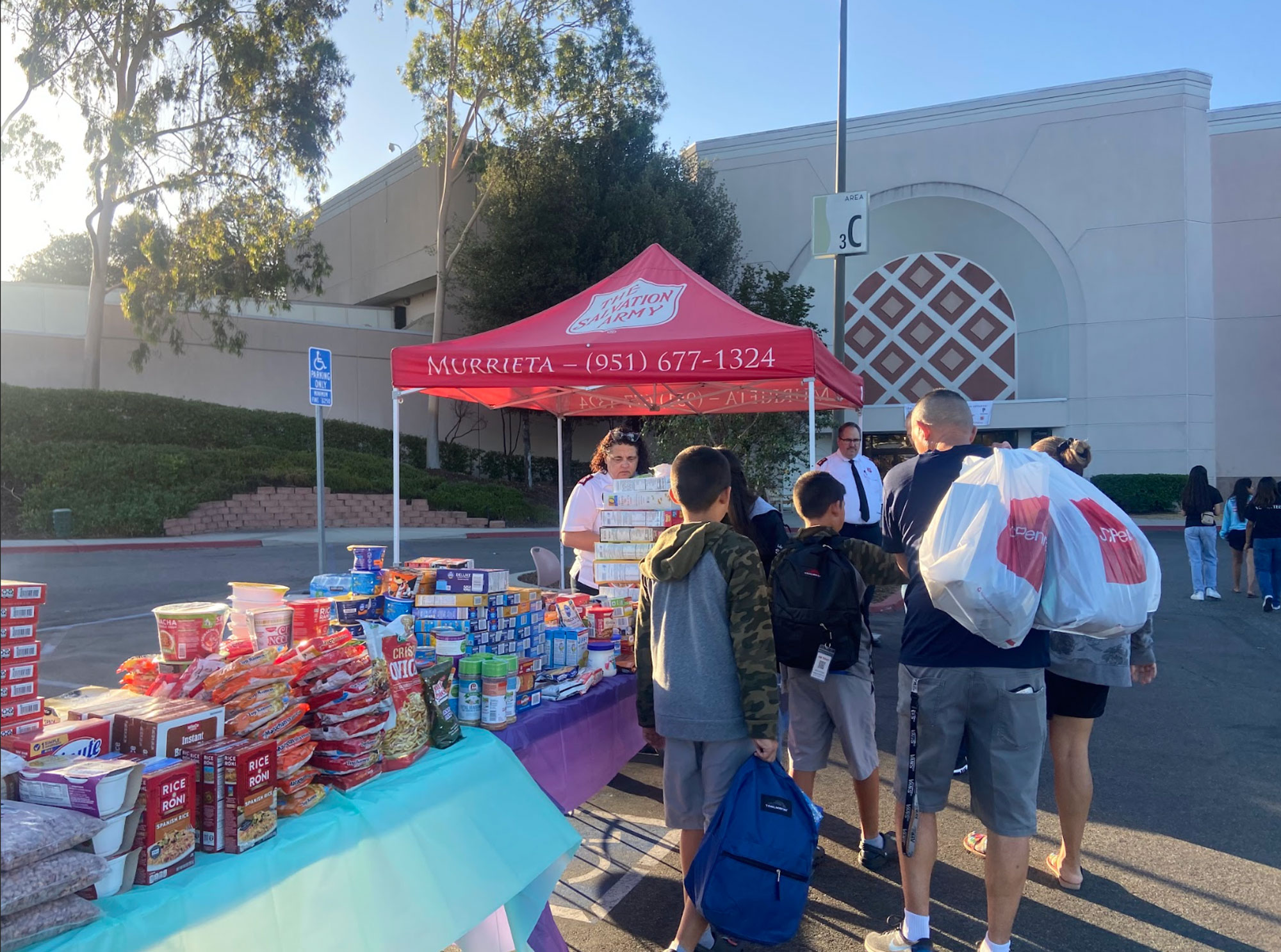 Salvation Army equips kids with confidence and essentials for a new school year
In Murrieta, California, school-aged children participated in a JCPenney shopping spree and handpicked back-to-school essentials.
Aisles of a JCPenney department store filled with children's excitement as they burst through the doors before business hours, scouting clothing that would deliver comfort and confidence for the upcoming school year.
Organized by The Salvation Army Murrieta Corps and local partners, the 25th annual Child Shopping Spree provides a free back-to-school shopping experience for more than 250 children residing within the Southwest region of Riverside County.
During the event, children and their families are matched with a volunteer shopper from Pechanga Casino and navigate the store with them. Kindergarteners to high school seniors receive a $125 budget to shop in-store for clothing, shoes and accessories that stand out to them.
Dr. Jim Yanoschik, Salvation Army Advisory Board member and president of the Murrieta Rotary Club, has been involved with the event since its inception.
"Since the Child Spree started in 1998, we have sent over 5,500 children to shop for new school clothes," he said. "We partner with local businesses like Pechanga, Milgrad, American Pacific Mortgage, and the Rotary Club to obtain donations and volunteers."
According to Yanoschik, community partnerships and donations help drive the operation. This year, Milgard Manufacturing presented the organization with a check for $2,500. Other financial donors included Milter Foundation, Signs by Tomorrow, and Ready 2 Smile Dental Group.
"Families can sign their children up through The Salvation Army corps, but we also get referrals from the school districts and work with those in the shelter programs," Yanoschik said.
Those selected to benefit from the event are local to the school districts of Temecula, Murrieta, Menifee and Lake Elsinore.
Yanoschik said the event provides new items for children while delivering additional business to JCPenney. "JCPenney and the manager here are very appreciative of the event," he said. "Parents also often buy items out-of-pocket, which helps out as well."
JCPenney employees were available throughout the store to provide assistance, answer questions and fulfill price checks to ensure groups remained on track and within their budget.
One mother, Angelina Sevilla, was eager to select items with her two daughters, aged 7 and 9, who were most excited about new shoes and backpacks.
"I've shopped around and looked for different back-to-school sales," Sevilla said. "But today, we're able to complete the shopping with new outfits and gym shoes."
Sevilla said her favorite part of the event was telling her children they could pick out whatever they wanted. "They don't even like shopping very much but they were so excited to come today," she said.
Murrieta Corps Officers Majors Timothy and Jessyca Carr said this event is just one of the ways they reach children in need throughout the Riverside County community.
"We do what we can to assist local children and lessen some of the stressors parents often experience surrounding costs," Jessyca Carr said.
Across the United States, The Salvation Army operates over 400 after-school programs that introduce children to sports, music, dance and extracurricular clubs. The Murrieta Corps provides these activities while connecting with in-need or at-risk youth through counseling and homework assistance.
According to The National Education Association, making it a priority to address social and emotional learning (SEL) can prepare kids for school while diminishing stress and social anxiety from disrupting learning opportunities.
"With middle and high schoolers, you often see that form of social pressure to fit in and have nice clothes," Yanoschik said. "So, we really like to help out that age group."
One Pechanga employee and volunteer, Emily Meyers, said helping children find back-to-school clothes and essentials was a fun experience that reminded her of being in their place.
"I remember some years in middle school that I didn't really get a ton of new clothes," Meyers said. "It's cool to see kids come in and be able to buy whatever they want because I understand what it's like not to get that new shirt or jacket that everyone else has."
After carefully selecting fashionable finds, participants could choose items from tables outside that included new backpacks, books, socks, shelf-stable foods and school supplies organized according to grade level. A picture spot was also available to capture memories of the special day.
The event concluded as families had the opportunity to recharge with breakfast and coffee sponsored by McDonald's and Starbucks.
Yanoschik and the Carrs said the noticeable number of families in need compels them to continuously develop partnerships and explore avenues to enhance their capacity to serve the youth and community.
As Yanoschik said, "We're always eager to help the young kids and see their excitement when they walk out with bags of new clothes."
---
Do Good:
Get on the list for Good Words from the Good Word and get a boost of inspiration in 1 minute a day with a daily affirmation from Scripture sent straight to your inbox. It's an email to help you start your day with goodness.
Want more content from Caring Magazine? Follow us on Instagram! Get caught up with the latest stories, podcasts and more to inspire goodness in your life.
Subscribe to the Do Gooders Podcast and tune in for good ideas. Hear conversations with those doing good and those with good ideas so you can turn inspiration into action and make an impact right where you are.