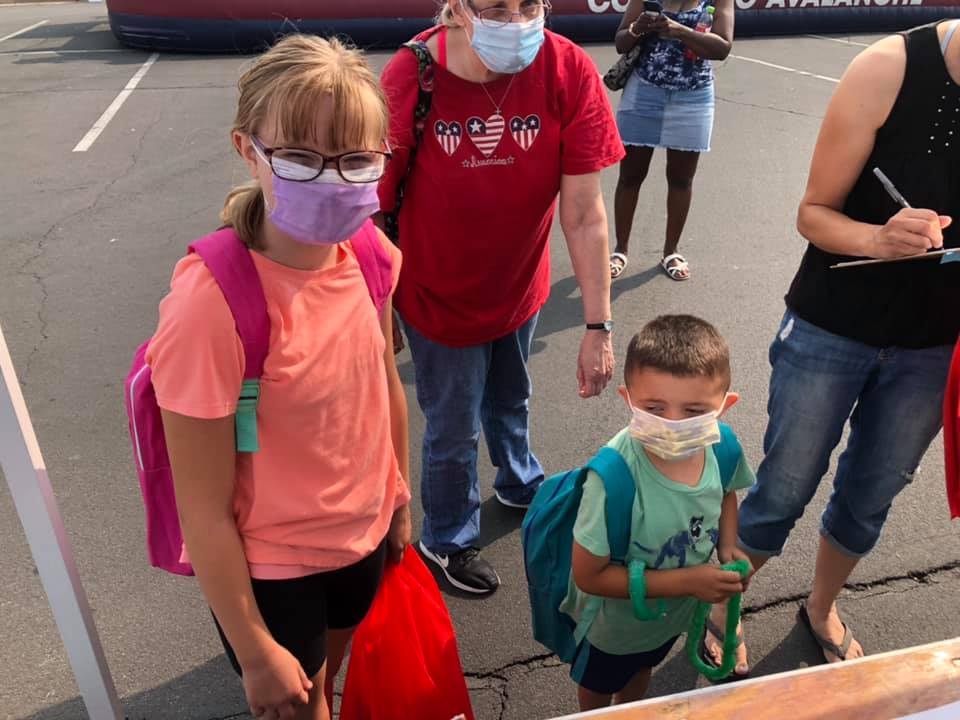 Salvation Army supports families recovering from pandemic in back-to-school season
After more than a year of school closures and distance learning due to the COVID-19 crisis, kids and teens are returning to in-person learning at schools across the country. But the questions remain: For students, many are left with the uncertainty and anxiety of what returning to physical classrooms will be like. And for parents—especially those still recovering financially from the pandemic—there is the worry of how they will afford to pay for the school supplies, backpacks and clothing their children will need for the school year. 
This made this year's back-to-school events and afterschool programming provided by The Salvation Army even more vital for families. And in the Western Territory, this need was made known by families seeking assistance in the back-to-school season.  
Annual events at corps in the West, like Pack a Backpack, Stuff the Bus and Shop with a Cop were met this year with immense gratitude, tears and joy by families in need. 
The Salvation Army Aurora Corps in Aurora, Colorado, conducted backpack distribution as part of the Pack a Backpack campaign hosted by The Salvation Army, Denver7, Larry H. Miller Dealerships and Les Schwab Tires in the Denver Metro area. The corps distributed approximately 730 backpacks to children in the community.

"There were people in tears," said Lieutenant Carl Esquivel, Aurora Corps Officer. 
Esquivel noted that the timing of the event came as many families in Aurora are facing evictions with the federal eviction moratorium coming to an end. 
"As people are being evicted, as people are fighting to support their families and pay the bills…this really helps families that can't afford to buy school supplies and a new backpack," Esquivel said. "[We provide] peace of mind…[They] don't have to worry about [their] child going to school with a beat-up backpack and no supplies." 
Similarly, the Stuff the Bus event held by The Salvation Army Chico Corps in Chico, California—in partnership with Walmart—aimed to alleviate the back-to-school expenses for many families in need. The corps was able to provide over 100 kids with new backpacks and supplies with extensive community donations and support amid the stress of COVID-19 and the wildfires in Northern California. 
"It's really inspiring to be in such a caring and generous community," said Lieutenant Jeffrey Boyd, Chico Corps Officer. "We're in a global pandemic and a devastating wildfire season, but with the support of our community, we were able to quadruple our impact from last year."  
Each child was able to select their own backpack and supplies to best fit their personality and needs. 
"Having this back-to-school drive restores this normalcy for the children where they get the backpack, they get all the supplies, and then they're headed off to school in person," Boyd said. "The kids were smiling ear to ear so excited to pick their own…There were several parents that were moved to tears because they just didn't know this year how they would come up with the funds for the basic necessities like the school supplies. We were able to bring some smiles to faces and some joy to families."

Another critical need for children during the back-to-school season is clothing. The Salvation Army Sacramento Citadel Corps and the Sacramento Police Department joined together for Shop With a Cop. Police officers joined 50 kids to do some back-to-school shopping for clothes needed for school. Each child also received a backpack with school supplies. 
"This type of program is really essential, especially with kids being out of school for a year. They may have been able to wear pajamas or shorts…Now, going back into the school setting, they've outgrown all those clothes even more so. They're even more in need this year to have the supplies and new clothing to be able to go back," said Major Rio Ray, Sacramento Citadel Corps Officer. "We really [want to] give the kids hope that when they go to school they feel like they can succeed." 
To continue helping kids succeed in school throughout the school year, Salvation Army after-school programs in the territory are supporting students emotionally and academically as they adjust to in-person classes again. 
The Salvation Army Ray and Joan Kroc Corps Community Center in Suisun City, California, is slowly beginning to get more students into its after-school programming—which serves children in kindergarten through sixth grade—as it reopened along with the local schools. In addition to providing academic support and extracurricular programming, staff are helping the kids adjust to the change in learning settings with patience, understanding, and listening. 
"Kids are asking questions… [like], 'When we are in person, how do we greet each other?'" said Major Bob Louangamath, Suisun City Kroc Center Corps Officer. "They're confused. There's a little bit more education involved. Our staff is talking with them through different things…mainly just to understand what is going on right now."

The Salvation Army Tehachapi's after-school program for grades 6-12 has also opened its doors again to middle and high school students in surrounding area schools. And the focus is to provide a steady, safe environment for students to go and be supported academically and socially in spite of all of the changes they may be experiencing at their schools. 
"One thing that we want to do here is provide some kind of form of stability and consistency. It's difficult for kids. They're going back to school, things may have changed as far as the format of their classes—whether they're doing staggered classroom times or things have changed," said Kyle Yates, Salvation Army Tehachapi Youth Development Coordinator. "We want to be able to provide something that they've known before. They've missed coming to the program. They've missed having that kind of structured consistency where after school [they] can go to The Salvation Army."
---
Do Good:
You've probably seen the red kettles and thrift stores, and while we're rightfully well known for both…

The Salvation Army is

so much more

than red kettles and thrift stores. So who are we? What do we do? Where?

Right this way

for Salvation Army 101.

How do we treat everyone with love and kindness, as if they were our neighbor?

Get the Do Good Family Roadmap

and take a 4-week journey for families in how to be a good neighbor. Follow the guide to see what the Bible says about the art of neighboring and take tangible steps together on your printable roadmap to be a caring, helpful, welcoming and supportive neighbor right where you are.

Listen in on how one school principal felt seen, valued and safe at camp as a child—and how it changed her life.