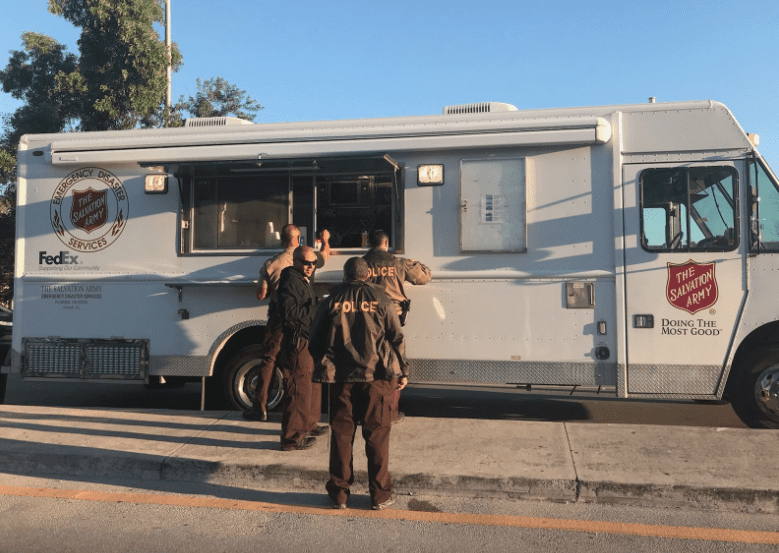 Salvation Army concludes service after FIU bridge collapse
The Salvation Army's Emergency Disaster Service (EDS) teams from Miami-Dade and Broward counties have returned home after serving at the site of the collapsed bridge near Florida International University (FIU). They're now preparing a response to severe weather across Florida.
The EDS teams arrived at the site of the FIU bridge collapse within hours and worked around the clock for three days supporting emergency responders. After serving more than 2,800 meals and snacks, both teams were released. Raymond Boyd, led the effort coordinating volunteers and emotional and spiritual care workers. His recent role serving at the Hurricane Maria reception center helped prepare the team for a nimble response.
"We knew right away that this was going to be an extended operation for our responders, and we began contacting our local partners to help support our responders," Boyd said. "There was no doubt that the businesses wanted to show their support, so we began contacting those we have relationships with, and man did they step up."
Local businesses in Doral, Florida, including McDonalds, Sam's Club and Chick-Fil-A, contributed sandwiches, hamburgers, chips and water for The Salvation Army to distribute at its canteens, which also served water, coffee, hot chocolate and hundreds of snacks to grateful Miami-Dade police, fire and transportation workers.
Captain Enrique Azuaje, The Salvation Army Miami-Dade Area Commander, gathered local team members in preparation for the potential for severe weather. He encouraged volunteers to update the contact information on their disaster profiles in case another response is needed. He expressed his appreciation of local businesses throughout the area who contacted his office offering support
"The Salvation Army cannot provide response like this without help from the community," Azuaje said. "We are extremely grateful to our supporters both in volunteering time, and those donating supplies and financial gifts to help us support our frontline responders."