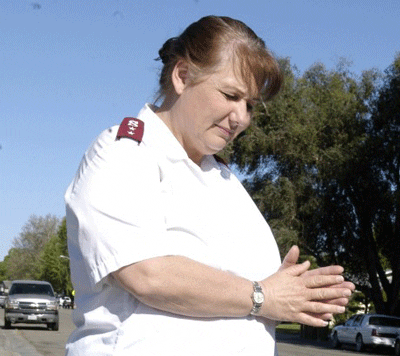 Salvation Army Capt. Kim Williams says all of Lodi's 523 streets need some prayer
By Ross Farrow
News-Sentinel Staff Writer
Salvation Army Capt. Kim Williams lives on Wimbledon Drive in the south end of Lodi. She has more than your average interest in her street.
Each day from her home, Williams prays for Wimbledon Drive, the families who live on the street and any specific problem they may have.
She prays that Wimbledon Drive families have enough food to eat, can make their house payments, that no crime occurs on her street, and about anything else that stresses any of her neighbors.
Williams started a citywide program called Lighthouse of Prayer at the Salvation Army about two weeks ago.
Her ultimate goal: to have someone praying for each of Lodi's 523 streets every day. She has about 100 of those streets covered.
For the longer streets — such as Turner Road, Lodi Avenue, Kettleman Lane and Ham Lane — Williams is looking for several people to focus on different portions of those roads.
"God answers prayer," she said. "As people know they're being prayed for, it gives them hope."
Participants may want to have a container available on their front porch or by their door for so that neighbors can leave their prayer requests, Williams said.
The idea for Lighthouse of Prayer came from the Salvation Army's territorial commander in Long Beach, who challenged Lodi to consider a citywide prayer, Williams said.
The program isn't limited to the Lodi city limits. After all, Williams doesn't want to leave anyone out. So people in areas like Lockeford, Woodbridge and Galt are welcome to sign up and begin praying.
Anyone interested in participating may call the Salvation Army at 369-5896 and say they're interested in the Lighthouse of Prayer program.
Contact Religion Editor Ross Farrow at rossf@lodinews.com
Article was originally published on lodinews, click on link.