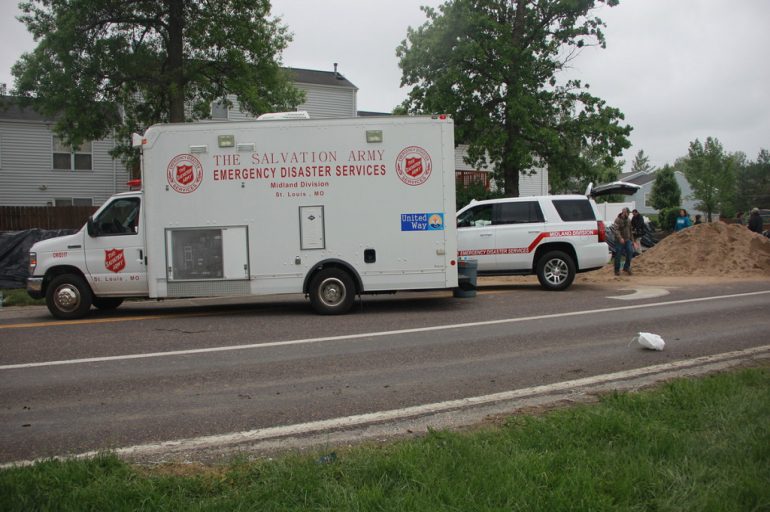 Salvation Army assists Missouri flood victims
The city of Valley Park issued a mandatory evacuation on May 1.
By Jack Wang –

Large portions of eastern Missouri and southern Illinois remain under flood warnings.
The Weather Channel
has reported nine deaths due to flooding across the South and Midwest.
High waters have impacted over 100 highways in the St. Louis region alone, per the Missouri Department of Transportation.
Heavy rainfall throughout the state of Missouri over the weekend prompted mass evacuations for the city of Valley Park on May 1.
The nearby
Meramec
River was closing in on a record high before the weekend's rain, threatening 1,700 homes.
Residents piled up sandbags to protect their homes and businesses.
The Salvation Army Midland Division Emergency Disaster Services (EDS) canteen was requested to assist sandbaggers with hydration and food earlier this week at the St. Louis County Police West Precinct.
The Branson Corps is providing all feeding at the Stone County shelter at the former Reeds Spring Middle School and at the Branson United Methodist Church.
Fourteen residents stayed overnight on May 2, and additional families are continuing to check in.
Due to the continued rainfall, Valley Park residents were still not allowed re-entry as of May 4.
The Weather Channel also expects river flooding to continue into next week.
To support relief efforts, text FLOODHELP to 41444.