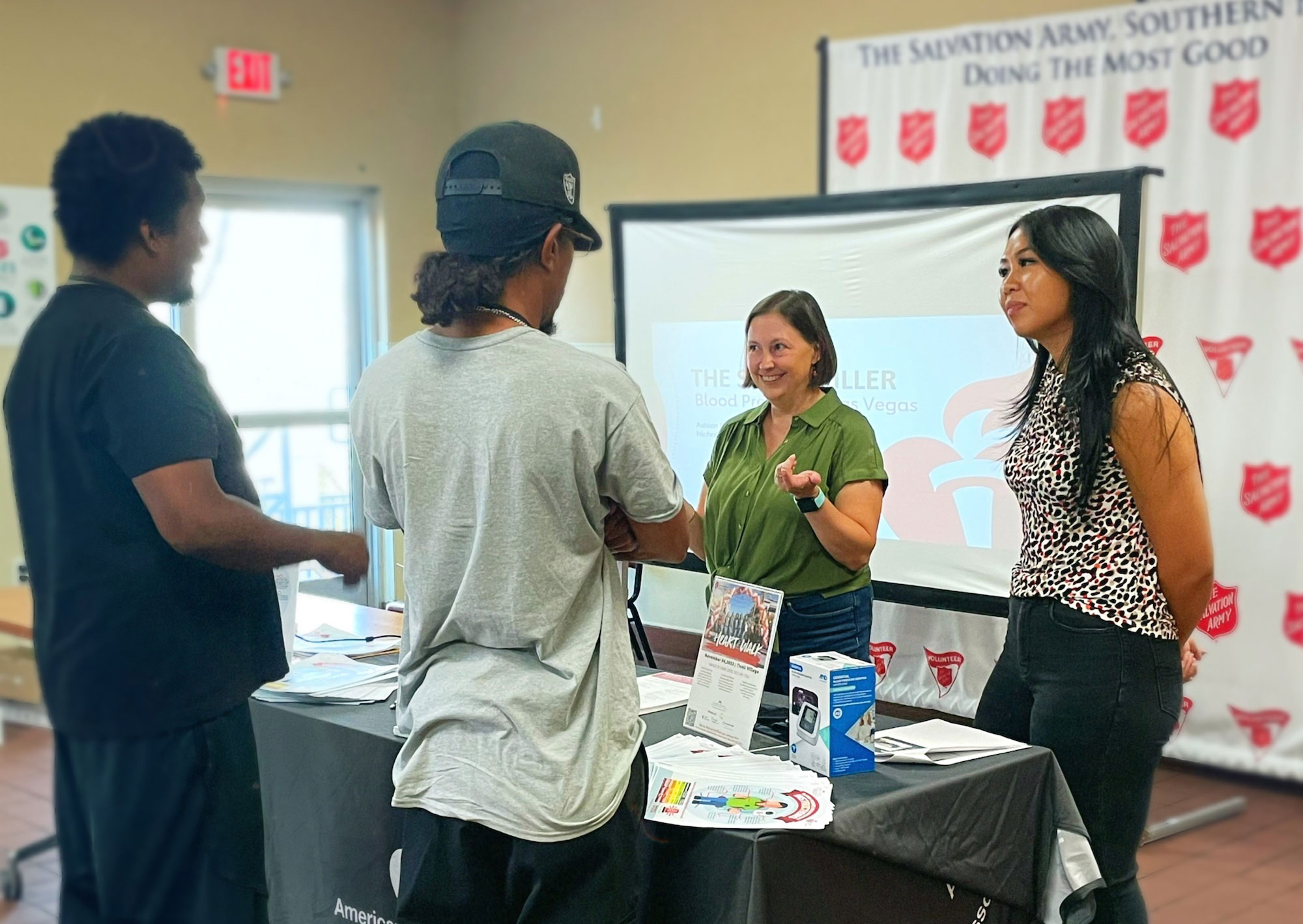 Partnership helps veterans keep an eye on high blood pressure
Blood pressure cuffs and educational materials put veterans' health in their own hands.
According to the Department of Veterans Affairs (VA), more than 37 percent of veterans have hypertension—a statistic that's higher than Nevada's state average for the rest of the population, and something the American Heart Association says is a key risk factor for heart attacks and stroke if left untreated.
But, with proper monitoring and interventions, better outcomes are possible, and in Southern Nevada, The Salvation Army has partnered with the American Heart Association to provide free blood pressure cuffs to veterans at its Owens Campus in Las Vegas.
The blood pressure cuffs, provided by Sunrise Health System supported by the HCA Healthcare Foundation, were distributed at a September health fair and on an ongoing basis at the Owens Campus.
"The overall goal is to have more people aware if they have high blood pressure, and if they do have high blood pressure, to be in a position where it can be controlled," said American Heart Association Las Vegas Division Community Impact Director Nichole Monzon.
Monzon said the American Heart Association provides education, training and resources, and connects sponsors to clinics or community organizations like The Salvation Army to make programs like this happen.
To date, The Salvation Army has distributed about 50 blood pressure cuffs to veterans, said Amanda Fusco, manager of the Healthcare for Homeless Veterans Program at The Salvation Army's Owens Campus. "We feel like Oprah giving them out every day," she said.
Distributed with the blood pressure cuffs is a packet that includes educational materials and a two-week tracker for daily recording so people see what is normal for them. By measuring in spaces where they're comfortable, Monzon said veterans can get a more consistent reading and avoid basing health decisions solely on the spikes that sometimes happen at the doctor's office.
It all aims to empower and motivate individuals to track their blood pressure, so if they find that it is high or low, or out of the normal range, that they have information to share with their provider, Monzon said—something Fusco said is already beginning to happen.
One veteran used the blood pressure cuff and the tracker in the packet and, because he was concerned about his numbers, scheduled an appointment with his primary care physician to follow up. He then was able to get on the proper medication for hypertension.
"To be able to provide that direct service instead of having to provide a referral…has been incredible," Fusco said. "We give out the blood pressure cuffs during our weekly meetings…being able to fill that gap so immediately is pretty awesome."
"We ensure that they are staying up to date on their mental health and their physical health," Fusco said. "We try to be a one-stop shop."
The program has 76 beds—12 for women and 64 for men—for veterans experiencing homelessness. The men and women stay at the campus and receive a case manager through The Salvation Army that they meet with weekly in addition to meeting monthly with a VA liaison.
"We ensure that they are staying up to date on their mental health and their physical health," Fusco said. "We try to be a one-stop shop."
Fusco extended gratitude toward the American Heart Association for helping the program fill gaps for needed services, and said feedback surrounding the blood pressure monitoring resources has been positive from the veterans.
"They're really grateful that other agencies and organizations are jumping in and they are being seen," she said. "It's not just the VA, but community partners."
---
Do Good:
What cause best fits your personality? Take our quiz and discover where you can make the biggest impact for good today.
Caring Magazine is a magazine from The Salvation Army for people who care. People like you! Subscribe to the list and join 25k+ people who care. You'll get weekly inspiration in the Do Good Digest sent right to your inbox.