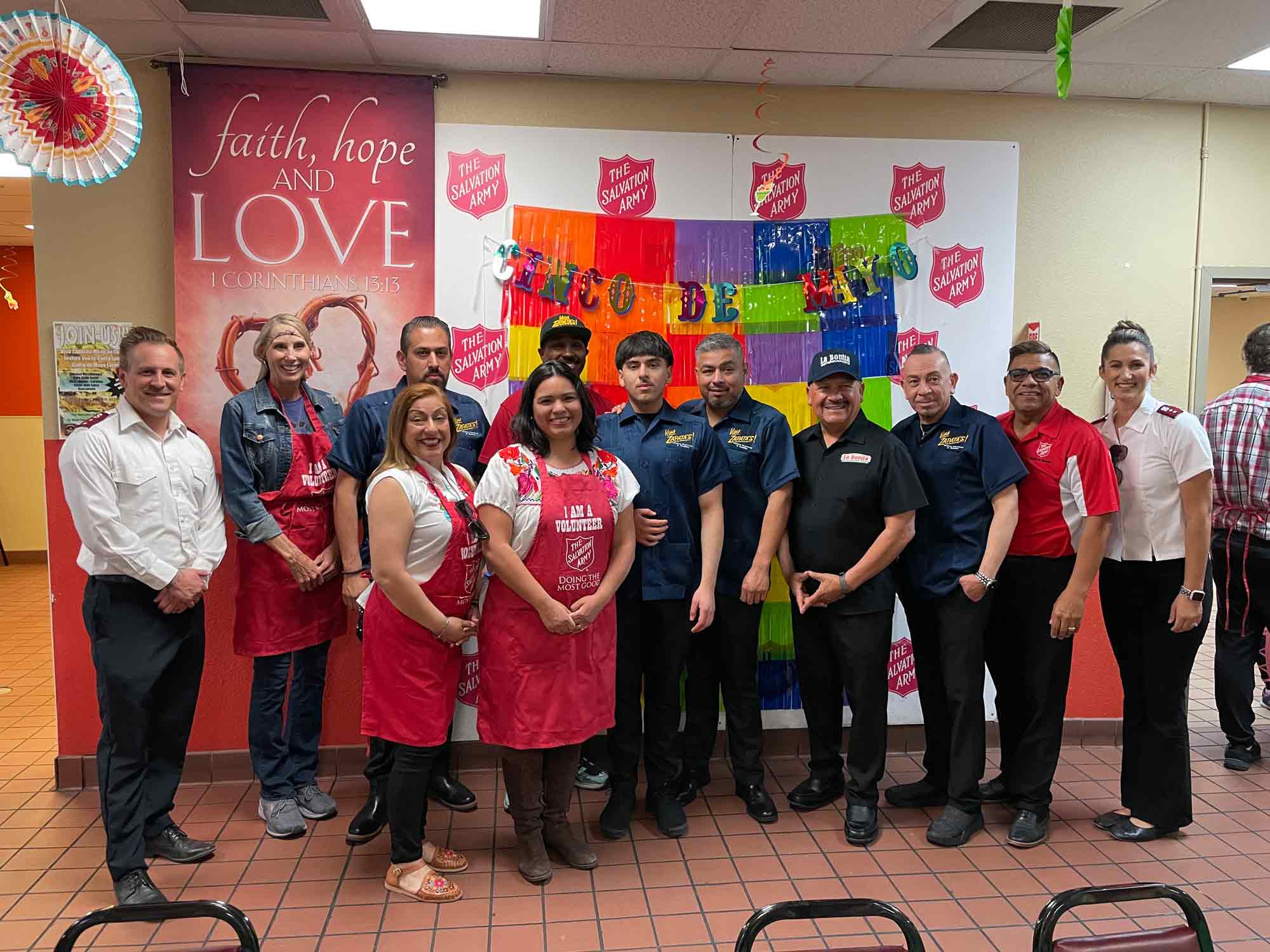 Community Table brings twice yearly sit-down meals to Salvation Army Owens Campus
For those experiencing homelessness, the concept—let alone the reality—of dining in a restaurant can represent many things, including stability, comfort and adequate nourishment. The experience of sitting down at a table and being served and cared for is something most of us take for granted.
When Lorenzo Barajas conceptualized his first Community Table meal in the fall of 2019, it was with the goal of giving those experiencing homelessness in Las Vegas a respite and a lifting of their spirits. He and his staff of 40 prepared and provided them with a sit-down meal from Viva Zapata's Mexican Restaurant & Cantina, the Northside establishment owned by his brother Esau. Barajas is general manager.
"At that time, I realized local restaurants weren't really helping out the homeless in our community," he said. "People were standing on street corners asking for food, so I decided to talk to Juan about us jointly putting on a communal meal for Mexican Independence Day on September 16. It's important to me to give back, but I also wanted to be part of something bigger that would better serve our community."
Juan Salinas is director of social services at The Salvation Army's five-acre Las Vegas Owens Campus. Having known Barajas for years, Salinas instantly agreed to co-organize and host the event at the Owens Campus, but COVID-19 and the subsequent restaurant closures forced them to wait until May 2020 to launch Community Table. The Cinco de Mayo event provided meals and COVID-19 safety kits for nearly 500 people.
Because of the pandemic, a sit-down meal wasn't possible then, but attendees were treated to music from a live mariachi band while they waited in line to receive takeaway bags stuffed with Viva Zapata's burritos, chips, salsa and guacamole.
Everyone involved in Community Table events are volunteers, including the Viva Zapata's staff. Together, they adorn the Owens Campus Dining Room with papel picado, flowers, Mexican flags and other thematic décor and serve the meal, along with some missionary volunteers from The Church of Jesus Christ of Latter-day Saints. "We want to make it feel like a real restaurant experience," Salinas said. "The attendees love it because it helps to restore some of their dignity, whether they're on the street due to mental illness or addiction."
The inaugural event was so successful that Barajas and Salinas decided to hold Community Table meals twice a year, for both Cinco de Mayo and Mexican Independence Day. Since May of 2020, Viva Zapata's has prepared pollo con arroz, beans, salsa, guacamole and chips at the restaurant and transported it to Owens Campus for each one.
The 2023 Cinco de Mayo meal also marked the first-time local media were invited to the table, Barajas said. Viva Zapata's staff served over 400 meals that day to "a combination of folks living on the street, veterans living in shelter at the Owens Campus, and those staying at our Red Shield Shelter," Salinas said. "We're also one of the few campuses that house female veterans and those under the LGBTQI umbrella."
Giving back responsibility
This past March, Salinas and Barajas announced their inaugural
Community Meal Challenge
, asking local eateries to provide up to 400 meals for the homeless. Ideally, these events would be held on national and cultural days of celebration throughout the year, including Mardi Gras, Native American Day, Hanukah and Oktoberfest.
Salinas said Mario's Westside Market will be offering a Juneteenth meal that includes catfish, cornbread, and collard greens, and In N' Out Burger has donated 700 boxed meals with a hamburger, chips, apple and cookie.
"Responsible giving is important," he said. "If you distribute food or meals on the street, it's not a controlled environment, which isn't ideal. You need to be able to practice food and personal safety and provide trash receptacles and disposal."
While the Owens Campus serves one communal meal a day, year-round, Salinas said it's crucial for the Community Table meal to be a "multifaceted event." To that end, he's partnered with brands like BOMBAS, a sock manufacturer, for donations and other items like backpacks, water bottles and hydration sticks are also distributed.
"When someone experiences temporary homelessness, it's critical to find ways to make them understand that we care," he said. "Providing them with items they really need is part of it; it's about showing up—not just words."
Salinas said he receives "a lot of thanks and gratitude, but I've also had attendees say they never knew that someone could care for them like this. I remember reading an article on homelessness and it said the greatest fear for someone experiencing this situation is that no one would even know their name."
For Barajas, Community Table events help satisfy his desire to give back to his community, but he's quick to note that, "without [Esau's] blessing, this would never have happened, and none of it would be possible without our staff. These meals are an opportunity for everyone to gather; it's not about who you are or how much money you have. It's what comes from your heart."
---
Do Good:
Get on the list for Good Words from the Good Word and get a boost of inspiration in 1 minute a day with a daily affirmation from Scripture sent straight to your inbox. It's an email to help you start your day with goodness.