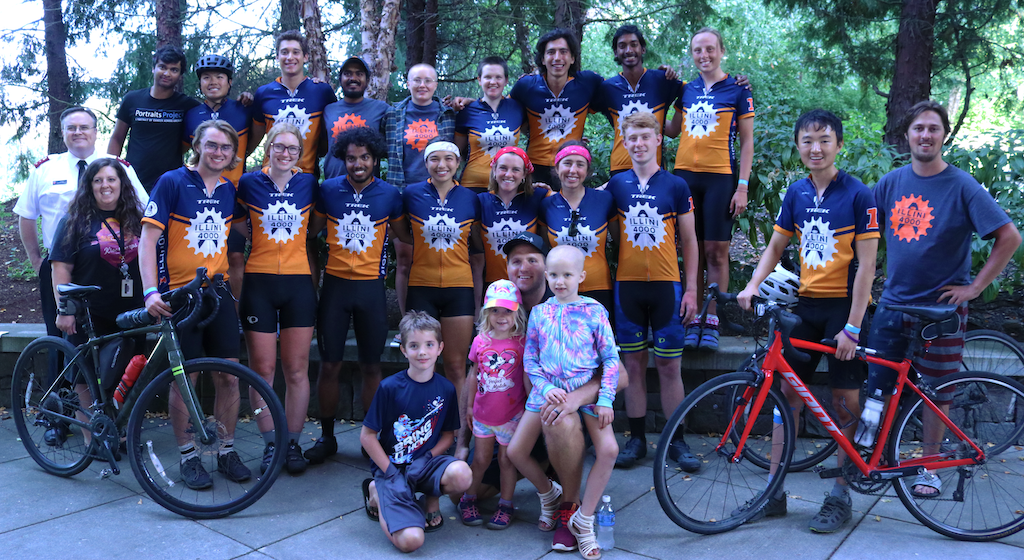 Salem Kroc Center gives Illini 4000 cyclists a welcome rest during cross-country trek
Illini 4000 exists to raise awareness of the fight against cancer.
The Salem (Oregon) Kroc Center hosted a team of 18 cyclists from the University of Illinois Urbana-Champaign, representing Illini 4000, a nonprofit organization that documents the American cancer experience through The Portraits Project, which gives people a chance to share their story. Each year, a student team cycles across America to raise money for cancer research and patient support services, and to build awareness of the fight against cancer.
Team members began their cross-country journey in New York. They were headed to their final destination in San Francisco when they stayed overnight at the Salem Kroc Center. During the 4000-mile journey, they filmed segments for The Portraits Project.
Sofie Schwink, the Ride Leader, said this was her second ride with Illini 4000. Schwink, a senior studying bioengineering, made the first ride in 2018.
"I decided to do the ride for the first time in memory of my late father," she said. "He was an avid cyclist. I also rode for my mom, who is a thyroid cancer survivor. I decided to come back this year as a Ride Leader because of how amazing my first ride was. I will never forget the kindness of the strangers we met along the way or the stories people shared with us about the loved ones they've lost to cancer."
The Sims family, part of the larger Kroc Center family, was especially impacted by the visit, as 6-year-old Amelia Sims is currently winning her battle with childhood leukemia. The Illini 4000 team filmed them for The Portraits Project documentary.
"The compassion and strength of the Illini 4000 team have a lasting effect that helps carry us through our journey," said Daniel Sims, Amelia's father.
The three Sims siblings are regular attendees of the Kroc Center's day camps. This year, due to her chemotherapy schedule, Amelia was not able to attend camp. The center provided scholarships for her brother and sister for the summer.
During the visit, the Illini 4000 team and the entire Sims family enjoyed a banquet prepared by Kroc Center Chef Gregg Peterson. After sleeping outdoors for the previous week, the team appreciated the comfortable room and air conditioning at the Kroc Center.  A few team members still had enough energy to climb the rock wall, but most enjoyed the hot tub, showers and massage chairs to restore their bodies.
"We were excited to provide an oasis for these wonderful college students as they ride across America for this wonderful cause," Salem Kroc Center Corps Officer Captain Quinton Markham said. "We were happy to support them with a meal, a place to stay and the opportunity to repair and store their bicycles. It reminded me of Genesis 24:31: And he said, "Come in, O blessed of the Lord! Why do you stand outside? For I have prepared the house, and a place for the camels."
---
Do Good: