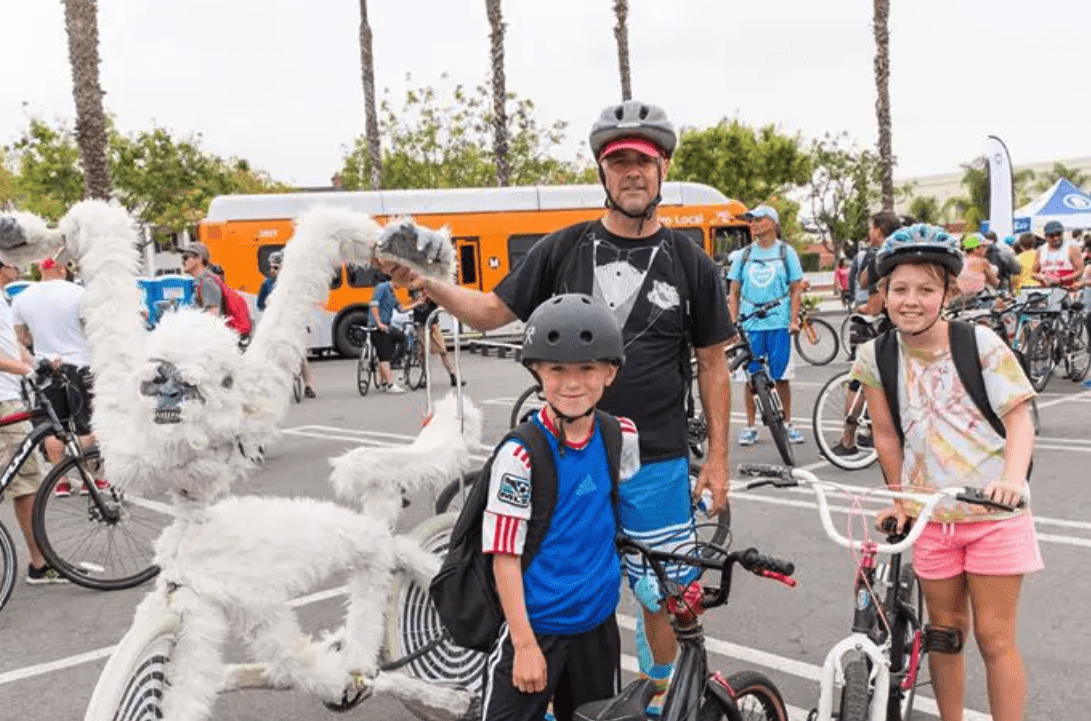 5 Steps to No-Nonsense Cycling in the City
There's something about being on a bicycle that elicits a childlike feeling.
Remember those carefree summer days when riding your bicycle around the neighborhood was your favorite way to pass the time? In the midst of back-to-school schedules, deadlines, emails, to-do lists, bills and appointments, kids of all ages need a reminder that summer's breeziness need not end with the autumnal equinox (especially if you're in Southern California). 
Cycling is a fun way to burn calories (sans the expensive spin instructor), and can be a fun and relaxing way for families to feel good about doing their part to help reduce air pollution in their communities (yes, small steps do matter). 
But if it's been a while since you've taken a ride around the block — or if you're new to urban riding altogether — getting back on your bike can be a bit daunting. Safety comes first, and thanks to these five easy tips from Colin Bogart, programs director at the Los Angeles County Bicycle Coalition (a non-profit advocacy organization dedicated to improving the bicycling environment and quality of life in Los Angeles County), singles and families of all ages and experience levels can get back in the bicycling game in no time.
1. Check Your [bike] Self. Is your bike looking a bit rusty or tires a little flat? Make sure you check before your first ride if it's been a while. Get a tune-up at your local bike shop, which will typically cost around $40-$60. "You don't want to get out there and have the handlebars turn and the tires not," says Bogart.

2. Get to Know Your Routes. "People have a tendency to ride like they drive," notes Bogart. "You'll enjoy your ride a lot more by avoiding the major city arterials and using side streets when it's possible, which will also be a much safer and quieter option." He says the "bicycle" button on Google Maps is a great way to get started. "Make sure you can get across arterials with a traffic light," he added. "You may have to ride an arterial at least part of the way to your destination, depending on its location."

3. Start Small. You'll want to start with a one to two mile ride to get comfortable on your bike again. Make it a short, doable trip, without the time pressure of an appointment, like to the farmer's market, coffee, or lunch. Once you're feeling more confident, you can try a local CicLAvia ride or group ride offered through your local bicycle coalition. The next Los Angeles area CicLAvia ride is on Oct. 18. Check with your local coalition for your area's next group ride.

4. Find a Fave Bike Shop. "The internet can't fix your bike," warns Bogart. Find and support your local shop close to where you live. "If you become a regular, they'll take good care of you," he says. Staff members at these shops really know the gear and can help you find the right tools and items you'll need to ride safely and comfortably.

5. Get Schooled. Consider taking a local bicycle safety education class, such as one offered by the L.A. County Bike Coalition, where you can brush up on the rules of the road. It's free when you sign up for an annual membership ($35/year for a basic membership; $15 for students). For more information about classes, visit www.la-bike.org. To learn about general bike rules in California, check out this link.