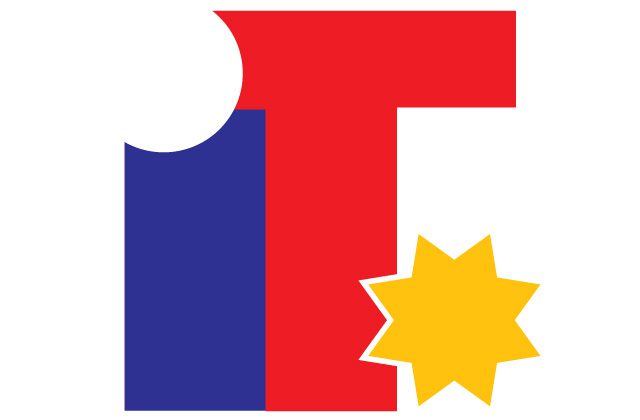 Running IT
What it takes to keep the Army's technology going

By Vivian Gatica –
Every day, employees of The Salvation Army Western Territory use technology to complete their daily tasks—many unaware that more than 80 people work to keep it going at all hours.
The Information Technology (IT) department is more than a help line. It is composed of three main services: support, infrastructure and project management, as well as training and software development.
The support branch includes specialists and technicians who assist when a piece of technology is not working correctly. According to Director of Support Ken Mowery, 44 support services technicians are dispersed throughout the territory in areas where large concentrations of Army users work. Technicians manage issues through the service desk ticket system.
"The idea is that most users contact support through the [online] service desk where they can manage their own ticket," Mowery said. "Here they can submit a ticket, see the technician assigned to their issue and contact him or her directly."
Technicians are on duty weekdays from 7 a.m. to 9 p.m. to cover users from the mountain time zone to island time. Many are set up to answer calls from end users through the 1-877-7IT-HELP toll free phone line.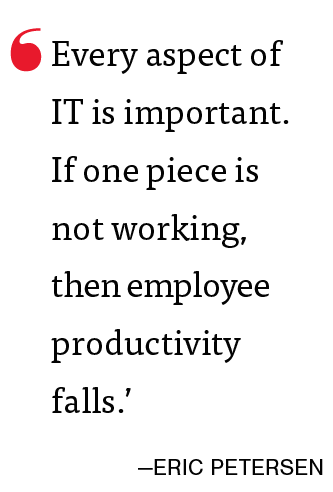 This system is comprised of incident and service tickets, with IT completing an average of 250 tickets—prioritized by urgency and impact—per day.
A member of the support team starts each day, Monday to Saturday, by reviewing a checklist of processes to ensure the various applications and systems are online and operational. If anything isn't, that staffer calls the appropriate people to get the systems back online. In most cases, the problems are resolved in a timely manner before the majority of employees start their work day.
Infrastructure consists of all the behind the scenes action of IT, ranging from applications, data, and messaging.
David Brown, remote application deployment manager, oversees the team that handles the software and applications that are centrally deployed, which run off a server rather than the end user's computer.
"These centralized applications pretty much run The Salvation Army operations," Brown said.
While the applications—from accounting to the Kroc Management Software—are important to Army employees, the information is especially useful for management.
"The users in the Western Territory have gotten used to a really wide range of very sophisticated tools," Brown said. "It's not like that in every non-profit organization. We see it as a really good thing that they have all these choices."
According to Brown, the application adoption rates are high, proving their effectiveness.
"We want these applications to meet the needs of the users," Brown said. "Once people become reliant on them, it's important that the application be really good, not just OK."
The infrastructure team also oversees the Lotus Notes messaging system, which is the major means of communication in the territory.
"Being able to communicate with others, both in The Salvation Army and all of our outside contacts, is the expected standard today," said Eric Petersen, messaging and workflow specialist. "That means keeping messaging and workflow running at all times."
Because of its wide reach, Lotus Notes within the territory has great impact.
"Most of the time the system as a whole is stable, but if even one employee is having problems, it escalates quickly as it is usually time sensitive," Petersen said.
Collecting all the data from these applications and programs, as well as dealing with servers, storage and directories, is the datacenter and directory operations team, managed by Jay Mallery.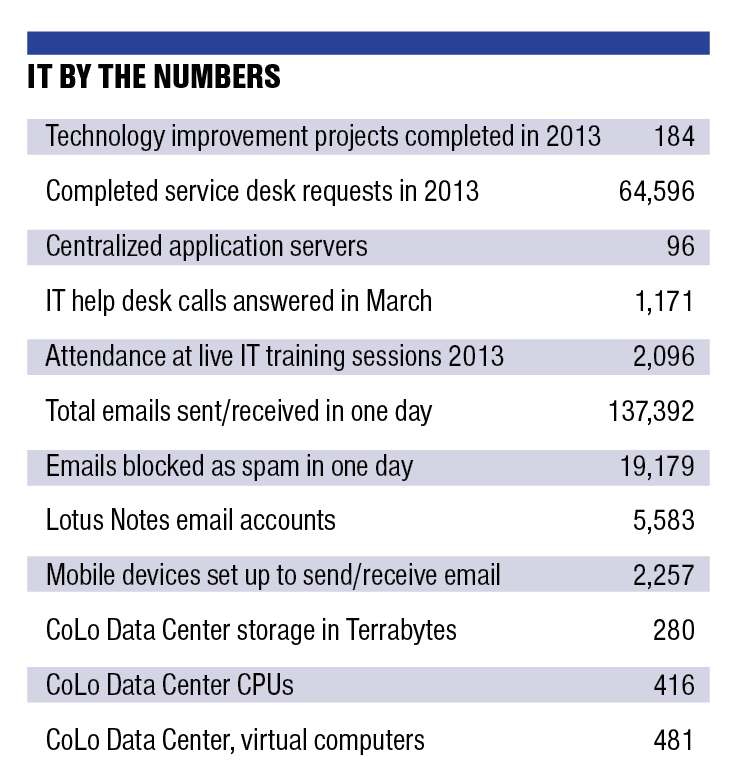 Datacenters are located throughout the Western Territory with a central hub at the Colocation facility in Phoenix, Ariz., which hosts most IT services. The secondary datacenter is located at territorial headquarters (THQ), functioning as a backup data system for the main datacenter. It also hosts files and print services for THQ, as well as the 4SATRUCK.org Donation System. Smaller regional datacenters are located at each divisional headquarters to provide file and print services to their users.
"Lots of work goes on behind the scenes that most would probably never see," Mallery said. "It's good to take a step back every now and again and see the end product of the work we put in."
The deployment of many of the technological initiatives require coordination between IT staff members and outside vendors. For that, a team of project managers oversee the process from initial idea to completion.
According to Richard Freeman, director of project management, his team works on all kind of technology related projects, whether it be software development and deployment or infrastructure related efforts. For example, wiring a Salvation Army building for network connectivity or implementing the new Shelby Accounting Software that is being rolled out over the next 18 months throughout the territory.
"We get a very high percentage of completions on the work that we said we would do," Freeman said.
The team works on more than 100 projects at any given time, most of them having to do with work at one of the 500 Salvation Army buildings throughout the territory.
"Over half of the projects have to do with an Army building and the technology they need regarding infrastructure," Freeman said. "A smaller percentage has to do with development of a new piece of software."
Freeman noted that some may see these projects and software as technological upgrades, while others may not understand why things were changed in the first place.
"In getting used to doing things differently, sometimes the user may not see the immediate benefit," he said.
While it may seem complex to those on the outside, keeping the technology running smoothly in the Western Territory is accomplished by various sections and staff working together as a single unified team, led by Chief Information Officer (CIO) Clarence White since 1997. White takes on the role of CIO in the Southern Territory starting June 30.
"Every aspect of IT is important," Petersen said. "If one piece is not working, then employee productivity falls."