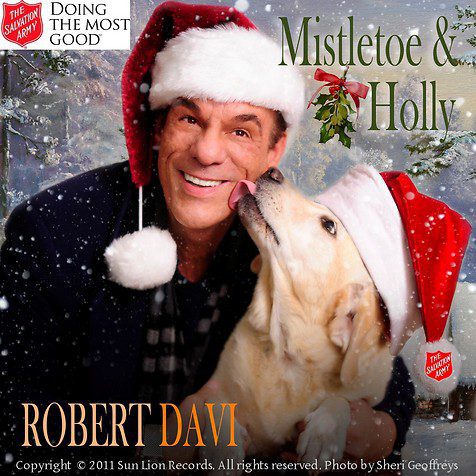 Robert Davi's new Christmas single "Mistletoe and Holly" to benefit The Salvation Army
Proceeds of song support 120th anniversary of Red Kettle Campaign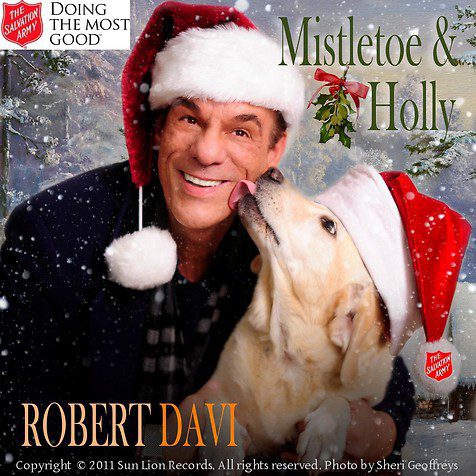 World-renowned actor and recording artist Robert Davi released his re-imagined version of the Christmas classic song, "Mistletoe and Holly" today, to help The Salvation Army provide emergency assistance to the millions of families in need this Christmas season.
"This is an urgent appeal to all media to help us build a momentum of strength and unity in America as we begin our countdown to 'Mistletoe Tuesday,'" said Davi, as he officially announced a call of action Nov. 28 on radio stations serving Los Angeles, Calif., and surrounding communities. "In order to better provide for these dear souls who have been knocked to their knees by a wounded economy, we ask humbly for all broadcasters and print media to join our mission in the true spirit of giving by helping us spread this good news and counting down with us."
Available Dec. 13 for purchase on both iTunes and Amazon.com, 100 percent of Davi's proceeds from the sale of his new single will be donated to The Salvation Army's 120th annual Red Kettle Campaign, which kicked off nationally on Thanksgiving Day. In a collective contribution of talent and services, the new arrangement was composed by Nic. tenBroek, mixed and recorded by Al Schmitt and produced by the legendary Phil Ramone at world-famous Capitol Studios in Hollywood, Calif.
"'Mistletoe and Holly' is a Christmas classic, and I'm excited to release it in demanding support of this classic charity during the Christmas season," said Davi, who recently released his first studio album, Davi Sings Sinatra – On The Road To Romance. "This is a great opportunity to help make more Christmas dreams come true for children, teens and seniors in need."
Davi currently studies with celebrated voice builder Gary Catona. Davi, whose initial mission was to help mend America's spirit by utilizing his voice talent to reinvigorate The Great American Songbook, launched his recording career with Davi Sings Sinatra: On the Road to Romance, which was released Oct. 24 to critical acclaim.
"Mistletoe and Holly" is a follow-up single for the holiday season, and was recorded by Davi in honor of the great Frank Sinatra, who originally released the song on his 1957 Christmas album, A Jolly Christmas from Frank Sinatra.
This joint effort of giving by The Salvation Army and Davi is supported greatly by Fontana/Universal, Barton Music & Affiliates, Warner/Chappell Music and Sun Lion Records, among other major entities, which have all reduced their respective fees to help fuel this national cause.
"Music has always been a big part of The Salvation Army, especially at Christmas, so partnering with a singer like Robert Davi is a great and natural fit," said Major George Hood, national community relations and development secretary for The Salvation Army. "Every dollar donated from Davi's proceeds of the single will help us provide assistance to nearly four million people in need this Christmas season."
From its humble beginnings as a program started by a Salvation Army captain in San Francisco in 1891, the Red Kettle Campaign has grown into one of the most recognizable and important charitable campaigns in the United States. More than 25,000 Salvation Army volunteers spread throughout the country to ring bells and solicit donations to the iconic red kettles from holiday shoppers. In 2010, the campaign raised more than $142 million nationwide, a new record supported by the public's nickels, dimes, quarters and dollars (and the occasional diamond ring or gold tooth) collected and used to help people in the communities where the money was raised.