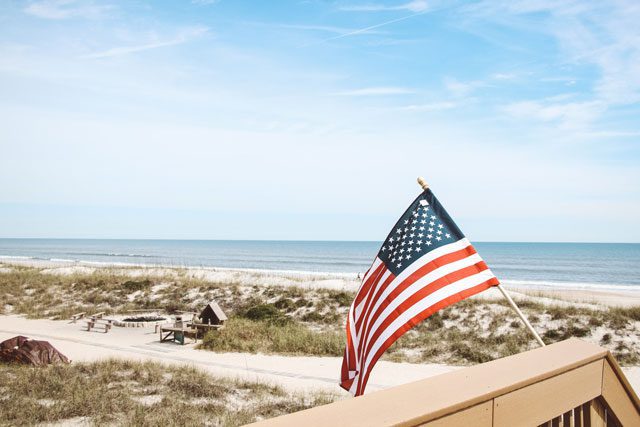 Report: Americans turn to Salvation Army when leery of government
Public trust in government has reached record lows.
By Kristin Marguerite Doidge –
How does trust in the government impact how we serve our nation's most vulnerable?
A new analysis of the Human Needs Index (HNI) shows states with lower levels of trust in government had higher levels of need and higher usage of The Salvation Army's services, as measured by the HNI. In other words, when the citizens of a particular state are less trusting of government or government agencies, they're more likely to turn to a nonprofit organization, such as The Salvation Army, to receive needed assistance. The reverse is also true. When state-level trust in government is higher, usage of services provided by The Salvation Army tends to be lower, according to the report.
Studies such as the U.S. Trust Study of High Net Worth Philanthropy series, which is conducted by the University of Indiana's Lilly Family School of Philanthropy, have consistently found that Americans have the most confidence in individuals and nonprofits to solve societal problems, as opposed to federal or state governments.
But The Salvation Army's Sabrina Kiser said it's important to understand the link between the two in how they work together to solve complex issues and needs over time. She pointed to the number of referrals made possible by important partnerships with government agencies and $350 million in funding that helps The Salvation Army thrive.
"It's not an either/or—it's government and nonprofits working together," said Kiser, who serves as the Assistant Director of Social Services and Public Policy Coordinator at National Headquarters.
Still, certain people might find trust difficult. Immigrant communities, for example, face challenges in gaining access to some government services because they're afraid of giving personal information and being misidentified or worse, even if they have documentation.
In Eagle County, Colorado—one of the states specifically identified by the analysis as having higher need (according to its HNI value) and lower trust in government—The Salvation Army works alongside local law enforcement officials to help build that trust with the immigrant community. The partnership has resulted in increased crime reporting and reduced victimization, giving credence to Kiser's point.
Yet, regardless of where states may lie on the spectrum of government trust, it's worth noting that many seeking help from groups such as The Salvation Army typically have something else in common.
"People who are working and working families—this is who is using The Salvation Army's services the most, contrary to what some might presume," Kiser added. "They can't meet their basic needs despite working full-time jobs because of rising rent and housing costs all over the country, especially in areas such as New York and California."
In addition to Colorado, Kentucky and North and South Dakota each showed a similar pattern of high HNI values and low trust scores. States on the other end of the spectrum included Delaware, Virginia and Oregon, where trust in government was relatively high and HNI values were lower.
"When we look across the country, there are variations in need," said Dr. Una Osili, Associate Dean for Research and International Programs at the Lilly Family School of Philanthropy. "The geography and how remote an area is can make a difference. Much of this stems from the Great Recession—we're seeing remnants of that, especially in areas where the recovery has been slower."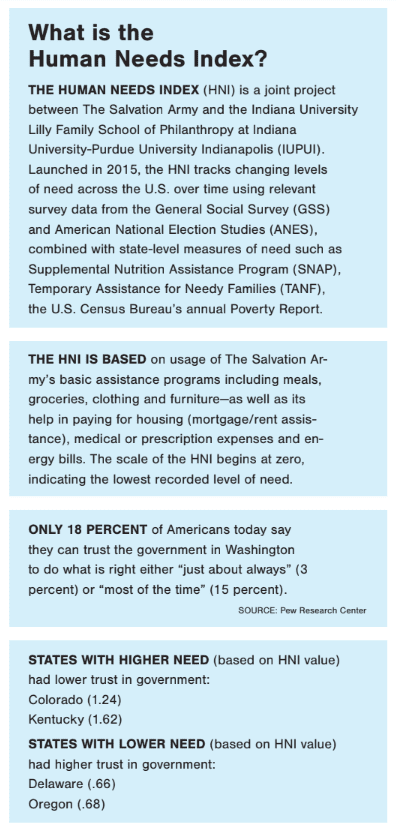 In the West, another vulnerable population was identified by John Stennett, Territorial Social Services Secretary.
"What we're seeing in the Western Territory is that the needs of the homeless are growing a lot," he said. "There's a current drive to get the homeless off the street. It's definitely increasing dramatically, and it's not something we anticipated a few years ago."
It's an example of how a public outcry for help can move politicians to take action or change policy, impacting how, when and where The Salvation Army will be called to serve.
In states where the public prefers the government spend less on specific programs or policies such as Social Security and welfare, there tends to be a higher level of need, according to the HNI. In such states, residents are more likely to seek The Salvation Army's services to meet basic human needs.
Most critical, though, are the spiritual needs uniquely met by The Salvation Army's range of offerings at its 7,000 locations across the country.
"Often, it's easy to get to us because we're right in your neighborhood," Kiser said. "We try to create a more positive relationship one-on-one with those we serve, and to build trust that we care and we're here to help."